We believe it is important to be involved within our community, and give back. We've established an employee volunteer program called IMPACT where our employees can dedicate a portion of their time to volunteer with the IMPACT team at different events throughout the year. 
FEED MY STARVING CHILDREN:
IMPACT packed 211 boxes of food which will be able to feed
124 KIDS
in Nicaragua for one year.
ARIZONA CANCER FOUNDATION FOR CHILDREN:
IMPACT collected four full boxes of toys during our agency-wide
TOY DRIVE
all throughout September, which is Childhood Cancer Awareness month.
BLESSINGS IN A BACKPACK:
IMPACT volunteers first wrote 500 letters to then be packed into
500 BAGS
of food for students in the Phoenix Unified School District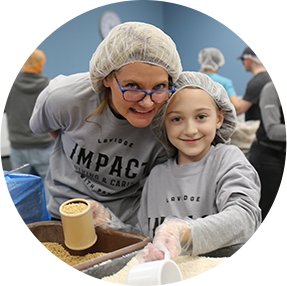 We're excited to work as a team and give back to the community that has been our home for 37 years – as a reflection on what it means to be a part of LAVIDGE.
Sandra Torre
| Executive Vice President and Chief Financial Officer
Sound like it's for you?
Then see what's behind the green button.
Need fresh thinking?
Help is a few keystrokes away.