LAVIDGE IMPACT Volunteers Tee Off at Golf for Hope 2023
May 8, 2023
Glow-in-the-dark tourney supports American Foundation for Suicide Prevention
SCOTTSDALE - (May 6, 2023) – Many familiar faces from LAVIDGE lined up on Saturday at Continental Golf Course to tee off at the Arizona Chapter of the American Foundation for Suicide Prevention's fourth annual glow-in-the-dark golf event.
Most of the golfers representing LAVIDGE, a Phoenix-based full-service advertising agency, had participated in 2021, with a few line-up changes.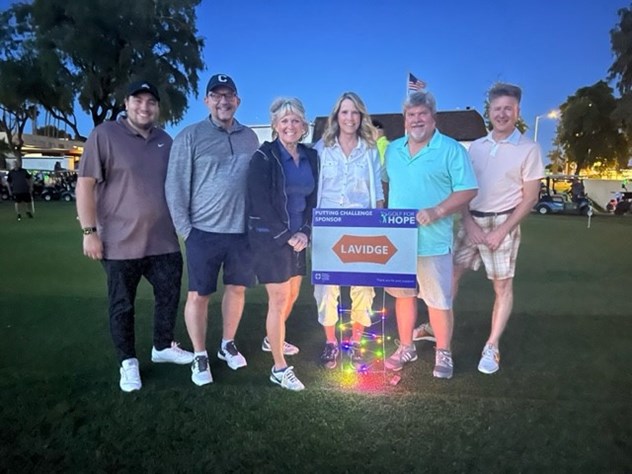 At 6 p.m. Saturday, Zach Potthoff, Sean Rogers, Bob Case and Rick Crosby teed off from Hole 8A, while Betsey Griffin Jones, Michael Jones, Cammy Corken and John Corken did the same from Hole 8B in Round F9 of the 9-hole, four-person scramble.
Colorful necklaces and golf balls shined brightly as each team made its way in brightly decorated golf carts around the course.
Funds raised through individual and corporate donations will provide support programs and services benefiting numerous individuals, families and communities grappling with the tragedy of suicide.
As the eighth leading cause of death in Arizona, and the tenth leading cause of death nationwide, suicide is no small issue. Among Arizona youth, it's the second leading cause of death, next to accidents.
The Arizona chapter of ASFP, charted in 2010, is a nonprofit organization with suicide prevention programs as well as support and resources for survivors. Visit them online for more information on how to give or volunteer. For those in crisis, call or text 988 or text TALK to 741741.
Need fresh thinking? Help is a few keystrokes away.