LAVIDGE IMPACT Team Wins Golf for Hope Fundraiser for Suicide Prevention Awareness
May 10, 2021
Agency team ranks first in glow-in-the-dark golf tournament for AFSP
PHOENIX (May 7, 2021) – A pandemic. A largely closed economy. An unemployment rate at an all-time high. And all sorts of political and civil unrest. Let's face it. Life since early 2020 has been tough.
It's high time for real talk about suicide to come out of the shadows and into the light.
That's the message the American Foundation for Suicide Prevention (AFSP) is sharing nationwide, and one LAVIDGE helped to promote recently by sponsoring several players May 1 in the AFSP's Golf for Hope nighttime, 9-hole fundraiser.  
LAVIDGE IMPACT sponsored the foursome which finished first in a field of about 20 teams which entered the Friday evening competition at Continental Golf Course.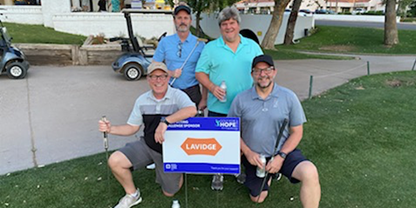 Each golfer donned a glow necklace before teeing up to hit translucent balls lighted by tiny glowsticks. The soft glow of colorful flashlights and glowsticks led the way for players between each hole, along with a glowstick strategically lighting up each hole's flag for a game of four-man scramble. That means that each person hits the ball, but team only counts the score of the best shot before moving on to the next hole.
"This event was kind of neat," said Rick Crosby, IMPACT's controller who played on the LAVIDGE team. "We had a remote so we could change the color of the golf balls or turn them off."
Golf balls could cycle through blue, orange, green or white or be set to a specific color. They turned off automatically after 8 minutes if they hadn't been hit, Crosby said.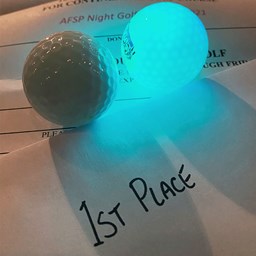 Crosby played alongside IMPACT Volunteers Bob Case, chief creative officer; John Zapf, creative director; and Randy Schultz, art director; each played on the team with the lowest winning score.
LAVIDGE also sponsored Betsey Griffin Jones, media director at the Phoenix-based ad agency, who teamed up with her spouse, Michael Jones, and another couple creating a formidable foursome of their own.
LAVIDGE employees learn Talk Saves Lives
Raising awareness, however, meant more than raising funds to shed light on ways to be aware of potential suicides in time to make a difference.
On May 7, the week after the Golf for Hope event, 22 LAVIDGE employees logged into their Zoom™ video conferencing app for "Talk Saves Lives," presented virtually by the Arizona chapter of AFSP.
The Foundation's standardized 45- to 60-minute education program provides participants with "a clear understanding of this leading cause of death, including the most up-to-date research on suicide prevention, and what they can do in their communities to save lives."
LAVIDGE participants learned common risk factors and warning signs associated with suicide, and how to keep themselves and others safe. This included the scope of the issue based on the latest data on suicide in the United States and worldwide.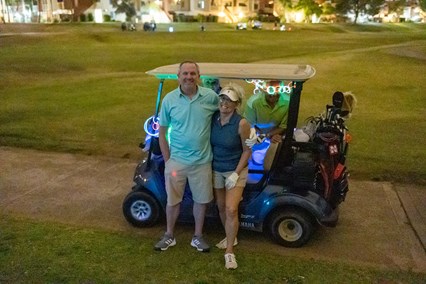 One main takeaway was that talking to others who are struggling about whether they are suicidal does not put ideas in their minds that they weren't considering. It can, however, give them permission to clear the air if they are considering it.
In a very real way, much like the glow sticks lighted the pathway of golfers struggling in the dark, opening up a conversation with someone who is struggling in life can shine light on their issues—perhaps even saving their life.
The AFSP website states that organizations interested in hosting a similar event will also learn about:
Research: Information from research on what causes people to consider suicide, as well as health, historical, and environmental factors that put individuals at risk
Prevention: An understanding of the protective factors that lower suicide risk, and strategies for managing mental health and being proactive about self-care
What You Can Do: Guidance on warning signs and behaviors to look for, and how to get help for someone in a suicidal crisis
Webinar makes a difference
AFSP hosts fielded questions during the event both publicly and in private chats regarding where to find additional resources. At least one employee followed up on a tip regarding a book designed for elementary school-age children (and younger) who often feel as stressed as adults in today's uncertain world. The book arrived and was just perfect, she said.
The same employee volunteered to write an article for a local niche publication for National Suicide Prevention Week in September, with the intent to raise awareness for even more people in need.
"It's a crazy time to be alive, but we can help each other get through it," she said.
Contact AFSP to schedule a Talk Saves Lives Webinar.
Need fresh thinking? Help is a few keystrokes away.