LAVIDGE Volunteers Show Up for Veterans at 2023 Maricopa County StandDown
April 28, 2023
Pitching in helped make the largest event of its kind nationwide possible
PHOENIX - (April , 28, 2023) - LAVIDGE IMPACT volunteers were among 400 who showed up on Friday to lend a hand during 2023 Maricopa County StandDown.
The StandDown is Arizona's largest outreach event for veterans. It typically attracts more than 100 service providers each year to the Maricopa County Fairgrounds where they provide everything from free haircuts to free legal services. Hygiene kits, clothing, reading glasses and information about how to access housing, shelter, Social Security benefits, and so much more.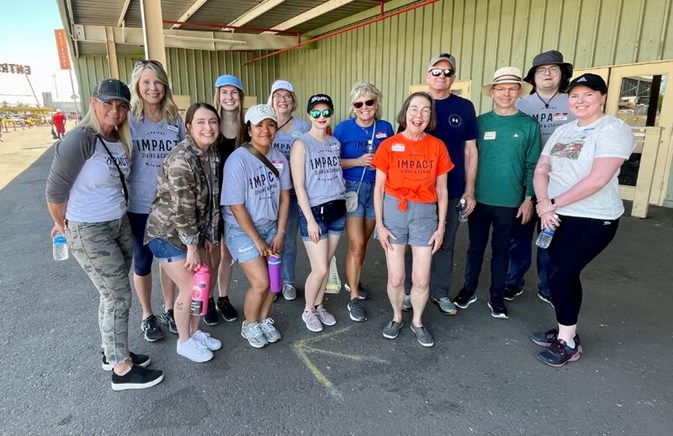 "The goal is to end homelessness for veterans in our community or intervene to prevent homelessness for those who are at-risk," Arizona Veterans StandDown Alliance (AVSA) volunteer materials state. "It is also our aim to foster neighborly connection among veterans and the greater Maricopa County community."
Volunteers helped register guests (many of whom were experiencing homelessness), guided them through the Exhibition Hall to locate the stations of most interest, lent a hand to providers—including a pet boarding area where veterans could leave their animals if desired—or had the option to float to serve needs as they arose such as handing out water, guiding and guiding guests to food services or restrooms.
For some guests, just seeing a kind face and sharing a few words with them seemed to mean as much as anything other service volunteers provided.
Each LAVIDGE employee who participated gave up part of their regular workday as to give back to the community the full-service advertising, marketing and PR firm serves.
Established in 2013, AVSA is part of the Arizona Housing Coalition. It holds annual standdowns in 13 of Arizona's 15 counties, including Maricopa—home to the largest of its kind nationwide.
To donate to the 501(c)(3) or for more information reach out by calling 602-340-9393 or send an email to [email protected].
Need fresh thinking? Help is a few keystrokes away.