LAVIDGE Employee Volunteers Pack School Supplies for Foster Kids
June 30, 2023
Arizona Helping Hands gets help preparing for upcoming school supply 'shoppers
PHOENIX - (June 30, 2023) – It's an annual tradition for LAVIDGE to participate in back-to-school community service events.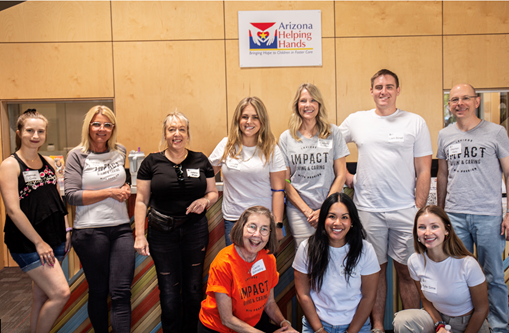 This year, under the direction of EVP & CFO Sandra Torre who oversees the Phoenix-based ad agency's volunteer programs, 10 employees pitched in at Arizona Helping Hands.
Together, they filled oversize pencil cases that each held a packs of pencils, colored pencils, erasers, pens, scissors, glue sticks, and more. Each went into a quart-size plastic bag along with a 12-inch ruler, that later may be paired with a school backpack of each student's choosing.
The backpacks and supplies aren't for just any needy students, however. They are for children in foster families.
It's all part of one or more community service projects LAVIDGE IMPACT completes each month to give back to both local and global causes.
School supplies items sorted during this IMPACT event will be made available to foster families July 13 through August at the main warehouse, 3110 E. Thunderbird Road, Suite 100, Phoenix, AZ 85032; or by appointment at one-day pop-up shops to be located throughout Arizona.
Those who have not requested help with basic needs within the past 30 days may also pick out clothing, the charity's website states.
Collecting and distributing school supplies is just a small part of how Arizona Helping Hands carries out its mission to support the foster care community. Foster parents with proper documentation may request essentials year-round from everyday clothing to cribs, beds, and bedding, along with any other needs such as diapers.
Arizona Helping Hands, founded in 1998, is a nonprofit organization supporting foster children by providing assistance to foster families. Visit them online or call 480.889.0604 for more information on how to give or volunteer.
Know of a deserving organization in need of volunteers? Contact Sandra Torre  to see if it's a good fit.
Need fresh thinking? Help is a few keystrokes away.