11 Volunteers Serve 525 Meals at Phoenix St. Vincent de Paul
November 9, 2022
Phoenix ad Agency employees catered to local homeless lunch crowd
PHOENIX (Nov. 9, 2022) – It takes a village to feed the homeless.
Today, at the central Phoenix location of The Society of St. Vincent de Paul, that included nearly a dozen individuals with helping hands from LAVIDGE ad agency, along with a few regulars who collectively served up 525 hot lunches, poured cold punch as needed, and packed dozens of to-go snack bags with Blue Heat Taki rolled tortilla chips.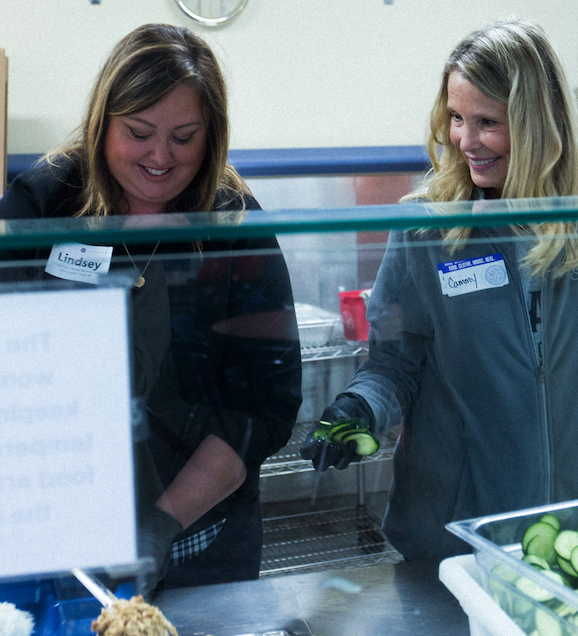 One by one, a trailing line of men and women streamed into the dining hall seeking a hot meal and a smile—a few of whom were accompanied by well-behaved leashed dogs. Most came carrying belongings in backpacks or tote bags to the dining hall in the 1300 block of West Harrison Street in Phoenix.
No one is turned away, and no one is denied seconds. Or thirds. Or however many trays of food they desire. As long as they get back in line—and the food holds out.
Many express gratitude (either verbally, with a nod or by returning a smile) for the kindness of others that makes the non-profit meal program possible.
The service opportunity is among many LAVIDGE Executive Vice President and Chief Financial Officer Sandra Torre has coordinated for LAVIDGE IMPACT, the Phoenix-based digital, PR and ad agency's committee for charitable volunteering and giving.
Each employee of the full-service digital, ad and PR agency is encouraged to commit 16 hours each year to participate in agency volunteer opportunities. Many employees also complete numerous community service hours on their own time.
So, instead of crunching numbers or overseeing digital projects this morning LAVIDGE Controller Rick Crosby and Chief innovation Officer Stephen Heitz, kept insulated cups filled with red punch.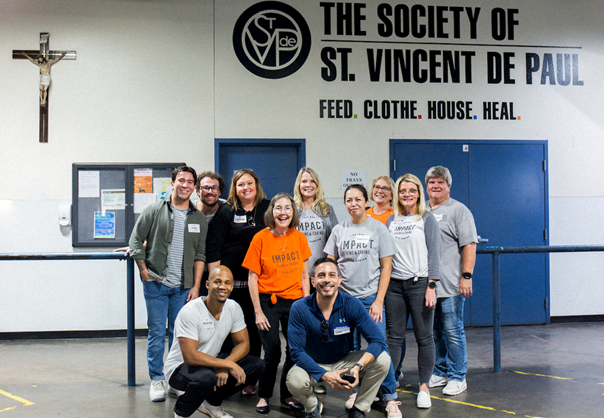 Torre kept a steady stream of clean, reusable meal trays ready for Media Director Betsey Griffin Jones who kicked off the serving line by scooping up rice. Rebecca Sheehan, a Junior Accountant, followed up by adding chili beans before Publicity Manager Lindsey Gobel covered each mound of rice with chicken.
Cammy Corken, a Media Supervisor, whose role was to add a handful of cucumbers, fielded the most special orders from hungry guests who asked her to "hold the cukes." Then again, there were also a handful of diners who wanted only rice and cucumbers or only beans or only chicken.
Senior Content Developer/Writer RuthAnn Hogue added cutlery packets containing plasticware, a napkin and sometimes a mini salt and pepper to each tray before pushing them forward to a weekly volunteer visiting this winter from Canada who fielded special requests before putting a tray in each guest's hands.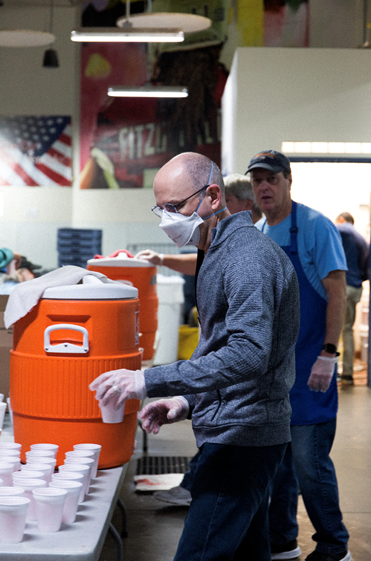 Meanwhile, Laurie Schnebly and Chris Lopez stood at the ready to assist lunch goers with special needs. From carrying their trays to a special area for wheelchairs and other assistive devices to providing refills around the room, the Senior Copywriter and Junior Publicist coordinated to make sure they met everyone's needs.
Others, including Digital Media Strategist Antonio Casian, Senior Publicist Ziggy Goldfarb, and Videographer/Editor Sasha Pauszek, rinsed food trays before they were returned to the kitchen for a thorough washing, where Technology Services Director Maurice Tripp volunteered as needed throughout.
Everyone pitched in afterward to wipe each round table before rolling them out of the way, stack chairs, or otherwise return the dining hall and serving area to how they found them.
Torre noted that gathering often to give back benefits more than those on the receiving end of LAVIDGE IMPACT community service. It offers colleagues who often work remotely the chance to build camaraderie and practice cross-discipline teamwork.
For information on how to get involved visit stvincentdepaul.net, call 602-261-6886, or send email to [email protected].
Photos by Sasha Pauszek
Top: Lindsey Gobel, Cammie Corken
Group: Back L-R Chris Lopez, Ziggy Goldfarb, Lindsey Gobel, Laurie Schnebly, Cammy Corken, Rebecca Sheehan, RuthAnn Hogue, Sandra Torre, Rick Crosby,
Front L-R Maurice Tripp, Antonio Casian
Bottom: Stephen Heitz
Need fresh thinking? Help is a few keystrokes away.