LAVIDGE IMPACT partners with Blessings in a Backpack to feed hungry kids
September 16, 2019
PHOENIX (Sept. 16, 2019) – Grateful Nevitt Elementary School pupils showed their gratitude recently by creating numerous handmade thank-you cards for LAVIDGE employees in response to weekend food supplies they received, thanks to the agency's IMPACT committee and Blessings in a Backpack.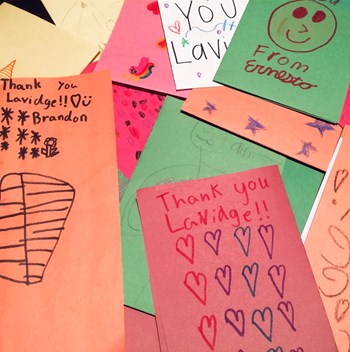 "Dear LAVIDGE, Thank you!," reads a card made with bright yellow construction paper decorated with drawings of Pikachu. "You are so kind to me. From: Jesus."
Another pupil, who also used yellow paper, wrote in greater detail.
"Dear LAVIDGE, Thank you for giving us blessings. We really love the food. You guys are awesome. Thank you so much for this. I love you guys so much. Thanks so much and my class loves them too. So I will take any blessings you have, because I love it so much and the whole school likes it. Love ya, Sariya." 
Receiving the cards was a welcome surprise following the late-summer agency volunteer event partnering with the national non-profit organization which helps feed needy children when school is not in session.
Executive Vice President and Chief Financial Officer Sandra Torre, who oversees IMPACT for LAVIDGE, regularly arranges community service events. In August, Torre coordinated an agency donation to purchase enough food to fill 500 bags with easy-to-prepare meals and snacks to feed needy school children over one weekend. Because the volunteer event was scheduled onsite in the LAVIDGE workroom, many employees took the time to lend a hand—completing the assembly-line portion in only 40 minutes.
Each bag included an encouraging note handwritten and artfully decorated by a LAVIDGE employee, along with a package of snack crackers, two cereal singles, two lunch or dinner singles and a box of raisins. 
The school, located near South 48th Street and Southern Avenue in Phoenix, Ariz., serves 800 pupils in grades K-5. A significant percentage of kids who attend the school in Tempe Elementary School District No. 3 are on reduced or free lunch programs.
Need fresh thinking? Help is a few keystrokes away.