LAVIDGE IMPACT Volunteers Donate 12+ Bags of Food, Diapers and Hygiene Items
May 14, 2021
Employees follow up at Harvest Compassion Center by sorting oodles of donations
PHOENIX (May 14, 2021) – Nine LAVIDGE employees stepped up on May 14 to spend two hours of their Friday morning sorting donations at Harvest Compassion Center in North Phoenix.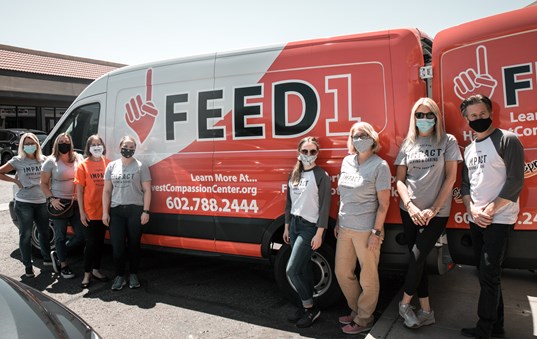 Instead of focusing on their respective normal workloads such as tending to accounting, public relations, digital marketing, content development or photography, each took the time away from the Phoenix-based agency to give back. On this day, that meant starting by filling at least one grocery bag with nonperishable food, baby diapers or hygiene products. Whether they raided their pantries at home or purchased them specifically for those who depend on Harvest Compassion Center (HCC), everyone arrived with at least one bag of donations. Some brought even more.
That, however, was just the day's beginning
Legacy of Compassion Extends to All
The inspiration behind the organization was the giving heart of Mitchell Swaback. Before he lost his life in 2004 at the age of 23 by drowning while rock diving, "Mitch" regularly found ways to serve those in need. Whether he was taking sandwiches to the homeless or making sure they had water on a hot day, he lived an exemplary life of service.
In his honor, the Swaback family created HCC 10 years ago to provide food and clothing to the underserved in the greater Phoenix area. Since then, the charity has grown from one location in North Phoenix to three centers including one in Maryvale and another in West Phoenix.
As the organization's executive director, Nicolee Thompson has significant input on how day-to-day operations are done. As Mitchell's older sister, she is motivated to keep his legacy not only alive, but on point with the causes he was passionate about in life.
"He was just a guy who would help anyone at any time, strangers and friends alike. He attracted everybody!" she said.
On a recent visit, Thompson personally greeted LAVIDGE IMPACT volunteers before sharing the backstory both verbally and by sharing a brief, but poignant video which included not only the charity's inspirational beginnings, but a short history of how the charity came to be and its growth.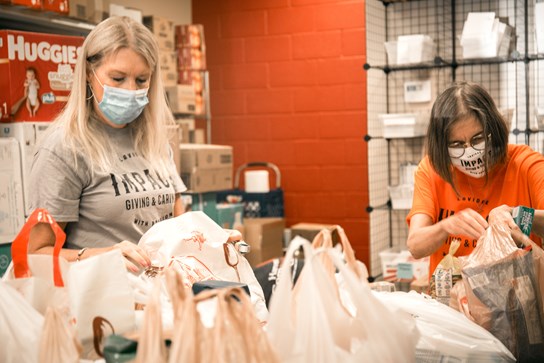 Afterward, Thompson and Lori Schweighardt, who serves as Director of Operations North Phoenix, guided LAVIDGE IMPACT volunteers on a tour of the center located in the 4700 block of East Thunderbird Road in Phoenix. The pair explained that everything in the building was available to anyone in need without qualifying through the typical channels for public assistance.
That's because the non-profit does not accept government funding, keeping it free to serve those it feels need help, regardless of what someone's situation looks like on paper. If someone shows up and clearly needs new shoes, they will leave with a pair in hand, Thompson said. Or, for example, if a client arrives who needs diapers and formula they will not be turned away because they don't fit within a specified criteria which causes them to fall through the cracks elsewhere.
Pallets of Diapers No Match for IMPACT
On a typical visit, up to 20 volunteers are tasked with weighing, sorting and stocking the items their group donates. They might also assist with other needs such as cleaning and tagging shoe donations, assembling hygiene packs for homeless guests, stocking shelves with products, and sorting and packaging diapers and more.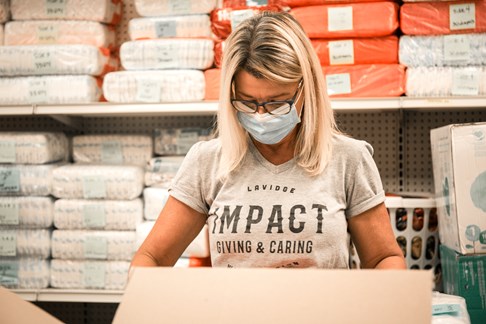 The overwhelming need on the morning LAVIDGE IMPACT volunteers arrived at was to sort, repackage and label baby diapers for use across multiple locations. The centers also accept and distribute adult diapers, but didn't have any on hand which needed to be sorted just then.
LAVIDGE EVP and CFO Sandra Torre, who oversees IMPACT volunteer events, said she was impressed with the organization and how well it serves the community.
"We will definitely be back," she said.
Respect is Included
Schweighardt noted that a little respect goes a long way, making it easier for those whose needs are not being met in other ways to feel welcome enough to request help without fear of judgement.
We try to remember their names. We talk with them. We visit with their children in the play area. When they leave knowing they are valued, clients are more likely to return the next time they are down on their luck, she said.
Reusable Bags Foster Responsibility
While those who come seeking help from Harvest Compassion Center have a variety of reasons they are there, the founders and staff work hard to meet them where they are—before trying to lift them up.
For some, being given a reusable shopping bag which they are asked to bring back the next time they come is a first step toward building personal responsibility. It includes them in the process and helps them earn a sense of pride when they remember to do it, Schweighardt said. "Of course, if they forget, we will provide them with a regular plastic shopping bag donated from a local grocery store to use for that visit.
Clients are often so excited to tell us they have remembered their bag. Sometimes they will return it filled with items that they have received elsewhere but won't be able to use personally. This gives them a chance to give back to others even when what they have is not much, Schweighardt explained. Helping a client to build self-confidence in these small ways can go a long way on their journey toward achieving self-reliance.
Atmosphere Welcomes Clients
In addition to having on hand what people need, HCC takes the time to display its groceries as if it were a small convenience market. The clothing area has the vibe of a boutique, and the play area for children includes toys, a small table with chairs and plenty of books. Making children just as welcome as adults is key, Schweighardt said. People sense how well they are being treated and often reward volunteers and staff by responding positively in return.
Of course, not everyone is happy to be there. Understandably, someone who is terminal and has been referred there to select a suit for their final attire might wish they were anywhere else but there. Even so, staff and volunteers try to make the process as painless as possible.
HCC Adjusted to COVID-19
The unexpected arrival of a pandemic in 2020 and all that it meant to both clients and those operating the center could have been disastrous. Instead, the organization continued forward with its mission leading to:
4,090 families served
135,500 pounds of food, hygiene, and baby items distributed
20,906 pieces of clothing distributed
32,300 diapers distributed
1,525 Bibles distributed
5,384 volunteer hours served
In Maryvale
4,140 families served
126,258 pounds of food hygiene, and baby items distributed
18,367 pieces of clothing distributed
5,491 diapers distributed
1,226 Bibles distributed
2,748 volunteer hours served
And in West Phoenix
546 families served
25,198 pounds of food hygiene, and baby items distributed
4,158 pieces of clothing distributed
3,175 diapers distributed
264 Bibles distributed
704 volunteer hours served
Volunteers and Donations Always Welcome
Lauren Sullivan, communications manager at HCC, worked with Torre to arrange LAVIDGE IMPACT's day of service at the center. Individuals or organizations interested in volunteering may visit harvestcompassioncenter.org/volunteer or call 602-788-2444 to schedule a time. Walk-ins with two forms of ID are also welcome between 9 and 11:30 a.m. Mondays, Wednesdays and Saturdays at 4744 E. Thunderbird Road, Phoenix, AZ 85032.
Need fresh thinking? Help is a few keystrokes away.