LAVIDGE IMPACT Packed Snack Bags at Homeless Engagement Lift Partnership (HELP)
June 22, 2022
Ad agency volunteers pitch in to pack snackz bags for school childre
PHOENIX - (June 22, 2022) – Every child deserves snack time.
Thanks to Homeless Engagement Lift Partnership (HELP), a 501©3 corporation registered as a non-profit corporation in Arizona, homeless pupils in Maricopa County schools in who otherwise might go hungry are treated to H.E.L.P. Snackz.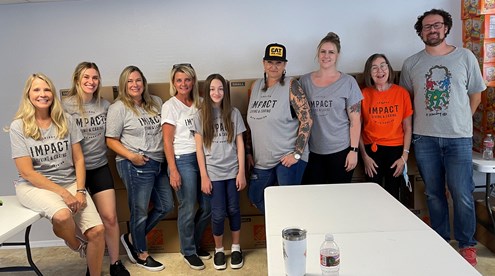 The program, one of many forms of assistance H.E.L.P. provides to homeless individuals and families. It relies on volunteers such as those who pitched in today from LAVIDGE IMPACT to pack paper lunch bags with 8,000 snacks per day that schools send home daily to supplement free school breakfasts and lunches. Each white paper sack is decorated by volunteers with an uplifting message before being packed with nutritious food.
Showing up to a warehouse first-thing in the morning to volunteer is not unusual for LAVIDGE employees.
Under the direction of Sandra Torre, IMPACT chairperson and EVP/CFO, full-service ad agency based in Phoenix encourages its employees to donate up to 16 hours per year from their regular workday to give back. Today, eight employees and one family member donated 2 hours each.
The need is great for volunteers to prepare each bag—and donations to fill them. The Maricopa Association of Governments Point-in-Time (PIT) Unsheltered Street Count conducted in late January 2022 documented 5,029 unsheltered homeless people living on the streets—up from 1,646 in January 2016 and 3,767 in 2020.
For information on how to get involved visit helpingthehomelessnow.org, call 602.341.3822 or email [email protected].
Photo: Cammy Corken, Ellanna Koontz, Megan Wahl, Sandra Torre and daughter Madeline, Amber Allen, Jenn Monroy, Laurie Schnebly and Ziggy Goldfarb.
Need fresh thinking? Help is a few keystrokes away.