LAVIDGE IMPACT Exceeds Goal in Virtual Walk to Benefit Children with Disabilities
March 30, 2020
PHOENIX (March 30, 2020) – LAVIDGE IMPACT exceeded its March goal to raise $500 to benefit Arizona children with disabilities, by sponsoring 18 employees who signed up for the annual Walk with Me Family Fun Run and 5K hosted by Southwest Human Development (SWHD).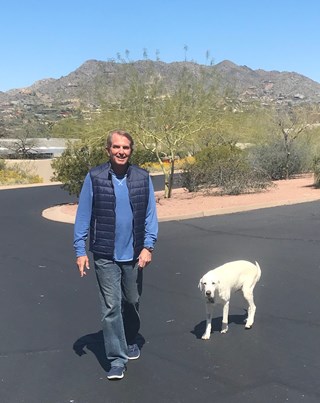 IMPACT Committee Chair Sandra Torre, LAVIDGE EVP and CFO, facilitated the charity committee's donation of $524.59 to the nonprofit—despite changes due to COVID-19 restrictions. The same social distancing guidelines which required SWHD to re-envision its annual walk as a virtual event meant all LAVIDGIANs were also working from home.
"We wanted to make sure everyone still had a chance to participate, and most of all, for the agency to follow through on LAVIDGE IMPACT's commitment to give back to the community," Torre said.
So Torre invited LAVIDGIANs to make time to walk on their own between Monday, March 23, and Saturday, March 28. Some posted photos or videos from their walks on Twitter and Instagram at @swhdaz, and @SouthwestHumanDevelopment on Facebook and tagged with #WalkGoesVirtual. Others also created fundraising profiles to share on their social accounts.
Southwest Human Development, founded in 1981, employs 900 people who operate 40 programs which serve more than 140,000 children, families and professionals in Arizona. Walk with Me debuted in 2009 to raise funds and awareness for children with disabilities.
Participants who came together virtually to support the non-profit's cause included Morgan Clark, Hannah Coda, Sarah Cullen, Ellen Frezzi, Tereza Fritz, Betsey Griffin, RuthAnn Hogue, Emmi Kellogg, Bechet Proto, Bill and Julie Lavidge, Kylie Lavidge, Sabrina Norris, Anne Robertson, Sean Rogers, Laurie Schnebly, Sandra Torre and Alicia Wadas.
For some, getting involved with the walk was more personal than for others.
"I thought of my niece, Jasmine, who had Wilms Tumor, a rare kidney cancer, as a child," said Frezzi, a Billing Supervisor with LAVIDGE. "She is fine, and in her 40s, but she went through a lot as a child. She was diagnosed at 8 months old and went through chemo at barely age 1, for an entire year."
RuthAnn Hogue, a Senior Content Developer/Writer for LAVIDGE, also had a young niece in mind when she walked her dogs at a nearby park.
"My walk was in honor of my niece, Micayla Brinn, a Rett's Syndrome angel who passed away at the age of 8," Hogue said. "She can no longer be helped, but kids with other issues still need services. I have no doubt that Micayla would be pleased to pay it forward."
To make a donation visit Southwest Human Development online or call (602) 808-GIVE (4483).
Need fresh thinking? Help is a few keystrokes away.