LAVIDGE IMPACT Supports Save the Family 2022 Back-to-School Drive
June 29, 2022
Volunteers donate and fill 20 Backpacks with school supplies
PHOENIX - (June 29, 2022) – Many school children lack the means to obtain the basics each year when it's time to return to the classroom. Naturally, LAVIDGE IMPACT volunteers want to help.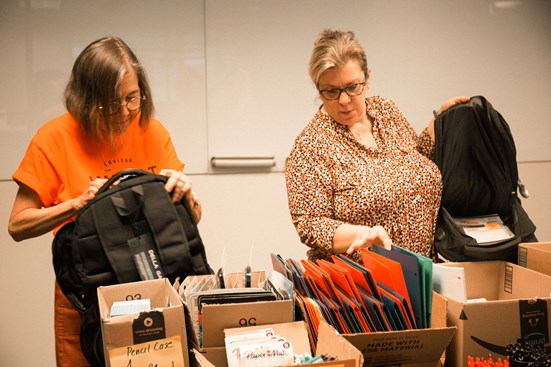 Save the Family Foundation of Arizona, often referred to as Save the Family for short, is one of numerous organizations which have their backs each year—in this case, literally—by soliciting donations for backpacks filled with supplies.
LAVIDGE Executive Vice President and Chief Financial Officer Sandra Torre, who first became aware of and supported the organization's annual back-to-school drive last year, coordinated with Save the Family for a repeat performance.
Once again, through LAVIDGE IMPACT, agency employees came through. LAVIDGIANs purchased everything from the backpacks themselves to ball point pens, notebooks, paper, erasers, glue sticks, flash drives, calculators, rulers, protractors, and so much more and either brought them into the office or had them shipped from their work-from-home remote location.
For those who were unable to do either, Torre accepted donations via digital apps  and then went shopping to purchase items on their behalf, making sure that nothing on the non-profit foundation's wish list came up short.
Today, volunteers gathered in person at the full-service digital, ad and PR agency's office in the 2700 block of East Camelback Road to sort the supplies and place them inside each backpack before handing them over to the foundation.
Save the Family was founded in 1988 to provide services and support to families experiencing homelessness. It also strives to equip families with resources to avoid issues that can lead to losing one's home and ensure stability. That includes providing families with the tools their students need to be successful.
For information on how to get involved visit savethefamily.org, call 480.898.0228, ext. 201 or email [email protected].
Photo: Laurie Schnebly and Ellen Frezzi pack school supplies for Save the Family Foundation's 2022 back-to-school drive.
Need fresh thinking? Help is a few keystrokes away.