PBJ Ranks LAVIDGE 4th-Largest Phoenix-Area Advertising Agency
August 23, 2021
2020 capitalized billings place LAVIDGE among the top local agencies
PHOENIX (Aug. 23, 2021) – LAVIDGE is proud to announce it has earned high honors by ranking fourth in the Phoenix Business Journal's Largest Phoenix-Area Advertising Agencies based on strong capitalized billings in 2020.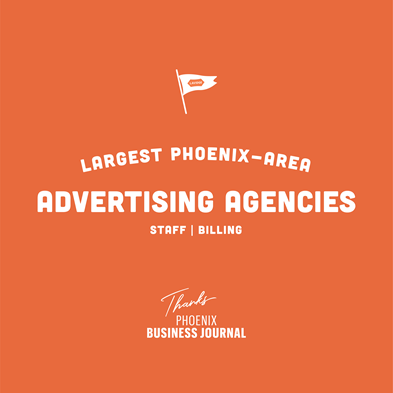 In addition to earning $102.10 million in fee-based revenue, LAVIDGE was ranked on having 64 local, full-time employees, a strong list of local clients, its top local executive, and the year LAVIDGE became an agency. 
The ranking is especially prestigious in a post-COVID-19 economy which hit many industries, including advertising, particularly hard. LAVIDGE credits much of its success during this time to being nimble enough to switch quickly to a remote workforce, and the ability to excel in servicing client accounts within Public Affairs and government such as the 2020 Census, the 2020 elections, and non-profits promoting public health during a pandemic. LAVIDGE also provided support within the education and healthcare industries, along with senior-living communities, and many others.
Need fresh thinking? Help is a few keystrokes away.