From Local to National
Retail service brands grow into a national advertising strategy
You've heard the story before.
An ambitious entrepreneur mortgages the house to start her dream—a modest retail services salon in a quiet suburb. It isn't long before business is booming and a second location opens across town. Then another. With money rolling in, a new store is unveiled in a different city. Before long the business, which is now fueled by franchises, expands to several states.
Until now, the company has promoted itself only with local advertising. But adding another city means that the ad budget will mostly double. And double again when franchisees in newer cities join the family. When is it time for a franchise business to move from a local/regional advertising strategy to a national one?
Outgrowing local advertising
A local-only advertising strategy makes sense for a single-location business. Depending on the target audience, a mix of newspaper, TV, radio, even billboards will work well. Some geo-targeted mobile advertising can drive traffic. When a second store opens nearby, the media budget may not increase because both locations benefit from the same media market reach.
But the picture changes when multiple locations are established in different cities and states. How long before a local advertising media planning and buying strategy gives way to a national approach?
The answer to that questions rests with economics and effort.
How much time do you have?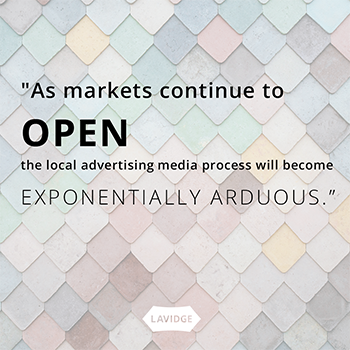 Planning an effective strategy for a local media program takes time and expertise. Demographics and media preferences are studied. The various media are contacted individually. That means negotiating separately with chosen media (newspapers, radio, etc.), and that translates into dozens of emails and phone conversations . . . and bills to pay. 
If you're a sole proprietor, planning and buying your advertising might not be too demanding unless you're also running a small business, purchasing inventory, managing staff and providing clients with great customer service. This media planning and buying process is repeated when opening locations in other cities. You can probably reuse the same creative, but the client demographics and media preferences in your marketing strategy need to be recalculated.
Even with just a few locations in multiple cities, most retail service business will have already hired marketing personnel and retained the services of an advertising agency, which can do a lot of the heavy lifting to build brand awareness. As markets continue to open, the local advertising media process will become exponentially arduous.
Financial matters
Until your company has grown to a considerable size and in several markets, national advertising campaigns won't make sense. Here's why.
First, national advertising can be expensive. Depending on your media mix and the markets you are in, a campaign can easily cost $1 million and more. Second, a national advertising program will blanket the country and be wasted on the many markets where your retail services brand doesn't have a presence.
Unless your business is a pure regional player, by the time you're in eight to 10 markets you're likely to be in major population centers, which means a national ad campaign will have minimal waste. Depending on your budget and chosen media channels, this is the time when going national may be less expensive and certainly less time intensive than local advertising and marketing efforts.
There are several other reasons for moving communication to a national advertising campaign, including:
You desire to grow bigger

You want to seed markets with buzz and excitement

You are searching for additional franchise business owners

Presence in national advertising lends clout and credibility to your brand
When you step up to national advertising, keep in mind you can (and perhaps should) keep some local campaign elements, such as billboards, direct mail (you can buy mobile nationally), and perhaps newspapers that still have influence. BIA/Kelsey estimates that national brands will spend nearly $70 billion in local advertising in 2018.
Need help?
LAVIDGE, an Arizona franchise media agency, can help you take your retail service franchise's advertising and marketing strategy from local to national.
To learn more, give us a call at 480.998.2600 or send email to [email protected].
U.S. local ad spending share, by channel/format (% of total) 
Direct mail 24.9%

TV over-the-air 13.3%

Digital/interactive 12.5%

Mobile 10.8%

Radio over-the-air 9.6%

Print newspapers 8.3%

Out-of-home 5.7%

Cable 4.6%

Digital newspapers 2.5%

Email 1.8%

Digital yellow pages 1.7%

Print yellow pages 1.3%

Print magazines 1.1%

Digital radio* 0.9%

Digital TV 0.7%

Digital magazines 0.4%
Note: Total local ad spending in 2017=$148.8 billion; numbers may not add up to 100% rounding; *includes commercial and digital streaming services. Source: BIA/Kelsey, "U.S. Local Advertising Forecast 2017" as cited in press release, October 26, 2016) eMarketer
Southwest Retail Services Marketing Report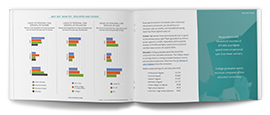 This article is a brief abstract of our exclusive and authoritative study that takes the guesswork out of health, beauty and grooming retail services advertising and marketing. Rather than speculating about what will drive consumers to action, we've asked them.
Need fresh thinking? Help is a few keystrokes away.