Attitudinal Segmentation:
It isn't about age, gender, race and ethnicity, or income
Healthcare marketers who target consumers by age, gender, race and ethnicity, or income are potentially over-spending on media and missing a key to unlock both motivation and action.
That's because our current marketing and advertising ecosystem is built on demographic targeting instead of what consumers think.
For decades, marketers have been limited to media buys such as radio and television ads targeted based on audience age and gender. You can reserve ads in time slots which attract adults at least 65 years of age, for example, or in programming aimed at women between the ages of 25 and 34.
Who's to say that the women within either of those groups hold a core set of common beliefs which influence how favorably they will respond to your message?
Thanks to our recent attitudinal research, we now know that they don't.
Marketers who want to stand out can gain a competitive advantage by accessing insights uncovered by our research showing that age, gender, race and ethnicity, and even income are transcended by shared attitudes that have no demographic distinction. These powerful beliefs, if understood and used as the foundation for segmentation and personalization, will transform your brand.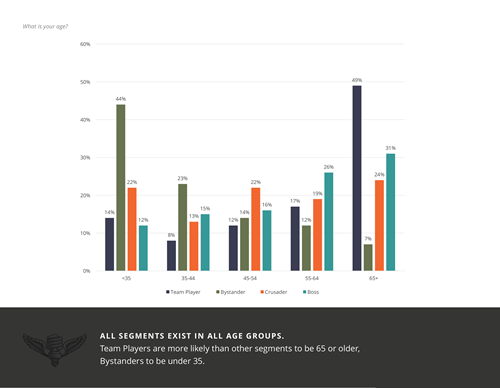 LAVIDGE conducted a national consumer healthcare study in early 2020, updated with an amended survey in May 2020. The objective was to learn attitudes of healthcare consumers and define segments that share those attitudes—pre-pandemic and during the current COVID-19 developing situation.
The study uncovered four key healthcare consumer segments:
Team Players - like and trust their doctors and are confident in the healthcare system.
Bystanders - are intimated by the healthcare system and healthcare providers.
Crusaders - feel that everyone should have equal access to quality healthcare.
Boss - conducts their own healthcare research and challenges their doctors.
This is the first in a series of articles in which we reveal several "Light-Bulb Moments" our research uncovered.
Light-Bulb Moment 1: Attitudinal segmentation isn't about age, gender, race and ethnicity, or income
We didn't know going into our study how many segments would bubble up or which attitudes would be most common among respondents who answered a series of thought-provoking questions.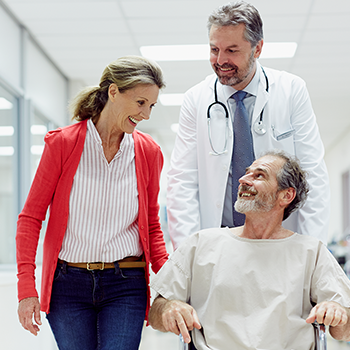 Once the four segments revealed themselves, however, it became clear that all of them exist across all demographic criteria, with slight skews for different segments.
The revelation that shared attitudinal segments do not adhere to demographic criteria turns traditional healthcare marketing targeting strategy on its ear.
We learned that healthcare consumers respond to content that resonates with them emotionally and aligns with their beliefs. This gives you a significant leg up on the competition.
While others are busy crafting messages for audiences with common characteristics (whose core beliefs about healthcare are not necessarily aligned), you can launch laser-focused campaigns based on what makes healthcare consumers tick.
 In short, attitudinal segmentation allows you to:
Partner with an experienced healthcare marketing agency
Going it alone, especially in a post-pandemic market, can be risky for medical practices in 2020 and beyond. More than ever, choosing the best agency to partner with for consumer healthcare marketing messages has never been more important.
Consumer attitudes are changing, and you need an experienced team with significant industry experience combined with access to developing consumer insight based on what your patients believe.
You'll find just that with LAVIDGE.
In fact, healthcare marketing is a core category at our Arizona-based marketing, advertising and public relations firm. We invest in primary research to keep abreast of consumer shifts in the healthcare industry.
For example, in 2016, we launched our first healthcare research study and published the results in 2017. We followed up by publishing an entire content suite of healthcare-related advice on how to apply the information to a host of marketing and advertising capabilities from Creative to Programmatic to help industry players achieve their goals.
Our current market research digs deeper and provides updates on what's most important to healthcare consumers today.
Finally, because our strong roster of current and past clients represents a wide range of organizations in the healthcare category including Banner Health, Blue Cross Blue Shield, Delta Dental, SimonMed Imaging, Sonora Quest Laboratoriesand TGen, it's clear that LAVIDGE is an agency you can trust.
We'd love to bring you into the fold.
To learn more about our health care attitudinal research study, contact Dave Nobs.
Need fresh thinking? Help is a few keystrokes away.