Which Marketing Messages Sway the B2B Tech Buyer's Decision?
November 21, 2017
PHOENIX (Nov.21, 2017) – The "2017 U.S. Technology Marketing Report," developed and commissioned by LAVIDGE, reveals how technology buyers respond to marketing aimed at winning their investment dollars. Among the key findings: 40 percent of decision-makers prefer face-to-face meetings with vendors when considering purchases, and 52 percent are influenced by consulting colleagues and friends.
What's more, respondents reacted strongly to ads that included the claims "reliable" and "easy to use."  The results also include the most, and the least, effective claims about products or services – and the highest-preferred marketing tactics to consider a vendor during initial discovery and final supplier selection.
The LAVIDGE 2017 U.S. Technology Marketing Report is complimentary and available at: http://www.lavidge.com/industries/technology/2017-report.
WestGroup Research surveyed 400 technology product and service decision-makers throughout the United States, providing original insights for marketers about specific tools and tactics to promote their products and services effectively.
Demand is at an all-time high
"B2B buyers are spending billions annually on technology products and services. To stand out in a competitive industry, marketers need to be strategic about their marketing mediums and messages," said Stephen Heitz, chief innovation officer at LAVIDGE. "Our report answers many of the questions necessary to win your share in this growing industry.
"Technology marketers are stepping up their efforts."
According to a recent edition of U.S. Consumer Technology Sales and Forecasts, the U.S. technology industry will see an estimated 3.2 percent revenue growth in 2017, earning $251 billion wholesale. Secondly, by 2020, 75 billion devices are expected to be connected to the Internet.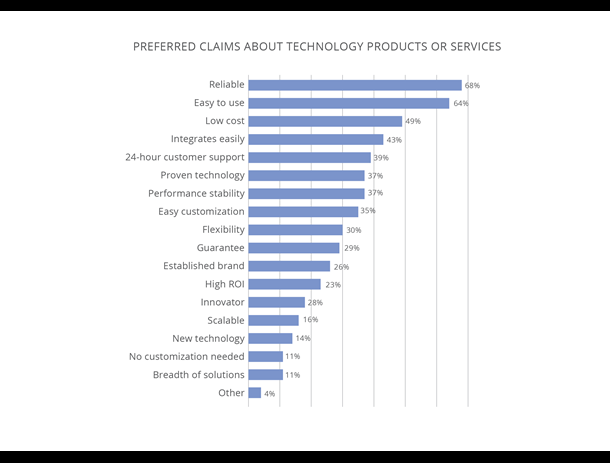 The projected growth of technology occupations will increase by 12 percent from 2014 to 2024, faster than average for all occupations, according to the U.S. Bureau of Labor Statistics. This proves that technology marketers must effectively deploy their messages to decision-makers to stay competitive.
About LAVIDGE
LAVIDGE is a Phoenix-based unified marketing services consultancy, offering advertising, public relations and digital marketing. Since 1982, LAVIDGE has specialized in discovering and communicating insights that engage, motivate and inspire – helping clients across a broad range of industry sectors reach their business goals. In addition to a host of technology clients, LAVIDGE also represents Arizona State University, Banner Health, Phoenix Raceway, United Rentals and many more. Company offices are located at 2777 E. Camelback Road in Phoenix. More information on the agency can be found at LAVIDGE, follow on Twitter or friend on Facebook.
Need fresh thinking? Help is a few keystrokes away.