Stephen Heitz Wins CIO of the Year in Phoenix Business Journal's 2019 C-Suite Awards
November 7, 2019
Heitz first chief innovation officer recognized by Phoenix Business Journal's new award
PHOENIX (Nov. 7, 2019) – LAVIDGE Chief Innovation Officer Stephen Heitz has been named CIO of the Year as part of the 2019 Phoenix Business Journal's annual C-Suite Awards announced during a luncheon ceremony today at Hyatt Regency Scottsdale Resort & Spa Gainey Ranch.
Bill Lavidge, President and CEO of LAVIDGE, was visibly pleased.
"It has been terrific watching Stephen develop into a respected leader of our company," he said. "And his growth is far from over. His best days are ahead."
LAVIDGE Executive VP and CFO Sandra Torre added that "Much of the success of LAVIDGE over the last 10+ years is due in large part to Stephen's leadership. We could not be more proud of this well-deserved recognition of the contributions he has made to our organization."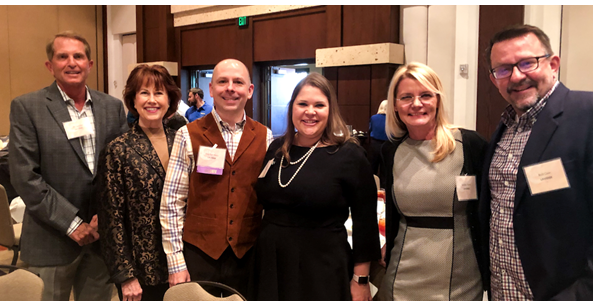 Heitz was among three finalists from more than 44 nominees for the new C-Suite Awards category honoring Phoenix-based chief innovation officers for leadership and business and civic contributions they have made to their organizations and to the community. He led the unification of client service, digital strategy, media and technology for LAVIDGE, an employee-owned ad agency. His experience allows him to combine the strategy of a media planner, data scientist and marketing guru with the know-how of a chief innovation officer. He explains how he does just that in a video prepared for the C-Suite Awards Ceremony.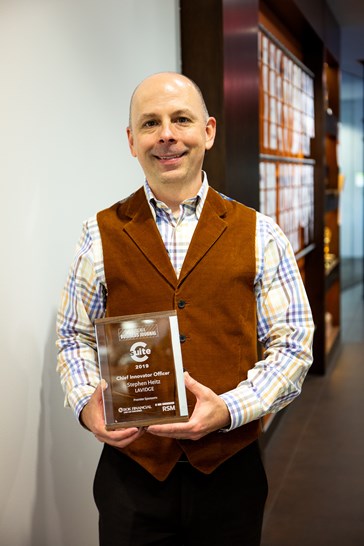 Heitz joined the LAVIDGE team as Managing Director, Interactive, in 2006. He accepted the role of Chief Innovation Officer in October 2017. His  innovations in digital media include spearheading the creation and implementation of an agency trading desk leveraging the latest programmatic ad tech and architecting proprietary Dynamic AdMatch technology that enables advertisers to dynamically change the content of their Web sites to correlate with the last advertisement seen by the visitor.
Heitz believes businesses exist to help make the world a better place. He walks the talk, giving back to community causes important to him including faith, economic empowerment, and the arts.
In addition to participating in LAVIDGE IMPACT events coordinated by the ad agency's employee volunteer program, Stephen and his wife are long-time supporters of the Arizona Theatre Company. Heitz also serves as past president and board member of the Arizona Innovation Marketing Association, an organization he's been active with for more than a decade. 
"Success in this position is about creating and sustaining an environment where great ideas flourish alongside the discipline of great execution," Heitz said. "It isn't something you do on your own. I've been so fortunate to be part of a great team here at LAVIDGE committed to innovation."
About LAVIDGE
Meet LAVIDGE, an employee-owned ad agency specializing in discovering and communicating insights which engage, motivate and inspire. From building brand awareness to driving revenue, from positioning thought leaders to enhancing perceptions, it's why we do what we do. Our unified marketing approach encompasses advertising, public relations, and digital marketing. And we've been doing it successfully since 1982 for clients in healthcare, real estate, education, hospitality, technology, sports marketing, retail services, food service, and government. Intrigued? Visit us at LAVIDGE.com or get social with us on LinkedIn, Facebook, Twitter or Instagram.
Need fresh thinking? Help is a few keystrokes away.