LAVIDGE Wins Four Awards at 2018 ADDYs
March 15, 2018
PHOENIX (March 15, 2018) – LAVIDGE, a Phoenix-based unified agency offering advertising, public relations and digital marketing services earned four awards at the 2018 Phoenix ADDY Awards including one Gold, two Silver and one Bronze award.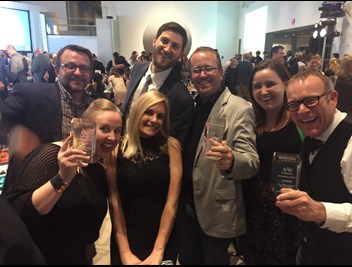 LAVIDGE saw three clients recognized across several categories. Notably, IO Data photography won a Gold award for combining a world-renowned car photographer with a data storage facility, and McDonald's took home Silver for its creative execution in a radio advertisement. LAVIDGE took home two awards for their work with PROSE: Silver for the introduction animation and Bronze for a comprehensive ad campaign.
Alicia Wadas, executive vice president and chief operating officer for LAVIDGE, was also honored as she was presented the inaugural Phyllis Ehlinger Women of Excellence Award for her outstanding efforts and contributions to the advertising industry, as well as her dedication to philanthropy and mentorship.  
Held Thursday, March 8 at the Phoenix Art Museum, The Phoenix ADDYs is the first of a three-tier process. Once an ADDY is won, winners compete against their fellow winners in a district-wide competition. Winners of the district competition will then move onto the national portion of the ADDYs. The mission of the ADDYs is to recognize and reward the creative spirit of excellence in the art of advertising.
Creativity alone doesn't win advertising competitions. It takes innovation and knowing how to push the boundaries. "I'm extremely proud of the work our team has assembled for our clients," said Bob Case, chief creative officer at LAVIDGE. "While it's encouraging to be awarded for our efforts, creating solutions that move the needle for our clients is what matters most."
About LAVIDGE
LAVIDGE is a Phoenix-based unified marketing services agency, offering advertising, public relations and digital marketing. Since 1982, LAVIDGE has specialized in discovering and communicating insights that engage, motivate and inspire – helping clients across a broad range of industry sectors reach their business goals. LAVIDGE's clients range from healthcare and technology to personal care and food service and include Arizona State University, Banner Health, ISM Raceway, United Rentals and many more. Company offices are located at 2777 E. Camelback Road in Phoenix. For more information, visit the agency website at LAVIDGE.com, friend on Facebook or follow on Twitter or Instagram.
Need fresh thinking? Help is a few keystrokes away.