Alec Esteban Thomson Selected for 2022 Phoenix Business Journal's 40 Under 40
June 14, 2022
LAVIDGE Multicultural + Public Service Marketing Director to accept prestigious award
PHOENIX – (June 14, 2022) – LAVIDGE is proud to announce that Alec Esteban Thomson has been selected from a field of nearly 400 candidates for the Phoenix Business Journal's 40 under 40 Class of 2022.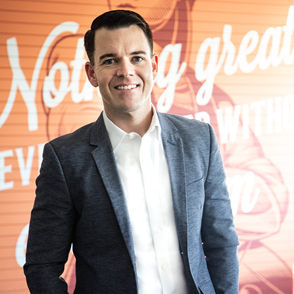 This will be the 21st year the Phoenix Business Journal has honored the region's 40 top business and civic leaders under the age of 40.
Thomson, who joined LAVIDGE in 2021 as the Phoenix-based agency's first Multicultural + Public Service Marketing Director, was nominated for the coveted honor by President and CEO Bill Lavidge.
"He's a worthy entrant," Lavidge said.
Lavidge's nomination was due to Thomson's impact on the success of the agency, a lifetime of volunteer work and community service, proven leadership, and his advocacy to improve the lives of others.
Anne Robertson, managing director, PR & Publicity, noted the distinction of being selected.
"It's a very precise and competitive selection process," Robertson said. "Alec is an excellent fit for this sought-after recognition and we're all really excited for him."
Thomson will be recognized along with his peers at the annual 40 Under 40 Awards virtual event from 9 a.m. to 10 a.m. August 4. In addition, the Phoenix Business Journal will highlight each winner on August 5 when it publishes its 21st annual 40 Under 40 Special Section.
"It's an honor to be part of this year's class and I'm grateful to have been nominated by Bill, who is a great mentor, friend, and respected leader in the community," Thomson said. "I'm proud to be recognized as part of the LAVIDGE team."
Need fresh thinking? Help is a few keystrokes away.