What if Sales Owned Marketing?
An account-based approach to the Customer Journey.
Marketing typically owns the client journey by developing and then handing off completed campaigns and tools to the Sales team before disappearing. Imagine the potential impact on the customer experience if Sales were an integral part of the process.
In Account Based Marketing (ABM), that's exactly what takes place. Let's use a Sales lens to take a look through at each step in the buying cycle to identify opportunities.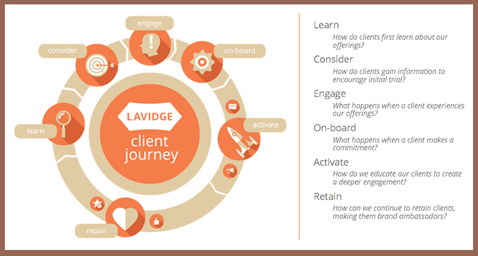 How do clients first learn about your offering? → Leverage your network.
From our technology survey, we know referrals are the leading way business-to-business technology companies gain interest. From a sales perspective, this highlights the need to create a broad sphere of influence that is willing to recommend your products or services, even though they may not be in the market themselves.
Because Sales team members are on the front lines, they are aware of existing relationships that can be leveraged—something Marketing could not know without input.
How do clients gain information to encourage initial trial? → Segment your clients.
When technology clients are looking for options, researching products or services, direct relevance is key. Leverage your sales CRM to provide client segmentation. Cross-departmental cooperation is required from the very beginning to ensure the CRM is set up to collect customer information that can be filtered in meaningful ways to target key segments. Cutting-edge technology such as machine learning can help you leverage artificial intelligence in meaningful ways as you reach out individually to everyone from those in leadership roles from a key executive vice president to members of client's board of directors.
Rather than sending the same mass emails to everyone in the CRM, for example, this segmentation will help to influence messaging, making your brand the right solution for their specific needs. Such personalization can be key in creating a competitive advantage setting yourself up as a technology leader within their industry.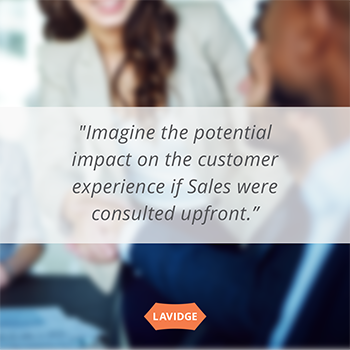 What happens when a customer experiences our offerings? → Make the pitch relevant.
Technology clients want a face-to-face meeting, driven by a "killer" sales deck. Like the old adage says, you have one chance to make a good impression. Be prepared, do your homework and customize the deck for your audience.
What happens when a customer makes a commitment? → Learn from success.
When someone buys your product or service, step back to understand why. Ask Sales what motivated the client, what were the key advantages and challenges, and how your firm can use this sales intelligence to create look-alike scenarios for other clients.
This is also a good opportunity to begin fostering a long-term relationship. With input from Sales, Marketing can begin to craft campaigns to support this type of effort.
How do we educate our customers to create deeper engagement? → Know their business.
For salespeople, organic growth and share of wallet are the low-hanging fruit of additional revenue. Current customers have already chosen your firm. Sales can help you learn more about their business needs so Marketing can provide smart recommendations that speak to their unique needs.
How can we continue to retain customers, making them brand ambassadors? → Make clients advocates.
Retention equals referrals. As they circle back to the beginning of the journey, your current customers can become your best advocates.
Keep in touch and make sure they have the best customer experience, and they'll eventually be an important part of your sales process.
Maximize your Client Journey by including Sales → Do ABM the LAVIDGE Way.
ABM, according to 84% of business marketers implementing the strategy, provides higher ROI than any other type of marketing (ITSMA). In early 2017, 46% of B2B tech/service marketers worldwide said they were doing ABM, with 26% more planning to implement it in the next one to two years.
Clearly, ABM is a strategy that works.
Not sure where to begin? That's okay. Adopting ABM requires a paradigm shift within your company. Having a third party lead the way can make the transition as smooth as possible.
At LAVIDGE, we help businesses bridge the gap between Sales and Marketing. We're experienced and ready to provide the leadership you need to grow—and support—a new-and-improved ABM-based client journey.  
Ready for a one-on-one discussion on how to apply ABM innovation to your technology solutions? Give our Phoenix technology digital strategy team a call at 480. 998.2600 or send email to [email protected].
6 ways to manage the Customer Journey
Courtesy of McKinsey & Company, six actions critical to managing customer-experience journeys as listed in "From touchpoints to journeys: Seeing the world as customers do".
Step back and identify the nature of the journeys customers take—from the customer's point of view.
Understand how customers navigate across the touchpoints as they move through the journey.
Anticipate the customer's needs, expectations, and desires during each part of the journey.
Build an understanding of what is working and what is not. 
Set priorities for the most important gaps and opportunities to improve the journey.
Come to grips with fixing root-cause issues and redesigning the journeys for a better end-to-end experience.
2017 U.S. Technology Marketing Report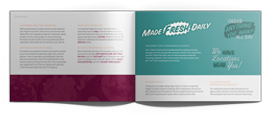 This article is a brief abstract of our exclusive and authoritative study that takes the guesswork out of marketing to business-to-business technology buyers. Rather than speculating about what will drive them to action, we've asked them.
Need fresh thinking? Help is a few keystrokes away.