The Big Lie:
You're making what you can count important.
Leveraging customer data is more important than ever in the competitive industry of business-to-business (B2B) technology marketing. The growing availability of self-service analytics software makes it easy—and tempting—to track just about anything.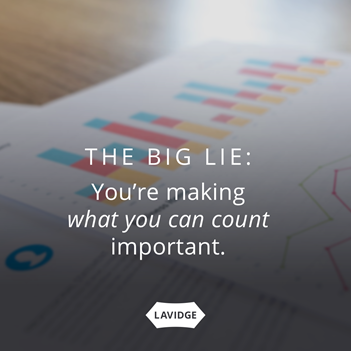 But, just because something is measurable doesn't make it important. In fact, it's actually common for B2B technology companies to track against the wrong metrics, much like the United States did during the Vietnam conflict. And, like the military's focus on body count missed the mark, counting insignificant marketing data can have disastrous results.
What are you counting? Does your dashboard show the data you need to know to measure success? If it doesn't, why not? Is it too expensive to count what matters, and if so, at what cost are you counting the wrong things?
Start by looking at metrics that provide a better picture of performance. Then dig deeper into recognizing how to define success. Here are a few things to consider when determining if you're tracking the right metrics:
1. The size of the pipeline is less important than the quality of the leads.
For too long, companies have focused on stuffing pipelines with leads. The more, the better. Right? What if you could sift through the pipeline to extract only the most valuable leads?
But volume isn't nearly as valuable of a metric as propensity to convert. By looking at stats through the correct lens you can save your sales team from wasting time slogging through iffy leads. Flush them out early so you can focus on those more likely to convert.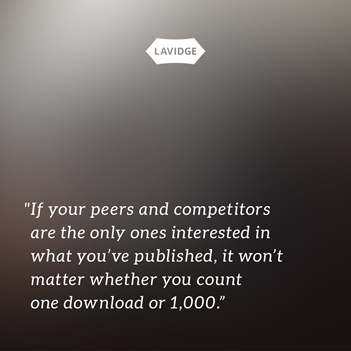 2. Make sure you're ranking the right keywords for greatest visibility on Google.
Not all keywords are created equal. Although it might be interesting to rank for a variety of keywords, it's more important to rank for the correct ones. Keywords that bring in traffic not likely to convert use precious marketing budget dollars and Search Engine Optimization (SEO) resources without any realistic expectation of return on investment (ROI).
It's true. Your B2B technology business could rank for thousands of useless words with zero impact. Once again, quality is more important than quantity. So be persnickety. Take a close look at the impact index for your keywords and adjust accordingly throughout the customer journey.
What works for someone in the initial discovery phase, for example, will differ from what they use to search once they know what you offer and again when they are making their final purchasing decision. A journey often begins with broad search terms which become increasingly specific with sales-related qualifiers as prospects progress through the pipeline. Be prepared to attract and keep their interest so your early efforts don't ultimately wind up paying off for someone else.
3. Ensure you are attracting the target audience.
Counting downloads of your latest white paper might seem great, but the number of downloads is of little value unless you know who downloaded it—and why. If your peers and competitors are the only ones interested in what you've published, it won't matter whether you count one download or 1,000.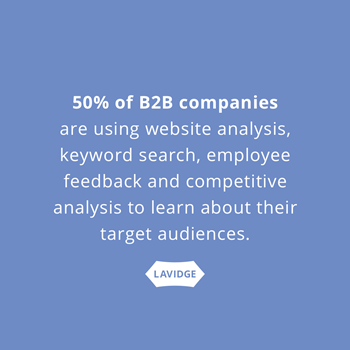 That's because you don't want to lead-nurture competitors. In a long B2B technology sales cycle you need to work and segment those downloads into meaningful target customer segments. Then, make sure the behavior you are measuring is being done by prospects who meet qualifying criteria. Vet them for pain points that match your solutions. Target those who could conceivably afford your product or service, or might have an interest in what your technology has to offer.
Use multiple data sources to get the right audience for targeted programmatic campaigns in a one-to-one scenario for prospective clients, suggests an eMarketer report (see sidebar below). This should include a combination of data from their customer relationship management (CRM), lead generation, data management platform or from a core niche site that must be brought together. Use analytics to validate the audience to ensure that the audience is on point.
4. Track only what's important—avoid analysis paralysis.
Be precise in what you gather. Once you determine what you need to know to be successful, you can ignore the rest. The one-offs, the competitor downloads and the others who just downloaded your white paper without any intention of becoming a client are statistically insignificant—and not worth tracking past identifying them as such.
Even with marketing qualified or sales qualified leads, if some trackable metric won't impact your success, don't track it. It will distract you from the mission at hand, which is whether their problem and your solution are a possible match. You could wind up sifting through a self-inflicted haystack to find the needle you could have targeted up front.
Stay on top of the numbers game.
At LAVIDGE, we work with clients to create or optimize dashboard strategies that identify what to track, who to track and what's most important to your business. Because it isn't just counting. Just as dietetic calories must be balanced for proper nutrition and effective results, so must your marketing metrics.
Do you have the correct mix of Google search, retargeting and paid search to get qualified leads, marketing qualified leads and sales qualified leads? If you're not sure, just ask. We can help you identify—and achieve—the perfect balance for you.
Ready for a one-on-one discussion? Give us a call at 480.998.2600 or send email to [email protected].
B2Bs are now adopting data and analytics more widely.
Courtesy of eMarketer, here's how B2B marketers can leverage data: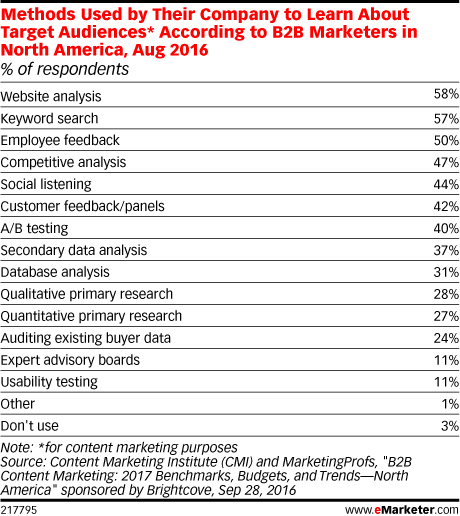 Research shows that B2Bs are starting to adopt data and analytics more widely.
A March 2016 survey of B2B marketers worldwide conducted by Dimensional Research for Progress found that 70% of respondents use big data, historical information and predictive analytics to improve their marketing effectiveness. Furthermore, April 2016 polling by Regalix found nearly four in 10 B2B marketers said a key benefit of marketing analytics is identifying precise customer needs.
To deliver an accurate personalized experience, B2Bs must use multiple sources to gather information about their buyers.
An August 2016 survey from the Content Marketing Institute and MarketingProfs found that about half of B2B marketers in North America used website analysis, keyword search, employee feedback and competitive analysis to learn about their target audiences. Less frequently used data sources included database analysis (31%) and auditing existing buyer data (24%).
April 2016 research from Altimeter also shows the importance of having a variety of data sources to create personalized and targeted content. At 65% and 63%, respectively, social media metrics and website analytics were the top two data sources used by content strategists surveyed in North America and Western Europe. About half also said they used data from customer service records and customer surveys for personalization.
2017 U.S. Technology Marketing Report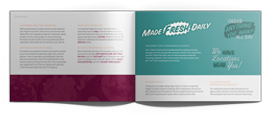 This article is a brief abstract of our exclusive and authoritative study that takes the guesswork out of marketing to business-to-business technology buyers. Rather than speculating about what will drive them to action, we've asked them.
Need fresh thinking? Help is a few keystrokes away.