Leverage Your Marketing Collateral
5 steps to a killer sales deck that converts.
If you've ever sat through a so-so sales presentation (who hasn't?) you know how painfully slowly time can pass. Such is the case even when tech company representatives with cool new things to offer "show up and throw up" with a standard deck.
However, our recent U.S. Technology Marketing Report revealed that a sales deck is the single-most important piece of sales collateral for marketing to enterprise-level business-to-business tech firms.
And to stand out, you must challenge the status quo. Develop a relevant, user-friendly, customized presentation.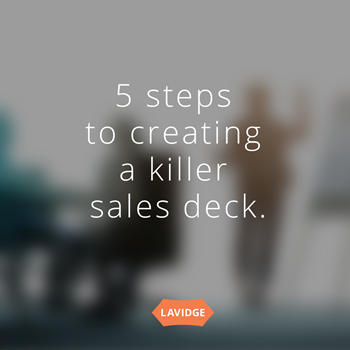 Demonstrate brand awareness.
Before going into what you can offer, pay homage to what your prospect is already doing. Even if some parts of their process are broken, compliment them on what works. Once you've shown them you respect and understand how things are done, they'll be more likely to trust your suggestions for improvement.                                       
Set the room on edge.
Once everyone is comfortable, it's time to shake things up. Educate your prospect with an insight into market trends and how doing nothing to prepare for these inevitable changes puts them at risk.
The idea is to frame your presentation around an industry trend for which you can solve a problem or need. To do this effectively you'll need to demonstrate thought leadership by shedding light on areas your prospect hasn't thought to look into or hasn't had the time to fully investigate on their own. Once the impending risk has been established, the idea of not taking action should be unacceptable.
And you will have overcome the fear of change.
Explain what you bring to the table.
This is when you and your brand get to shine. If you've positioned things well, your prospect should be more than eager to hear your solution to their main challenge.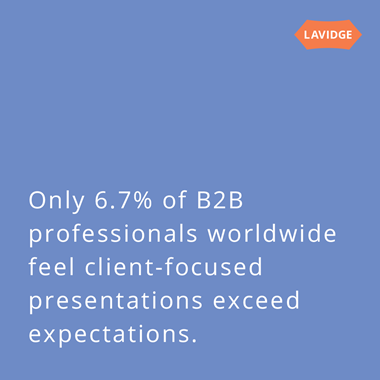 Be prepared to present your value proposition as to why your solution is best, compared to the competitor they talked with last week and the ones who might come calling in the near future. Make your case. And do it well. When possible, do so in story form. Set up the arc, the why, and what ifs.
Being well-prepared, however, means more than having a personalized deck with valuable insights and solutions. Know your product or service so well that you can go off script at any time. In fact, in the best-case scenario, your prospects will be so engaged that you never finish your deck. And that's okay, as long as you are having interactions that move the story and the discussion forward.
It's actually even better.
Wrap things up with the focus on how your prospect's numbers fit into the scenario. Make them the hero of the story. But don't be shy to share testimonials from satisfied clients. Make it clear what you are offering is possible, and not fluffed-up fiction.
Any previous so-so presentation (which they barely remember anyway) will be out of mind, replaced with a clear vision. All that remains will be to agree on the particulars of a business partnership in which—together—you make the envisioned dream come true.
In a nutshell.
Boiled down, here are the five steps to creating a killer sales presentation:
Know your audience.
Lead with them and for them.
Demonstrate insider knowledge.
Take risks. Bring insights. Be willing to identify their challenge.
Check the box with info about you—at the end.
Need help?
Not sure where to start? You're not alone. Not to worry. LAVIDGE can help you shuffle the deck when it comes to presentations that are ux/ui (customer experience and customer design) friendly. We're experienced in blending technical skills and problem-solving skills for effective, user-friendly sales tools your project managers and marketing team will love.
Give us a call at 480.998.2600 or send email to [email protected].
Marketing collateral: there's room to improve.
Courtesy of eMarketer, see which forms of marketing collateral business-to-business professionals worldwide prefer most.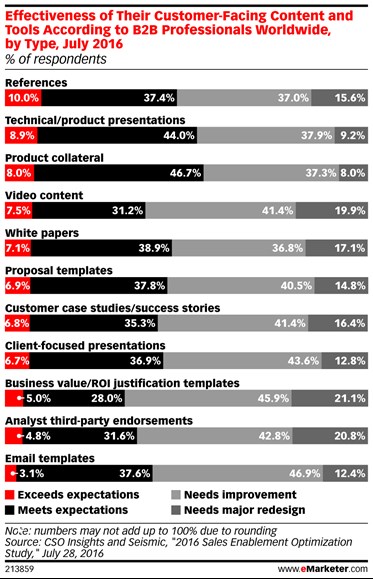 Note: Data was provided to eMarketer by Seismic.
Methodology: Data is from the July 2016 CSO Insights and Seismic "2016 Sales Enablement Optimization Study." 375 B2B professionals worldwide were surveyed during April 1-July 26, 2016. Respondents were from Asia (5.4%), Australia and New Zealand (6.0%), EMEA (24.2%), Latin America (5.5%) and North America (58.9%). CSO Insights is the independent research arm of MHI Global, dedicated to improving the performance and productivity of complex B2B sales. Seismic is a sales-enablement-based company.
2017 U.S. Technology Marketing Report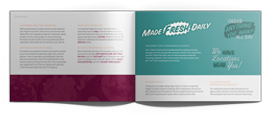 This article is a brief abstract of our exclusive and authoritative study that takes the guesswork out of marketing to business-to-business technology buyers. Rather than speculating about what will drive them to action, we've asked them.
Need fresh thinking? Help is a few keystrokes away.