How to Market with Content:
6 tactics to build a winning strategy with social media.
Social media is an effective way to reach potential clients whether you simply offer quick bites of inspiration or link to in-depth reports and information. Winning content creation strategies combine the best of both. Let's take a look at six tactics that can make your social media marketing plan a success.

1. Go big or go home.
Begin by focusing your content strategy beyond blog posts and white papers. Offer real value prospects would willingly pay for—but give it to them for free. This means investing in primary research to create a compelling report that no one else has. Maybe it's developing full interactive training modules—the higher quality the better. Then use quotes or images from your report or modules to develop social media content with links to the in-depth content on your blog or business website.
2. Be insight driven.
Raw data is great—if you are a researcher. In the real world, if you don't take the time to uncover the insights that will help your technology buyer become a hero for implementing your solution, no one cares. So, before sharing the results of your findings, ask yourself, "What's the insight? How can we leverage it to engage with prospects beyond the normal engagement rate?" Provide examples to help your prospect visualize your solution. In other words, bring the data to life.
3. Align with the buyer journey.
Buyers' needs change as they progress through the buyer journey. Audit all of your content to inventory what content you have for each phase. Do you have decision-making content such as guides, checklists and ROI calculators? How about micro-content aligned with brand for awareness? Comparison tools to help during final consideration? Once you know what's missing, fill in the blanks. And, if you've noticed historical drop-offs even though content exists along the way, check it for holes. Shore up your efforts with additional information or try presenting it in new ways.
4. Leverage microcontent.
Yes, go big or go home when it comes to investing in true content that will drive leads. But micro-content aligned with brand story and features will help keep you top of mind. It's those daily reminders that reinforce positive brand perceptions. Sharing bite-size bits of information strategically scattered throughout your social posts can also help establish your organization as an industry thought leader.
5. Be hyper-relevant.
There is no such thing as one size fits all when it comes to winning content. Develop specific content for each account in your Account Based Marketing (ABM) strategy. This requires research. Show your prospects you understand their needs by uncovering individual pain points. Then tailor a customized solution. Use broader strokes on social media, then offer expert individualized support one on one.
6. Be visual.
Make it visual. Borrow from campaign thinking and develop visuals that will break through. Invest in photography and video. Tools such as Adobe Spark can help create social content once you have brand standards and a point of view.
Get help from the experts.
LAVIDGE can help you develop a content strategy leveraging social media that will effectively communicate your strengths and deliver results. We've successfully coached numerous clients on how to create engaging ad content for marketing efforts, and can work the same magic for you. With years of experience, our Arizona technology content marketing agency can help you identify audience insights and put them to work.
Ready for a one-on-one discussion? Give us a call at 480.998.2600 or send email to [email protected].
7 apps to help you manage social media content
Courtesy of Social Media Examiner, here are 7 excerpts from a list of 23 apps to help you manage, post and measure social media content.
#2: Grammarly is a great way to spell-check your social media posts.
#3: To create cool forms on the web, try Typeform. 
#4: Twitter Analytics from AgoraPulse is a free tool that allows you to compare your Twitter account to others.
#5: Grytics is a great tool to analyze your Facebook groups. It gives you statistics based on your most active members, engagement, and activity scores.
#6: Patch, a smart portrait editing app for iOS, automatically edits your images and simulates a blurred background effect that lets the subject of your photo stand out.
#8: Ripl, a mobile app that creates images, video, captions, and moving text, is different from other apps in that it lets you easily do a lot of motion graphics.
#16: Crowdfire, a web app for iOS and Android, lets you publish to Twitter and Instagram, engage with your followers, clean up your followers, find new followers based on keywords, and schedule based on the best times to publish.
Source: "23 Cool Tools for Social Media Marketers," Social Media Examiner
2017 U.S. Technology Marketing Report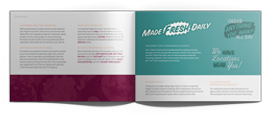 This article is a brief abstract of our exclusive and authoritative study that takes the guesswork out of marketing to business-to-business technology buyers. Rather than speculating about what will drive them to action, we've asked them.
Need fresh thinking? Help is a few keystrokes away.