Cross-cultural Marketing isn't a Plan, it's a Strategy
How to market a brand in other countries and to multiple cultures.
Opportunities for multicultural marketing in America already abound—and are about to explode. Of 323,127,513 residents counted in a U.S. population report last summer, 39% identified as black, Hispanic, Asian or part of another minority group such as American Indian, Alaskan Native, Native Hawaiian or Pacific Islander. By 2044, the U.S. Census predicts America will be majority minority.
That's a lot of potential customers, regardless of your industry. It would be difficult not to take notice.
In fact, many business-to-business (B2B) technology companies have smelled the coffee and often address cross-cultural marketing completely differently—different campaigns, different teams and different messages.
It's a great start. Let us suggest a better way: incorporate multicultural aspects into a broader, holistic "total market" plan. The Association of Hispanic Ad Agencies (AHAA) approves of such an approach when "followed by corporations with their trusted internal and external partners, which proactively integrates diverse segment considerations." 
Following are five tips you can employ to do just that for your next diversity campaign.
Create common communication goals that align with overall business goals
The AHAA further states, and we agree, that in marketing communications, this could lead to either "one fully integrated cross-cultural approach, individual segment approaches, or both in many cases, but always aligned under one overarching strategy."
What this means is that whether segments are targeted together or separately, the overall goal should be the same—even when how you get there might vary. That's because the problem you solve is at some level universal. We are all human beings with the same basic needs—even though the lenses through which we view those needs aren't always identical.
Regardless of how you reach out, make sure each diversified marketing thread comes together to weave a singular result—the success of your clients, which will, in turn, lead to the success of your own.
Understand ALL of your audiences and how they consume marketing information.
Going in with an awareness that cultural differences exist can help your marketing efforts get off to a good start. Before you can craft the perfect campaign, you need to understand how each segment consumes marketing information. What are their digital habits? Do they prefer messaging in English or another language, such as Spanish, and what are their values?
Mashable recently quoted a BIA/Kelsey study that found Latinos are more likely to use social media than non-Hispanics, with 73% of them reporting regular use of Facebook, 34% on Instagram, 25% on Twitter, 21% on Pinterest and 18 percent who use LinkedIn.
While no one wants to feel like they are being sold directly, we all appreciate messages that resonate. Hispanics are no different, but are more likely to shop locally using mobile devices than non-Hispanics—and a full 23.6% of them do so using tablets. In total, 48.5% of Hispanics polled reported using a mobile device to shop. When they shop, they prefer marketing messaging focused on family values.
An interest in technology among Hispanics is most definitely there. These types of insights can mean the difference between reaching out with a focus on the most popular digital channels among Hispanics with messaging presented in a culturally appropriate tone—and making poor attempts at inclusion—or no attempt at all.
The same broad principles hold true for other minority groups and cross-cultural marketing, although the particulars of cultural nuances might change.
Maintain brand and campaign consistency, yet adapt to address cultural nuances.
More solid advice: maintain brand messaging consistency from beginning to end, with the goal of enhancing value to your B2B prospect and growth for your business venture. This might mean adapting music or images depending on the intended cultural market segment. It could include using words and phrases popular in a particular region or otherwise being inclusive and welcoming to your target audience.
Pay off marketing campaign promises with operational and customer service support.
If you market cross-culturally, be prepared to deliver in kind. Your customer service channels need to be ready to handle digital or voice traffic in the same languages your new clients use. Make sure from web content to phone support that information is readily accessible so they can successfully adopt and use your technology. A full-service marketing and advertising agency with experience working with an Hispanic market can help you plan appropriately.
In essence, ensure that the cross-cultural approach to business remains consistent far beyond the initial marketing phase. Create a sense of welcoming throughout the client life cycle.
Need help?
LAVIDGE is expert in developing unified marketing campaigns that address the nuances of various markets and cultures. Our multicultural marketing resources and creative marketing strategy can give you the competitive advantage you need.
To learn more about our multicultural marketing agency, give us a call at 480.998.2600 or send email to [email protected].
It pays to diversify your strategy
If you are not taking multicultural considerations into account, you could be missing out on sales. Courtesy of eMarketer, here's a quick look at buying power among multicultural groups.
2017 U.S. Technology Marketing Report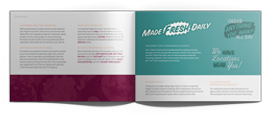 This article is a brief abstract of our exclusive and authoritative study that takes the guesswork out of marketing to business-to-business technology buyers. Rather than speculating about what will drive them to action, we've asked them.
Need fresh thinking? Help is a few keystrokes away.