Are You Leveraging Your CRM to Drive Revenue?
5 ways your existing data can jumpstart your marketing.
Why are you generating net-new leads, when you can leverage current clients and prospects for additional business?
Many business-to-business (B2B) technology firms focus on a blue ocean strategy of prospecting while neglecting to look inward to see how they can leverage current sales/prospect data to jumpstart their marketing.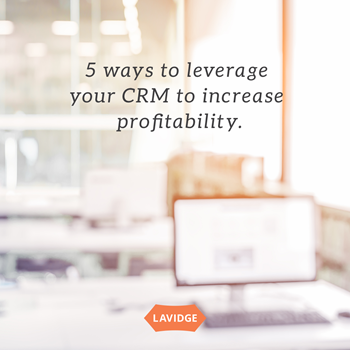 B2B technology organizations need to first look toward low-hanging fruit for prospective business. By using data management and a Customer Relationship Management (CRM) tool or system targeting, marketers can reach prospects already familiar with your brand.
Following are five benefits of leveraging your CRM system to drive revenue:
1. Shortened sales cycle
CRM systems can make the sales cycle more efficient, decreasing the amount of time it takes to close opportunities. This can increase both the number of sales and the cost of acquiring each new client. It also lessens the likelihood that sales will fall through during what might otherwise be a dragged-out process.
2. Better qualified leads
Using a programmatic marketing approach can help you target a specific audience and then track and analyze their behavior. Your CRM data will provide insight into their needs, giving you the opportunity to fine-tune content messaging for each stage of the customer journey.
3. Higher conversion rates
CRM systems can help you track what it is about specific advertising campaigns that work, so you can replicate results with look-alike accounts. By matching what's worked with similar accounts, you can expect similar results. By continuing to track behavior with analytics you can more easily identify new trends and adjust accordingly.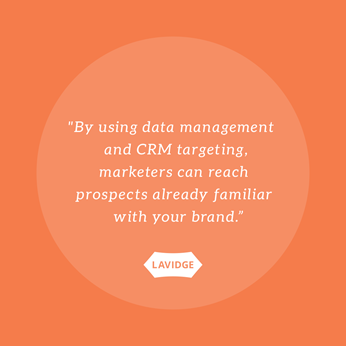 4. Greater share of wallet
CRMs help you avoid leaving money on the table. By tracking audience behavior, you can anticipate future or ongoing needs that will keep current clients cycling back through your sales pipeline. Your CRM data can also identify potential upsell and cross-sell opportunities such as upgrades, add-ons or accessories. It's a less-expensive way to increase revenue within audience segments compared to always going after a greater market share.
5. Increased awareness and perception
Your target audience will become increasingly aware of your brand as ad impressions with dynamic creative or display advertising populate throughout their newsfeeds, social media channels and web searches. Their perception of your brand can be influenced positively when you take care to avoid campaign fatigue by keeping images and information fresh. If you've targeted well, you'll be top of mind when they are ready to buy.
6. Boost your bottom line
LAVIDGE can help you integrate your existing client data, leverage the knowledge base, develop highly targeted creative for your ad campaigns and place it in hyper-relevant media.
Ready for a one-on-one discussion? Give us a call at 480.998.2600 or send email to [email protected].
5 keys to success in integrating programmatic automation programs
In a nutshell:
Plan fresh creative for each step of the customer journey
Plan for a long sales cycle, i.e., nine months for technology
Be sure systems are talking to each other as the messaging changes
Integrate your CRM with real-time bidding to shorten the sales cycle
Automate tracking to show customized creative based on the score of the lead
2017 U.S. Technology Marketing Report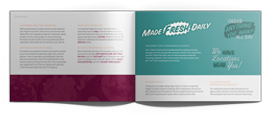 This article is a brief abstract of our exclusive and authoritative study that takes the guesswork out of marketing to business-to-business technology buyers. Rather than speculating about what will drive them to action, we've asked them.
Need fresh thinking? Help is a few keystrokes away.