Restaurant Winners and Losers
Consumers don't play favorites with restaurants
---
---
Before we can market restaurants to consumers—before marketing anything, really—it's crucial to understand purchasing behavior. So, prior to creating an advertising or public relations campaign for a restaurant, we must discover customer preferences. That's exactly what we've done.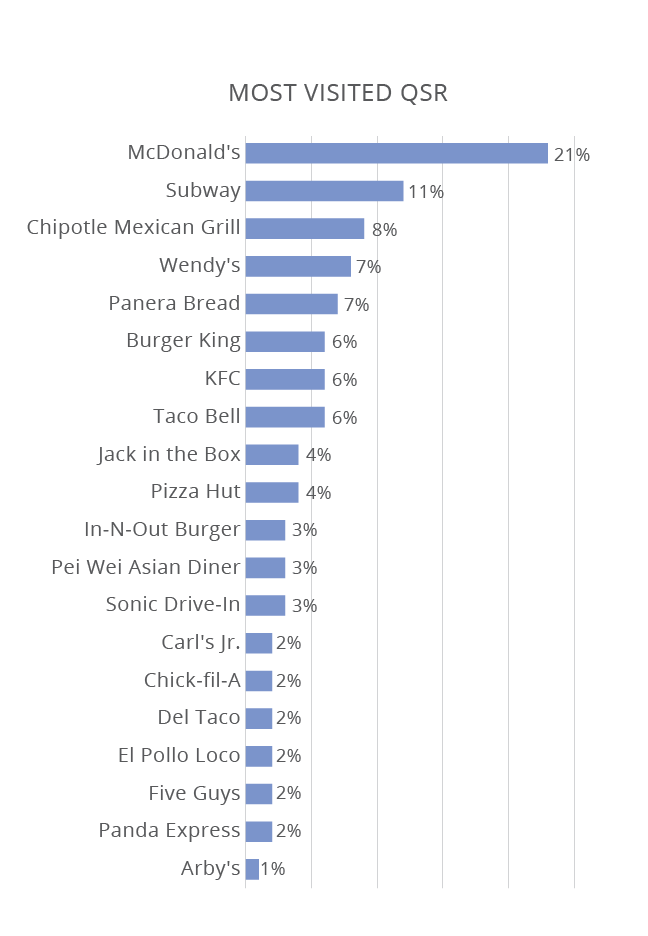 Our first question, unaided, asked consumers in the Southwest United States to name the single restaurant they frequented most often. The consensus is . . . there is no consensus. We should have predicted this, because of the large number of restaurant chains and other establishments from which to choose. There are 9,314 eating and drinking establishments in Arizona alone.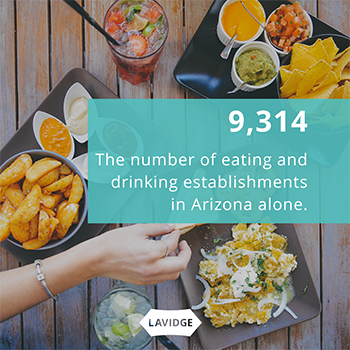 And unlike dense metropolitan areas such as New York City where 56% of households do not have a car, vehicle ownership in the Southwest is very high. Few can walk to work or restaurants, here. Together, variety and access form a perfect storm of leveling the playing field for food services.
When asked to name the restaurant they go to most often, 48% of respondents chose one identified by fewer than four other people. For example, only two people selected The Cheesecake Factory and one person chose The Capital Grille. An additional 6% of responders said they don't have a restaurant they go to often.
Because of this diffusion, the top-named restaurants get only a small slice of the remaining pie. For casual restaurants, the leader was Olive Garden, which was preferred by 9% of respondents. That's an impressive showing for the chain that was in decline just a few years ago. But several improvements have turned the tide, including new staffing practices, culinary innovation, a new catering delivery service, and installation of tabletop tablets that have expedited ordering and service. More than 10% of the Olive Garden's total sales are from its takeout program, OG to Go.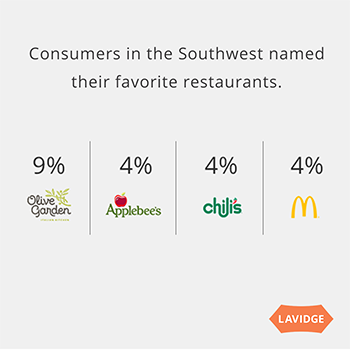 McDonald's was the fast-food victor, with 4% of respondents saying it was the restaurant they went to most often. McDonald's is the world's largest fast-food restaurant company. For any industry, brand leaders often find themselves playing defense. Smaller competitors and challenger brands can take more risks and are often nimbler. But McDonald's continues to invent. The chain has been on a roll since introducing All Day Breakfast in 2015. R.J. Hottovy, an equity analyst at Morningstar, told Forbes that McDonald's will likely continue to prosper because of its "speed of service, greater menu/marketing decisions at the regional level, and adopting consumer-facing technologies."
The only other two casual restaurant businesses that made any substantial impact in the survey were Applebee's and Chili's Grill & Bar, each at 4%.
 In their own words:
Survey responders said...
On McDonald's: "They seem to be constantly at the forefront of letting people know what they have to offer, and they don't use a ton of gimmicks. They seem more concerned with making sure that folks are interested in what is on their regular menu."

On Jack in the Box: "I really like the Jack character. The commercials make me smile, laugh and hungry."

On Sonic: "There isn't a day I do not see at least one of their commercials."

2017 Southwest Food Service Marketing Report
This article is a brief abstract of our exclusive and authoritative study that takes the guesswork out of food service advertising and marketing. Rather than speculating about what will drive consumers to action, we've asked them.
Need fresh thinking? Help is a few keystrokes away.