Paid Search for Restaurants
When organic results aren't enough, paid search may be the answer
Restaurants hunting for new patrons can spruce up the building, start using fresher ingredients and improve customer service. But those improvements won't matter if consumers can't find them. That's why search marketing is so important.
If you need more convincing: When consumers are online, they search for "restaurants near me" more than any other purchasing-related phrase. If that's not eye-opening enough, it doesn't include other restaurant searches such as "local Italian restaurant" or looking for a specific restaurant by name. Restaurants rule the search universe.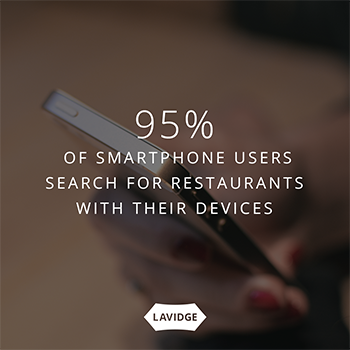 Now, ponder this data from Nielsen:
95% of smartphone users search for restaurants 
90% of those searches result in a consumer eating at a restaurant within a day
64% of them convert within an hour
An hour? That's right. It's unsurprising, because people search for restaurants when they're hungry or directly before dining out. We're procrastinators, right?
The story is clear. In massive numbers, consumers are searching for restaurants online. And when they find what they're looking for, they head there. Is your restaurant's online presence easily found when potential customers search?
Get ready for paid search
There are several reasons why restaurants may choose paid search as part of their internet marketing mix.
In a perfect world, your restaurant's website design and content are already optimized for maximum web traffic in organic search.
You've installed a great locator tool to help consumers find your restaurants.
You've optimized your addresses to follow NAP conventions so search engines can find and display your information correctly.
You're asking customers to submit online reviews about your restaurant.
You're properly listed with Google My Business, Yelp, Foursquare and other local directories.
You have a robust community of followers on social media, where you post frequent updates and special offers.
Those are the basics of a search-ready marketing strategy, but optimization is not always enough.
Pay the piper
Why are other restaurants ranking higher than yours in search engine results? Maybe they've been at the content game longer than you. They have more reviews, create great articles and have social media platforms that offer significant content marketing value. Or maybe your restaurant is so new that search engines aren't ranking you high or haven't found you yet.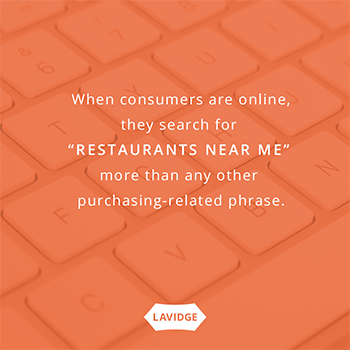 Another time to up the ante with paid search is to ensure you rank high during special occasions. Perhaps you want to encourage people to make reservations for an upcoming holiday. Maybe you're promoting a grand opening or introducing an important new menu item. Or maybe you are having trouble combating a better-known restaurant down the street. For these and other reasons, there will be times when spending a few dollars may pay huge dividends.
When it's time for paid search, you'll want to start with Google (Google AdWords), which lists advertisers at top of page-one search results. Google owns 80% of the search engine market, so that might be enough. But don't overlook Bing (10%) and Yahoo! (8%), which have devoted users.
Does Yelp Help?
Last year, the Harvard Business School conducted a study to find out the answer to that question.1 The large study analyzed 18,000 restaurants and more than 24 million paid advertising exposures during a three-month period. The results of the study are notable:
Advertising on Yelp increased a restaurant's page view by 25%.
Yelp advertising also increased the number of purchase intention signals, including getting directions (up 18%), calling the restaurant (13%) and browsing the restaurant's website (9%).
Advertising on Yelp also raised the number of restaurant reviews by 5%.
Those are impressive results. Here's further proof that the paid advertising program was effective: When advertising ceased, all the metric increases (outlined above) dropped to zero. This makes a strong case for a sustained advertising program. And keep in mind that Yelp helps inform the results that Siri delivers.
We're not shilling for Yelp or any other site/platform. Rather, we're just making the case that spending money can bring rewards.
Need help?
Not sure where to start? LAVIDGE has years of experience helping clients with paid search engine marketing. Our agency services can help you with content creation and pay per click lead generation.
To learn more, give us a call at 480.998.2600 or send email to [email protected].
Defined: Paid Search
Paid search can be difficult to understand. But we're here to help with some definitions of common terms used within the paid search industry, from Search Engine Land.**
Query: the actual input by a user into a search engine. Also called a query string. The query is the most important element that determines how a search engine returns a results page's organic and paid listings.

Keyword: A term on which advertisers bid to trigger their paid search ads to be shown to relevant users.

Ad group: A group of keywords associated with a set of ads.

Paid search ads: Generally, a four-line text element which users can click and be taken to an advertiser's desired landing page.

Campaign: A group of ad groups.

Destination URL: Also known as the landing page. The page a user is redirected to upon clicking on an ad.

Max bid: The most an advertiser is willing to pay for a click on a keyword.
2017 Southwest Food Service Marketing Report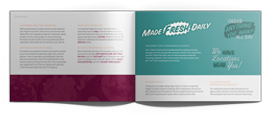 This article is a brief abstract of our exclusive and authoritative study that takes the guesswork out of food service advertising and marketing. Rather than speculating about what will drive consumers to action, we've asked them.
Need fresh thinking? Help is a few keystrokes away.