Building a Better Restaurant App
Here's everything your restaurant app should feature
How many restaurant apps are on your smartphone?
A 2016 national survey by RetailMeNot.com found that 25% of consumers have at least one restaurant-specific app on their smartphones. But more than two-thirds of frequent diners (those who eat out 8–10 times a week) use a restaurant app.* 
Only one of the nation's top 25 restaurant chains doesn't have an app. Sadly, most of them get it wrong. The most successful restaurant apps solve a problem (such as waiting in line) and add value (like special offers and coupons). If you're a restaurant that hasn't yet launched a native app (or if you already have one that is underperforming) here's a guide that will help you delight customers. 
Get found.
This is a no-brainer. Make it easy for consumers to find your closest location. If they can't find you, they'll look elsewhere. And you'll lose sales.
Offer your menu.
This is a biggie. Research by Chadwick Martin Bailey reveals that 62% of consumers won't choose a restaurant if they can't easily read the menu on their smartphone. While you're at it, show high-quality photos of your menu items, too.
Don't be a website.
If your app is simply a mirror of your website, there's a good chance it will be deleted. When there's nothing special about your app, consumers can simply access your mobile website. Apps should present an experience that's complementary and unique from your regular website.
Order ahead.
No one likes to stand in line. That's why consumers enjoy apps that allow them to place their order on a smartphone and have it ready when they arrive. But benefits of online ordering transcend convenience. One national restaurant chain reports that mobile orders are 20% higher in value than in-store purchases, partly because consumers can explore product options without worrying about the person behind them. According to research from Business Insider, people who order online "are more likely to add toppings to their orders or send in group orders via the app." Restaurant management would be wise to take note.
Speak their language.
You'll be missing out on customers and orders if your app is only offered in English. For example, if there is a significant Hispanic population near your restaurant, consider a dedicated Spanish version of your app.
Virtual reservations.
OpenTable (and other restaurant industry apps) have this covered, and consumers love this feature. If your restaurant offers local reservations, ensure consumers can make one through your app prior to their arrival.
Pay in-app.
This another feature that consumers want—paying for their meal within the app. It's all about convenience. Find a location, order food and pay all in one place. That's the perfect customer experience.
Rewards.
Many restaurants have a loyalty program, and an app can be its heart. Give customers extra points if they download your app. Send push-notifications with special offers and digital coupons that are available only through the app. Take advantage of geo-targeting technology to identify and communicate food and beverage options or special deals to consumers in proximity to your restaurant.
Be awesome.
We admit this can be hard, but add unique features to your app that will surprise your customers with unexpected solutions. For example, one national restaurant chain has found great success by including an Uber-like "tracker" that shows the location and progress of the delivery vehicle. This is one easy way to improve your digital customer service.
Encourage reviews.
Provide links to your social media networks and review platforms such as Yelp. This will make it easy for people to post pictures of their food or restaurant experience and post reviews. Your app can also send "review us" notifications to customers. The more you ask for reviews, the more you'll receive and the higher the rating.
Customize.
When a customer has downloaded your mobile app and is logged in, you can study their dining habits and send them unique offers created specifically for them.
Need help?
LAVIDGE has extensive experience developing marketing apps. Our team can create a solution customized for your needs.
To learn more, give us a call at 480.998.2600 or send email to [email protected].
Guest Check
Did you know that nearly 1 in 3 consumers have used a digital coupon at a restaurant in the last three months, or plan to in the future? Courtesy of RetailMeNot's study, The Evolution of Dining in the Digital Age, here's fascinating data about restaurant shopping.
How often do you look for deals when you go to a restaurant?
13% Every time I dine out

30% Most of the time

38% Sometimes

14% Rarely

5% Never
How do you search for restaurant deals? 
24% Through a restaurant's app or website
22% Through a general deals app or website
15% Newspaper

12% Other (e.g. OpenTable, Yelp, UrbanSpoon)
*: RetailMeNot.com, "The Evolution of Dining in the Digital Age"
2017 Southwest Food Service Marketing Report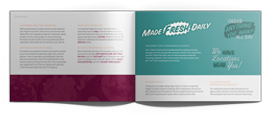 This article is a brief abstract of our exclusive and authoritative study that takes the guesswork out of food service advertising and marketing. Rather than speculating about what will drive consumers to action, we've asked them.
Need fresh thinking? Help is a few keystrokes away.