15 Reasons Restaurants are Upgrading to Digital Signage
Say goodbye to chalk and blackboard
Would you like a side of digital with that?
Restaurants might as well ask customers that question because the advent of digital menu boards has transformed order taking. Fast-food restaurants like McDonald's and fast-casual establishments like Panera are quickly moving away from static menu boards that provide little information and require manual updating.
Here are 15 reasons and opportunities why restaurants are embracing this digital signage revolution.
1. More 411.
Old menu signs provided room for little more than an item's name and price. But modern digital signs also allow plenty of space for photos, description/ingredients, nutritional information and add-on options.
2. Quick change.
The new technology puts an end to disappointing a customer who tries to order an item that's no longer available. In a matter of seconds, digital signs can be updated to reflect new, discontinued or temporarily out-of-stock items. You can also highlight special promotions that are about to end in order to minimize having to throw away inventory.
3. Something special.
Because digital signs can be changed and updated on the fly, they're perfect for displaying the "special of the day."
4. Dayparting.
A restaurant's menu often changes with the clock. Or customers' preference can vary depending on the time of day—coffee and eggs in the morning, burgers and fries for lunch. Digital signs can be programmed to emphasize certain items on a set schedule.
5. Millennial connection.
If you want to attract millennials, moving toward digital signage is mandatory. They expect to see and interact with the latest technology. For the same reason, consider offering free wi-fi. Of course, none of this will make a difference unless you have great service and superb food.
6. Faster ordering. 
A more clear, thorough and easy to navigate menu board often means that customers arrive at the counter better educated and with fewer questions. That translates into faster and more efficient ordering.
7. Decreased wait time.
Digital signs provide customers with the perception that lines move faster and that they're waiting for a shorter time. They can also decrease perceived wait time by 35%.*
8. Drive-thru in style.
New anti-glare digital screens with protective glass are available for drive-up windows. They provide all the benefits and customization options that in-store units provide, and more. For instance, if a customer has your restaurant app on their smartphone, the drive-thru sign can welcome them by name and ask if they want the same order as last time.
9. More revenue.
The various benefits of digital signs add up to more revenue. Faster ordering, decreased wait time and better experience can help attract and retain more customers. Also, prominent display of high-margin specials can also translate into more dollars. One fast-food restaurant chain increased revenue by nearly 13% after installing digital signs.**
10. Encourage social sharing.
Digital signs situated throughout your restaurant can display live streams of your social platforms, such as Facebook and Instagram. This will enhance customers' experience and encourage them to share while they're eating. You can also use your displays to encourage people to leave reviews.
11. Speak the language.
Digital signage can also be used to include and update translations.
12. Tablets on tables.
Some restaurants have found success by installing tablet devices on tables, or installing ordering kiosks in the lobby. This allows customers to order and pay without employee assistance.
13. News and more.
Customers like staying informed, so why not add a news ticker or RSS feed to the bottom of your digital menu display? This not only gives people something special, but it can distract them from any delay in ordering or receiving their food.
14. Show off your charity work and more.
In addition to menu signage, some restaurants situate dedicated video screens in other in-store locations. These monitors can play video loops that provide company information, community involvement and corporate branding segments. They can also be used to encourage consumers to download an app.
15. Personality.
A restaurant that's part of a chain can use digital displays to show off its personality, displaying pictures of employees, videos of how food is prepared, or even a fun tour of the kitchen.
Need help?
LAVIDGE has extensive experience in digital marketing and advertising solutions. Our agency can help you improve the user experience at your restaurant with better  customer service, courtesy of today's restaurant business technology. Our team is ready to work with you to identify and meet your restaurant's needs.
To learn more, give us a call at 480.998.2600 or send email to [email protected].
Which digital sign is best for your restaurant? 
Here are elements to consider that will help you choose the best digital menu board for your restaurant, courtesy of Ingram Micro Advisor.***
LED or LCD? Although LCDs are sometimes less expensive than LEDs, the latter is usually the best choice for digital menus. That's because LEDs consume less power and generate less heat, which makes them more suitable for long-term operation in a restaurant environment.

Screen size. When selecting the size of a digital menu board, consider the viewing distance, the number of menu items that will need to be displayed, and the wall space you have to work with. You want the text to be easily readable—not just for people at the counter but also for those several feet behind it.

Resolution. Today, 1080p displays are your best bet for digital menu boards because they provide crisp, highly readable text and HD graphics. Although 720p may be tempting for some environments, you will certainly lose some of the clarity.

Refresh rate. Because digital menu boards have fairly static content, you can opt for a standard refresh rate of 60Hz, even if the display will include some video. This will ensure that any motion is optimized.

Outdoor screens. Opt for a screen that is weatherproof and specially designed for outdoor operation. Although matte screens are easier to read outside, blurriness becomes a factor—today, most VARs opt for a glossy screen with a matte overlay, which makes glare a non-issue. And finally, standard screens won't be readable in sunlight, so seek outdoor displays that provide additional brightness.
2017 Southwest Food Service Marketing Report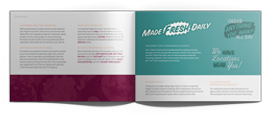 This article is a brief abstract of our exclusive and authoritative study that takes the guesswork out of food service advertising and marketing. Rather than speculating about what will drive consumers to action, we've asked them.
Need fresh thinking? Help is a few keystrokes away.