8 Tips to Attract International Students to Your Post-Secondary School
How solid multicultural marketing strategy can increase student enrollment
Building and maintaining an internationally diverse student body doesn't happen without effort—especially at a time when new enrollments are down for international students at all but the most elite schools.
Fortunately, international students who are already here are remaining stateside to complete their undergraduate programs of study. And, afterward, many are enrolling in graduate school during the three-year window they have to complete an Optional Practical Training (OPT) internship.
That's why, in today's market, it makes sense to tweak your marketing efforts to retain your international undergraduate students and to target international graduates of competing American schools for your advanced-degree programs.
Let's take a look at the nuances which can make your outreach successful.

International students respond to cultural cues more than language
We know. It's tempting to reach out to multicultural audiences by quickly translating your school's marketing materials into different languages, switching out an image or two and calling it good.
Even for domestic students whose first language is anything other than English, it's just not that simple. Hispanic immigrant families, for example, tend to become English-first by the third or fourth generation. Using their family's ancestral language without putting it into the proper cultural context isn't effective. Similarly, differences among international students aren't found in language. They come in cultural cues.
And that's where your marketing differentiation should focus.
Add an international flavor to your school's programs
One way to compete internationally is by offering and promoting a global, cross-cultural curriculum. Consider making changes that will add value to your programs in addition to making international students feel more at home.
The following are worth considering:
Do you have an international student union? If not, what cultural activities and support systems are in place for your international students to connect with each other?
What supports do you have in place to reassure parents who are interested in keeping up with what's new on campus but aren't able to attend local parent or family days?
Do your cafeteria and other on-campus dining options cater to a variety of international preferences and tastes?
Do your courses include topics of global interest?
Will graduates leave prepared to succeed anywhere in the world?
Do you offer housing options for those who share a first language other than English?
Even the artwork and architectural choices for campus classrooms, student housing buildings, and other school structures can be planned with an eye toward being inclusive and welcoming people of many cultures.
Appeal to international student motivations
Reasons why students decide to study abroad can vary widely. One motivator is to earn a degree to prepare for a career in the United States. This could include making connections with American companies while attending school so they have employment options when it's time to graduate.
Others come to American universities or other educational institutions to develop skills they can take back home. They might have a goal to improve conditions in their hometown. They might also just want to have learning experiences they wouldn't otherwise.
Some students, much like U.S. students who choose to study abroad, are in search of a challenge. They don't always know what to expect when they get here or what obstacles they might face along the way but are excited to try. For them, provide information on what they'd need to know when traveling to a new country, especially when it comes to support for those who don't speak English well.
If you provide mentor buddies, say so. If you have programs to connect students with host families who can show them around, tout that as well. Let them know they won't need to experience their adventure alone.
Tailor your marketing messages to them to speak to those motivations, and you'll have far more success than you would otherwise.
Extend your reach beyond the beaten path
Just because every other school recruits heavily from a select pool of cities in India and China doesn't mean yours should do the same.
In fact, changing things up a bit can boost your chances of reaching international students whom traditional recruiting tactics might miss. Running digital ad campaigns in less-targeted cities will get your brand in front of many potential students who might otherwise not know who you are or what you offer.
That doesn't mean you shouldn't run any ads or have recruitment events in the larger cities. Because every other U.S.-based college or university is doing the same thing, however, your ads need to stand out.
Demonstrate global thought leadership
International outreach should include publishing articles in foreign publications and sending representatives to speak at strategic events.
Your university's president or instructors who are tied to breaking research or well-known programs and studies, for example, can speak at industry events which would attract those interested in enrolling in your programs. Knowing that a representative of your school cares enough to make a personal appearance in their hometown can make a significant positive impression.
Make financial-aid information readily available
A major reason for declining new international student enrollment is a corresponding decline in the availability of government funding in some areas.
Unless you advertise that financial assistance is available, you might miss out on some great students who don't have the resources to find alternative funding on their own.
Make it affordable. Make that information findable, and make them feel confident in their chances of being awarded relevant scholarships, grants or loans.
Enlist the help of your international alumni
Hearing positive testimonials from those who have gone before them can be immensely encouraging to potential students and their parents, alike.
If you have alumni who live abroad in an area where you plan to recruit, reach out to them. Consider organizing alumni chapters if they don't already exist. Encourage them to invite potential new students to their meetings or to reach out to them in other ways.
Streamline your application process
Applying for college can seem daunting for anyone. For those coming from outside of the United States, find ways to make the process as easy and straight-forward as possible.
Leverage current international students on campus for feedback on ways to make applying more user-friendly, and provide important financial and program materials in their native language to avoid possible confusion.
Need help?
A leading Phoenix-based multicultural ad agency, LAVIDGE has worked with traditional schools from universities to community colleges. We also represent non-degree post-secondary education providers and non-profit organizations which support the education industry. We can help you too.
To learn more, give us a call at 480.998.2600 or send email to [email protected].
International Student Enrollment Has Been On the Rise for Decades
Figure 1. International Students in U.S. Colleges and Universities and Share of Total Enrollment, (%), School Year (SY) 1949–50 to 2016–17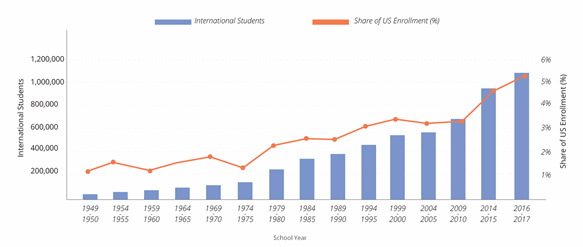 Source
: Institute of International Education (IIE), "International Student Enrollment Trends, 1948/49-2016/17," 
Open Doors: Report on International Educational Exchange
(Washington, DC: IIE, 2017),
available online
.
Need fresh thinking? Help is a few keystrokes away.