10 tips to choose community monikers with care
Time is money, and for good reason, when it comes to developing new residential communities.
So is the name you bestow on each residential development. That's why Planning and Strategy are so essential when creating a specific neighborhood identity.
Think about it. You wouldn't name your child based on suggestions from a randomly generated list. Ties to family members, associations with important events or locations or traditions, along with hopes for an inspired destiny for the new child, can all play a role, along with what's trending that year. You might also consider how well a first and middle name fit with the designated surname or check for unfortunate initial combinations that could doom your child to a life of merciless teasing.
It's important to give each new residential development the same love and care when choosing its name. The similarities between the two responsibilities—and predictable outcomes—just might surprise you.
Let's take a look.
1. Borrow interest.
Some areas are so steeped in tradition that names already associated with a property are bound to stick. So, consider what names the locals already use to refer to the land, and find a way to riff off it to create something easily recognizable as belonging in the space.
In other words, leverage borrowed interest.
Try incorporating the name of a previous owner's project, for example, such as a well-known farm, proximity to a community place of interest or a historic connection such as the Gaslight District in San Diego. Locals will immediately identify with the new development and instantly be able to place it appropriately within surrounding properties.
Alternately, give a nod to someone famous who once worked, lived or visited the property such as an early settler or founder. It will help to create an emotional connection with home buyers who feel a bond to the area's roots.
2. Honor landmarks.
Another strategy is to choose community names indicative of the region's natural attributes. Consider plants, animals, landmarks, mountains, rivers or other even the minerals commonly found deep within the ground.
Who hasn't heard of an area known by names containing words such as creek, falls, hollow, meadows or run, preceded by a plant or creature such as oak or willow trees or foxes or quail?
The combinations are endless, bounded only by what's actually native—or commonly found in the area.
Elevation in height in hilly or mountainous terrain can include words differentiating parcels located in the foothills to those higher up the canyon, or around the bend along a cliff.
Bottomlands or wide-open fields can also be noted in names accordingly.
These words, used correctly, can add distinction and class.

3. Be authentic.
This tip is simpler than it sounds. Avoid misnomers by assessing each word in potential names for a meaningful purpose or connection. If you aren't in the foothills, nowhere near a river or don't have a park, do not (I repeat, do not) include those words in your community name.
If you're developing or re-developing an urban property surrounded by commercial development in a busy city, for example, words such as forest or ranch likely won't be a good fit. You'll need to borrow inspiration from the area or words such as towers, square, village, or even city. You could also create a mashup using the city's name.
The key takeaway is to keep it authentic with an urban name. You aren't going to fool anyone into believing your downtown project surrounded by high rises and concrete is nestled in a flowering meadow. If you are downtown, own it.
4. Celebrate influence.
Another great option is to choose an altruistic name. Ask yourself, "What does this development mean to the area?"
Will it bring much-needed jobs? If so, Prosperity might be a great name.
Is your project providing infill or redevelopment to breathe new life into older areas? Consider Beacon of Hope or something suggesting renewal.
Whatever it is, pull a name from the development's influence on the place and it will fit right in.            
5. Consider spelling.
Spelling matter sometimes, but not always.
Adding an "e" to Point for Pointe, for example, adds a touch of class. A community with an upper-scale brand could benefit from the alternate spelling. The same goes for using the European spelling of "grey" instead of the more common American "gray" or transposing the last two letters in "center" for the more polished-looking "centre."
There is no one-size-fits-all solution. The language should fit the area so what works in one place might not elsewhere.
6. Aim appropriately.
Elevating a property with a name can be useful. But be careful not to aim too high. If you name something "Estates" in a lower-income area, it might get ruled out by prospects who assume they cannot afford to buy your homes. If your name sounds too common in an upwardly mobile area, buyers in search of prestige might look elsewhere without even giving your project a visit.
7. Be complementary.
Consider the surrounding home builders if you are part of a larger master-planned community. You want your name to be consistent, so it fits in well with the overall feel of the area.
This doesn't mean you need to copy too closely. Simply try to find a name within a broad theme or category which has a tie-in to the overall master plan.
For example, if the prevailing trend is to use names of indigenous animals or plants, try to find one which suits your brand. If astronomy is the theme and areas are being named after planets, galaxies and stars, it's wise to select an out-of-this-world name sure to make your development shine.
8. Be consistent.
Once you identify a community name, everything else will fall out of it. The sub-communities and streets should have similar, but distinct, names within an overall theme.
But don't take it too far.
Learn from a now-defunct builder which developed a parcel within an exclusive master-planned golf community. Nestled in a foothills area, one of the builders chose street names such as Playtime Drive, Playtime Street, Playtime Court and so on, presumably to attract retirees ready to use the area's golf, tennis and basketball courts.
The solution was to rename streets after local flora and fauna. A native lizard, tree flower, and a bird each inspired Whiptail Court, Acacia Blossom Place and Owl Head Canyon Road, and many other similar names.
The municipality also granted the primary developer's request to change the name of the main road leading into the development from a parkway named after the mountain range to a boulevard named after the community. This was important for consistency, and to reinforce the master-planned brand.
9. Seek feedback.
By now, you might have some tentative ideas you'd like to research. If so, that's great. Remember to test with real people—members of the community and a sample of potential prospects before rolling out to the main public. See if it resonates.
If not, find out why; adjust, and test again.
Developers would also do well to bounce ideas off builders and other constituents.
10. Broaden your branding.
Got a great name? It's time to craft the perfect brand. And—just maybe—expand it.
Some community names are only meant for a one-time use. Others can be duplicated to reach the same target audience in a new location.
Case in point: Trilogy, Shea's 55+ offering, is aimed at active seniors interested in high-end resort living across the country. Trilogy at Vistancia and Trilogy at Verde River, both in the metro-Phoenix, Arizona, area, are instantly recognizable to prospective buyers as age-restricted developments in clearly identified locations. That's a powerful message packed into such a small name.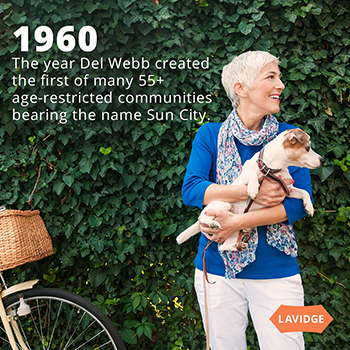 Del Webb was the first to break ground for a 55+ retirement community when it opened Sun City in an unincorporated area of Maricopa County northwest of Phoenix in 1960. The brand name was a huge success, spinning off Sun City West in the late 1970s and, within another decade, Sun City Grand in Surprise, Arizona.
Sun City retirement communities sprang up in Oro Valley, Arizona, as well as in other retiree destinations throughout the Southwest. It's easy to see why Pulte was eager to acquire Del Webb—including its Sun City brand, and why many home builders today, including Meritage and others, cater to this audience.
How does this apply to you? Could your next community name lead to the beginning of something bigger? If so, weigh your options carefully. This is no time (nor is it ever, really) to rely on a randomly generated name or one pulled from a hat. Plan your strategy accordingly.
Need help?
Not sure where to start? You're not alone. Not to worry. LAVIDGE experts in planning and strategy can help you navigate the process.
To learn more, give us a call at 480.998.2600 or send email to [email protected].
These 7 Street Names Have 'Cred' in the Southwest
Some street names are created by governing bodies such as cities or counties. Others are generated by residential developers as they build out new subdivisions. Nationwide, streets are most often named for trees, former United States presidents, landmarks or numbers.
In the Southwest, while no president earned the top slot, names of trees (Aspen and Cedar) ranked first in two states, as did Park. First/1st, ironically, ranked first in a single southwestern state as did the time-honored street name Main.
Arizona bucked the trend with its most common street name having been borrowed from a local tribe.
Here are the most common street names by state:
Arizona – Apache
California – Park
Colorado – Aspen
Nevada – 1st
New Mexico – Cedar
Texas – Park
Utah – Main
Source: U.S. TIGER/Line* Shapefiles 2014, re-envisioned based on an interpretation by The Washington Post. 
Need fresh thinking? Help is a few keystrokes away.