It depends on your age
---
---
Factoring in the age of your target audience matters more than you might think.
Our research uncovered that 69.3% of the youngest survey respondents, those under 35 years of age, most-preferred the phrase we build homes to fit your lifestyle. Their second-most preferred phrase captured 44.7% with We're located in the best communities.
It's clear. Millennials prefer homes designed to fit their lifestyle, including the neighborhoods in which they are located. Offering lifestyle amenities inside the home such as WiFi-friendly floorplans for telecommuters or avid gamers, or backyard pools or basketball hoops for fitness-minded buyers is important, but it shouldn't end at the property line. 
If you're building homes for energetic, active adults, consider locating in an area where local gyms and studios can support their athletic needs. Alternatively, if you are building in a relatively new area, consider including a community center or workout room for exclusive use by all those who buy into the neighborhood. It could make the difference between whether a buyer chooses your home—or the one built by a competitor.
Of course, needs vary by location. In some areas, fulfilling the need to fit one's lifestyle could mean having daycare nearby along with a good school system for young, growing families.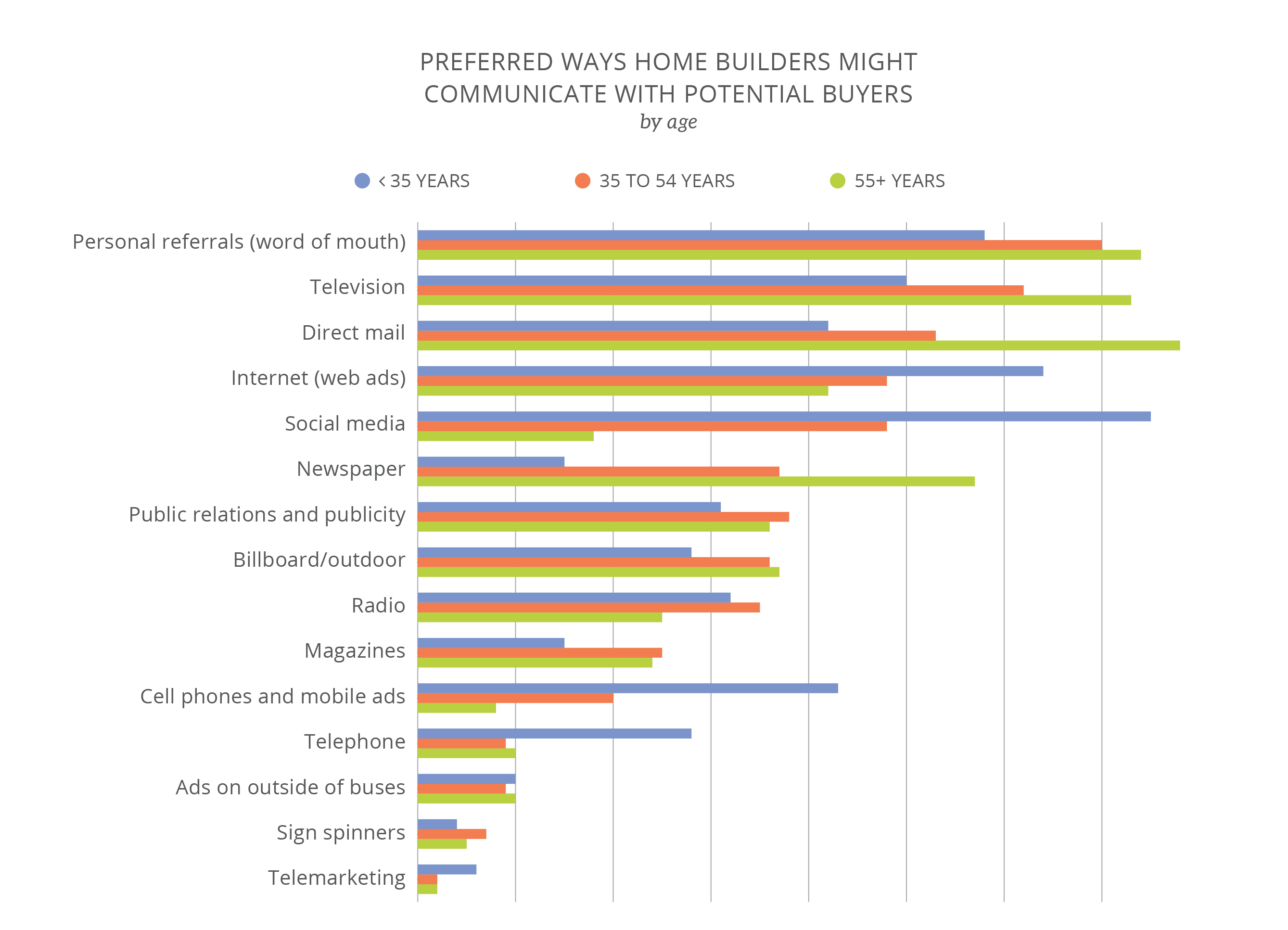 Respondents who prefer the phrase we build homes to fit your lifestyle said:
"It means they will build a home that I can be comfortable living in." 
"I have a very active lifestyle with very active dogs, so I need something that can accommodate them."
"I live a lifestyle where I like to entertain. So, I would like my home built with that in mind."
"I like the idea of a home that is really customized for me."
"It gives you a sense that you have a custom home that will fit into any lifestyle that you choose. For example, if you are into fitness perhaps a special place would be built to suit those needs."
Our survey respondents aged 35 to 54, as well as those aged 55+, placed the most emphasis on the phrase We offer top-quality construction when considering the purchase of a new home. Ranked respectively at 76.2% and 83.0%, it's clear from the data that the more mature the buyer, the greater their focus will be on the quality of the home itself.
If your target is a more mature client, consider this: research study respondents between the ages of 35 and 54 who placed top importance at on quality aren't necessarily ready to give up lifestyle needs altogether. Ranked at 66.4%, We build homes to fit your lifestyle was their second-most preferred phrase.
Those aged 55+ at 83.0% chose top-quality homes, as their most preferred phrase. This group, however, was the only one to rank We build energy-efficient homes among its top-two choices, with an 80.6% preference for the phrase.
Respondents who preferred the phrase We build energy-efficient homes said:
"Living here on the desert, I dread the summers, when my electric bills have reached nearly $400 a month. My home that I'm in now needs energy-efficient upgrades, and that would be important for any new home I would have built."
"It has an effect on both my budget and the economy."
"Homes must be energy-efficient in the future to be viable, both for the initial buyer and for resale value."
"The more energy-efficient the less it will cost you to run your home."
One key takeaway is that while many senior-oriented communities heavily market the idea of an active adult lifestyle, at 54.5% it ranked fourth, lower than We offer more home for your money at 68%, which captured the ranking of third-most preferred.
Furthermore, and we're not sure if it's related to the wanderlust of the young or the preference for familiarity which grows over time, but age definitely plays a role when it comes to choosing a national or local home builder.
Our research study revealed that respondents age 55+ prefer the phrase We are a local builder at 54.9%, higher than younger respondents under 35 years of age who prefer the same phrase at 39.5%.
Conversely, the same younger respondents prefer the phrase We build homes across the country at 15.8% versus the same group of older respondents who prefer the same phrase at 4.9%.
Additionally, although younger respondents were most likely to choose a national home builder compared to their counterparts, they still preferred local to national by a margin of 27.6 percentage points
All considerations aside, the housing market for those aged 55+ is on the rise. As of fourth quarter 2014, 79.5% of household members 65 and older were homeowners. By 2033, this age group will, for the first time in the United States, outnumber people younger than 18.
The U.S. Census Bureau has also projected a population of 98.2 million people 65 and older in 2060. People in this age group will comprise nearly a quarter of all U.S. residents. Of this number, 19.7 million will be 85 or older. A sizeable chunk, at 2.6 million, will be at least 96.
It's a great time for home builders to reach this maturing market as they look for housing options better-suited to transitioning into the next phases of life, post-child rearing and post-career, for many. And they won't settle for starter homes. They want something solid, and energy efficient, where they can enjoy their mid to senior years.
Specific preferred marketing tactics and messages aside, consumers of all ages tend to do business with familiar brands.
Research study respondents were most familiar with the five following home builders – KB Home (16.5%), Pulte Group (15.6%), D.R. Horton (12.1%), Shea Homes (11.2%) and Lennar (9.2%).
2018 Southwest Residential Development Marketing Report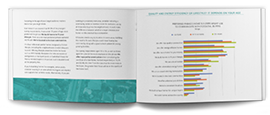 This article is a brief abstract of our exclusive study about home buyers and their preferences for advertising and marketing tactics used by new home builders.
Need fresh thinking? Help is a few keystrokes away.