Return Stronger Campaign
Like the world, many Arizonans lost their jobs during the pandemic. We created a campaign encouraging dislocated workers to obtain training so they could Return Stronger to the workforce. Videos and other materials drove workers to a customer interactive website to explore tools and training.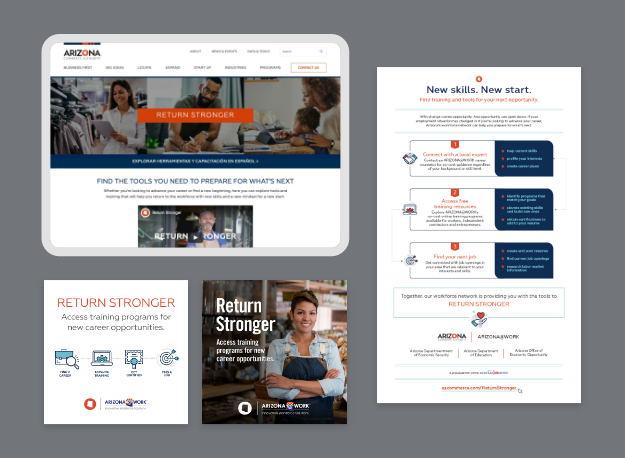 CARES Act — COVID Response
How do you jumpstart your business after something like a worldwide pandemic? With ACA, we shifted all media dollars for two months to develop and promote a toolkit that focused on the Paycheck Protection portion of the CARES Act. The campaign helped businesses with fewer then 500 employees, gig workers and non-profits rehire workers.

Today's Trailblazers
Arizona has long been known for its trailblazing spirit. We brought that drive to life in a video, letting today's trailblazing business innovators know that Arizona is the perfect place to start, expand and scale a business.
Opportunity Knocking
ACA is Arizona's leading economic development organization. Together, we have crafted custom RFPs designed to win business. Each RFP is unique and designed to address the specific needs of each business.
Growth industries
What started as one brochure for Arizona's growing industries turned into an ever-growing library of printed and digital assets featuring the state's semiconductor, manufacturing, medtech, battery, automotive, and aerospace & defense industries.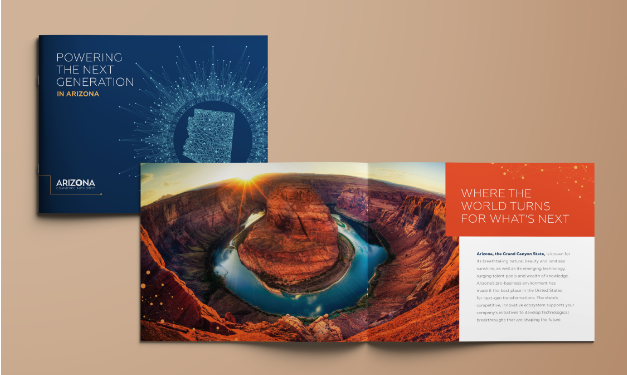 Need fresh thinking? Help is a few keystrokes away.