New Retail Services Advertising and Marketing Report Reveals Consumer Insights
July 26, 2017
PHOENIX (June 26, 2017) – A public opinion poll conceived and commissioned by LAVIDGE and Mosaic Multicultural found revealing consumer sentiments about advertising from personal care businesses, such as fitness clubs, salons, massage clinics, spas, beauty products and nutritionals. Among the key findings of the "2017 Southwest Personal Care Marketing Report" are that consumers prefer television and direct mail over other mediums, and are influenced to make decisions when they see and hear the words "trustworthy," "safe" and "honest" in advertising and marketing.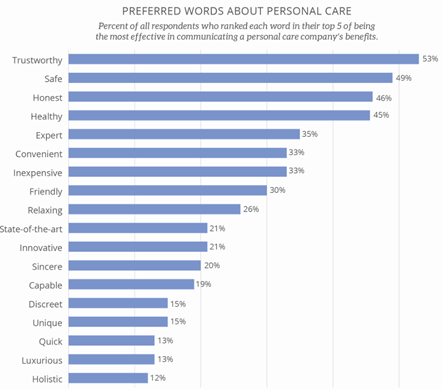 In addition, the statement, "Our staff is well-trained and knowledgeable" strongly resonated with consumers. The survey surprisingly revealed that consumers don't prefer advertising messages that say, "You will feel younger."
https://www.lavidge.com/industries/retail-services/2017-report
LAVIDGE and Mosaic are full-service advertising, public relations, communications, consulting, interactive and multicultural marketing agencies headquartered in Phoenix, Ariz. WestGroup Research conducted the poll and surveyed 467 consumers from throughout the southwest. The report provides original insights for personal care marketers and executives on precise tools and tactics to market their services effectively.
LAVIDGE and Mosaic are lending their expertise to the retail services (personal care) market from former and current clients such as Massage Envy, Phiten and PROSE.
"Consumers are spending $86 billion annually on personal care products and services. With this number continuously on the rise, marketers need to be smart and effective with their messaging and advertising," said Stephen Heitz, managing director of interactive at LAVIDGE. "Our original, comprehensive report provides insight to the personal care industry and helps create effective messaging designed to expand discretionary spending."
Having this consumer retail services marketing data comes at a time when discretionary spending is booming. During the Great Recession (2007-2009), the massage industry dipped more than 30 percent. Now, the industry has rebounded and is approaching $3 billion in revenue, with an annual growth of 3.4 percent.
Unique to the retail services industry, the LAVIDGE and Mosaic survey identifies what consumers will respond to. Elements of the far-reaching survey focus on consumer preferences regarding marketing messages (specific words and statements) and media.
Some highlights from the retail services consumer survey include:
Most effective media for consumer retail service marketing is by television and direct mail
Top three words that influence consumers to choose a fitness club, salon or spa are trustworthy, safe and honest
The commonly held belief that consumers are looking to feel younger is being challenged; "You will feel younger" is consumers' least favorite marketing statement
"Our staff is well trained and knowledgeable" is the most influential messaging statement
About LAVIDGE and Mosaic Multicultural
LAVIDGE is a Phoenix-based full-service advertising, public relations and interactive marketing agency. Since 1982, LAVIDGE has specialized in developing brand positioning for products and services. Mosaic Multicultural is a full-service multicultural marketing agency working in partnership with LAVIDGE to provide multicultural advertising, interactive, public relations and marketing services.
Agency clients include Banner Health, Blue Cross Blue Shield, Delta Dental, McDonald's, Phoenix Raceway and many more. The offices are located at 2777 E. Camelback Road in Phoenix. More information on the agencies can be found at www.lavidge.com and www.mosaicmulticultural.com; follow on Twitter (LAVIDGE and Mosaic) or friend on Facebook.
Need fresh thinking? Help is a few keystrokes away.