New Public Opinion Poll Reveals Consumer Attitudes and Perceptions about Food Service Marketing
September 21, 2017
PHOENIX (September 21, 2017) – A public opinion poll conceived and commissioned by LAVIDGE and Mosaic Multicultural found insightful consumer views about advertising from quick service restaurants such as McDonald's, Subway, Chipotle, Taco Bell and several others as well as from casual and fine dining restaurants. Among the key findings of the "2017 Southwest Food Service Marketing Report" are that consumers prefer images of food as well as promotional offerings, and are influenced to make decisions when they see and hear advertising that is humorous. 
Additionally, consumers strongly resonated with friendly customer service and ads that included the words "tasty" and "delicious."
The LAVIDGE/Mosaic 2017 Southwest Food Service Marketing Report is complimentary and available at: http://www.lavidge.com/industries/food-service/2017-report
LAVIDGE and Mosaic are full-service advertising, public relations, communications, consulting, interactive and multicultural marketing agencies headquartered in Phoenix. WestGroup Research conducted the poll and surveyed 531 consumers from throughout the Southwest, providing original insight for food service executives on specific tools and tactics to market their services effectively.
In addition to its QSR and restaurant experience with McDonald's, Ling & Louie's Asian Bar and Grill, Dominick's Steakhouse and Pasta Pomodoro, LAVIDGE has worked with a number of other accounts in the food category including Bashas' Supermarkets, Dole Bananas and Plain Jane Produce.
The food service consumer data comes at an unprecedented time. Americans are dining out less frequently, and the restaurant industry is experiencing little or no growth. Restaurants continue to face fierce competition with one another as well as from less familiar rivals such as meal-kit subscription delivery service and quality pre-made meals from retail grocery stores.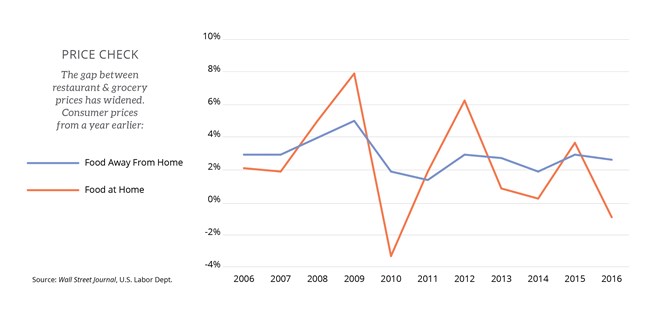 Despite this tumult, several chains have posted better-than-expected earnings during their most recent quarter. Bloomin' Brands posted an increase of 3.3 percent in its earnings per share.
McDonald's first-quarter 2017 saw strong earnings and same-store sales growth as well with a 4 percent global sales increase.
For Americans, dining out is serious business. The National Restaurant Association says the industry employs 14.7 million people, or about 1 in 10 working adults. It is estimated that the industry will hit nearly $800 billion this year, which would beat 2016 by more than 4 percent.  
Especially helpful for food service marketing, LAVIDGE has compiled results that will put an end to guessing what drives consumer response. This includes how advertising affects the frequency of consumer visits, the most effective and ineffective restaurant descriptions, highest preferred marketing statements and most memorable advertisements.
The findings determine several behaviors about the way consumers respond to food service ads:
Most frequently visited restaurants/QSRs have the best advertising
The top three descriptions that influence consumers to visit a restaurant are tasty, friendly and delicious
The highest preferred marketing statement is "Made Fresh Daily"
"With the highly competitive and growing food service industry, this is the ideal time for marketers to understand how to successfully communicate and get their message across to consumers," said Tim Trull, managing director of strategy at LAVIDGE.
About LAVIDGE and Mosaic Multicultural
LAVIDGE is a Phoenix-based full-service advertising, public relations and digital marketing agency. Since 1982, LAVIDGE has specialized in discovering and communicating insights that engage, motivate and inspire. Agency clients include McDonald's, Arizona State University, Phoenix Raceway, United Rentals and many more. Mosaic Multicultural is a full-service multicultural marketing agency working in partnership with LAVIDGE to provide multicultural advertising, public relations and digital marketing services. Company offices are located at 2777 E. Camelback Road in Phoenix. More information on the agencies can be found at LAVIDGE, Mosaic Multicultural, follow on Twitter or friend on Facebook.
###
Need fresh thinking? Help is a few keystrokes away.