LAVIDGE Public Relations Accepts Prestigious PRSA 2023 Award of Merit
October 17, 2023
Winning campaign helps fund nonprofit renovation project
PHOENIX (Oct. 17, 2023) – LAVIDGE PR took home on Thursday an Award of Merit from the Public Relations Society of America (PRSA) Phoenix Chapter's annual Copper Anvil Awards event.
Emma Wolff, Public Relations account executive; and Megan Wahl, associate director, Public Relations; accepted the award on behalf of the Phoenix-based public relations firm.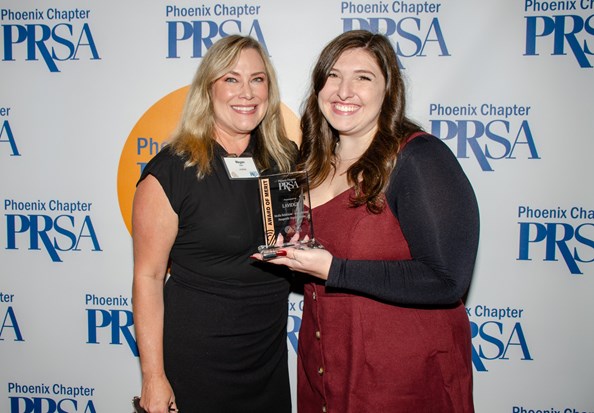 The awards program encourages and recognizes excellence in public relations in several categories. LAVIDGE's winning entry was for excellence in Media Relations, Nonprofit Organization, for work done on behalf of the Phoenix Police Foundation.
The goal of the project was to raise awareness for the Phoenix Police Foundation's fundraiser to renovate the City of Phoenix Victim Center for the first time in more than a decade. The media relations campaign would be one of the largest — and only — media pushes to increase awareness of the center and the critical resources it provides to those experiencing domestic or sexual abuse.
"With the minimal exposure the facility received in the Valley, we knew it was a profound opportunity to shine a light on the importance of the fundraiser and the need for an upgraded victim services center," Wolff said. "Not only are we thrilled to have earned a prestigious award for this campaign, but we feel so fortunate to work on projects that have a profound impact on the community."
LAVIDGE Public Relations achieved just that with its tactical three-month media relations campaign.
The initiative helped communicate the nonprofit's restoration needs with key local and national media and secured added funding for the project by securing 56 news stories covering the victim center renovation. This reached a potential audience of 470.6 million viewers mostly in the Phoenix market and several national audiences.
The feedback on all the news coverage from the City of Phoenix, Phoenix Police Department, and LAVIDGE's client, the Phoenix Police Foundation, was extremely positive.
It also generated significant results.
By the end of the three-month PR campaign, the Phoenix Police Foundation raised $275,000 —half of its monetary goal for the project totaling, meeting and exceeding the client's expectations and objectives.
Local and national media published print, television, and online stories included:
"The awareness we raised for the Victim Center ultimately helped with funding and we were able to play a role in getting domestic abuse victims the help they need," Wolff said. "I am honored we get to share stories like this with the community and bring forth positive change."
Need fresh thinking? Help is a few keystrokes away.