LAVIDGE PR Stands Out in O'Dwyer's Top PR Firms – 2022 Firm Rankings
April 4, 2022
PHOENIX – (April 4, 2022) – LAVIDGE Public Relations has been recognized by O'Dwyer's Top PR Firms – 2022 Firm Rankings as among the nation's best.
Each year since 1970 O'Dwyer's Public Relations News has ranked PR firms with significant operations within the United States based on counseling and media contact services. This includes an overall rank, in addition to 18 specialty categories.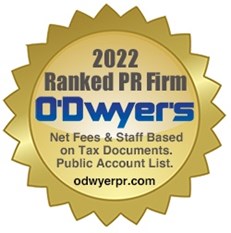 This year, LAVIDGE PR placed 111th in O'Dwyer's overall rankings nationwide.
In addition, LAVIDGE PR's net fees for client work in 2021 earned it a coveted top-10 rank placing 9th for Entertainment/Culture.
The LAVIDGE Public Relations team, overseen by Anne Robertson, managing director, Public Relations, includes specialists dedicated to publicity, and ranked in six additional specialty categories:
The New York-based operation, founded in 1968, produces a weekly newsletter and a monthly PR magazine under the direction of Publisher John O'Dwyer.
Need fresh thinking? Help is a few keystrokes away.