LAVIDGE Named 5th Largest Phoenix-Area Advertising Firm
August 18, 2023
LAVIDGE rank increased by 2 year over year
PHOENIX - (Aug. 18, 2023) – LAVIDGE is proud to be recognized as the 5th-largest Phoenix-area advertising firm in the 2023 Phoenix Business Journal Book of Lists.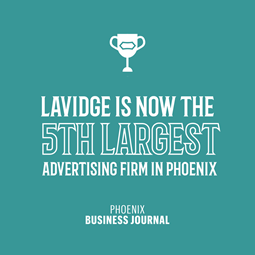 Each year, the Phoenix Business Journal surveys ad agencies to rank them based on current full-time staffing, 2022 local capitalized billings, a partial list of Arizona clients, their top local executive and the year each firm was founded locally.
LAVIDGE's rank increased from 7th to 5th year over year with 62 full-time employees at the time of the survey and $82.06M in capitalized billings in 2022. 
Bill Lavidge joined the agency, founded in 1982, a year later; eventually taking over full ownership and renaming the firm.
Today, LAVIDGE is 100% owned by its Employee Stock Ownership Plan Trust. Lavidge maintains his leadership role as president.
Need fresh thinking? Help is a few keystrokes away.