LAVIDGE is Proud to be Among Arizona's Most Admired Companies of 2021
August 23, 2021
The honor marks the 7th time the Phoenix-based ad agency has made the final cut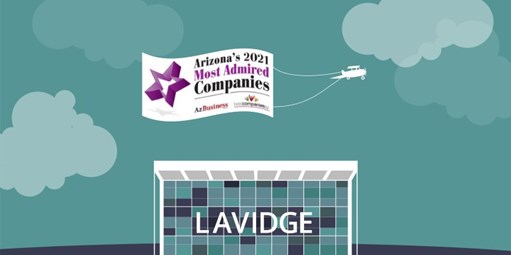 PHOENIX (Aug. 23, 2021) – LAVIDGE is delighted to announce its inclusion on the AZ Business magazine and BestCompaniesAZ list of Arizona's Most Admired Companies of 2021.
This year's recognition includes 46 finalists and marks the seventh time LAVIDGE has been selected for the award which debuted in September 2010.The official announcement on AZ Big Media's website states that the annual corporate awards program recognizes organizations which excel in six key areas:
Customer opinion
Diversity, equity, and inclusion
Innovation
Leadership excellence
Social responsibility
Workplace culture
Hundreds of companies submitted details on how they demonstrate each of these values. From there, a selection committee comprised of AZ Business magazine's editorial board, BestCompaniesAZ's leadership team, and professionals from a wide range of industries evaluated each entry. Together, they selected the cream of the crop to represent this year's "most accomplished and prestigious companies in Arizona," the awards announcement states.
Spotlight awards highlighting companies which displayed the highest of excellence in each of the six key categories will be announced Oct. 7 during a live reception and dinner to be hosted at The Pointe Hilton, Tapatio Cliffs, in Phoenix.
Need fresh thinking? Help is a few keystrokes away.