LAVIDGE IMPACT delivers donations; volunteers time at ICM
June 5, 2020
PHOENIX (June 5, 2020) - LAVIDGE IMPACT delivered numerous bags of donations this month to Interfaith Cooperative Ministries (ICM), along with donating about 24 hours of time.
The items, donated by LAVIDGIANs who stopped by our Phoenix ad-agency's office throughout May, helped underemployed individuals and families make ends meet. From personal hygiene products to non-perishable food, LAVIDGE EVP, CFO and IMPACT Chairperson Sandra Torre said many employees gave generously—even though the agency's doors had been closed since mid-March.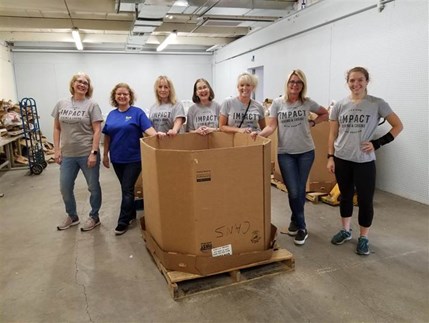 In addition to delivering items from our advertising, digital and PR agency's charitable drive, six LAVIDGE volunteers spent the first Friday morning of June sorting and packing 3,412 pounds of canned goods to be included in food boxes containing meats and other specialty items. Volunteers with plenty of room to spread out in an upstairs room represented a wide variety of disciplines across the Arizona-based unified agency including Betsey Griffin, Media; Jennifer Whittle, Public Relations; Laurie Schnebly, Creative; RuthAnn Hogue, Marketing; Sandra Torre, Leadership; and Sarah Cullen, Account Services.
At a time when masks were not yet mandated and before Arizona was a hot spot, gloved volunteers with ready access to hand sanitizer worked quickly, yet still took the time to act as personal shoppers for each recipient. Eight-can bags often included a selection of vegetables such as corn, creamed corn or sauerkraut and green beans, peas or spinach; soups such as chicken, tomato or a variety of creamy soups great for making casseroles; and protein options such as chili with beans or meat, black beans, ranch-style beans and the occasional can of lasagna or another pasta-and-sauce meal. The idea was to put together items that could be used together and to provide a variety of items that anyone would be happy to receive—not just to mindlessly fill bags with eight cans of whatever was closest.
Pia Brown, Volunteer Coordinator for ICM, explained to LAVIDGE IMPACT volunteers during a pre-service facility tour that the nonprofit serves primarily the "working poor" whose paychecks fall short of providing sufficient food, clothing and other essential items in addition to paying for rent, utilities and transportation.
The clothing bank and a play area for kids whose parents are being served at the ICM center were not open when IMPACT toured due to COVID-19 restrictions. However, fresh produce grown in ICM's community garden was still available for distribution to clients and was being sorted on the main floor by representatives of the Arizona National Guard, along with food received from ICM partners St. Mary's Food Bank and Sun Produce.
LAVIDGE IMPACT's community service day for June was the first corporate or business group to pitch in at the facility located in West Phoenix since the pandemic lockdown, Brown said, expressing her appreciation.
"It was a great help to have you here," she said. "We couldn't do the work we do daily without the help of our volunteers. Come back. Invite your friends."
ICM has a variety of volunteer opportunities, both onsite and remote. Pre-registration is required.
Need fresh thinking? Help is a few keystrokes away.