LAVIDGE Ad Agency Ranks No. 1 for 11th Year Straight in Ranking Arizona
March 25, 2022
PHOENIX - (March 25, 2022) - LAVIDGE—for the 11th consecutive year—has earned the No. 1 rank for ad agencies in its category with the release of AZ Big Media's 2022 edition of Ranking Arizona magazine.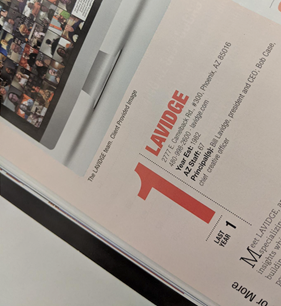 Along with maintaining top honors for advertising agencies, the Phoenix-based, full-service agency earned notable recognition in multiple categories as follows:
#1 Advertising Agencies: 36 Staff or more
#5 Public Relations: 6 or more in the department
#6 Internet Marketing
#6 SEO/Social Media Marketing: 25 staff or more
Best Places to Work: 100 staff or fewer
Best Media Workplace Culture  
The Business Services: Best Places to Work category in Ranking Arizona receives an extraordinary number of votes on the vote site, a publication representative explained, adding that "winning in this category is very personal to the employees and leadership of each participating business." 
Each year, AZ Big Media solicits nominations from the general public for businesses they'd like to see ranked. Voting takes place online between August and May. 
Need fresh thinking? Help is a few keystrokes away.