Dave Nobs Lectures at Duquesne University
October 26, 2017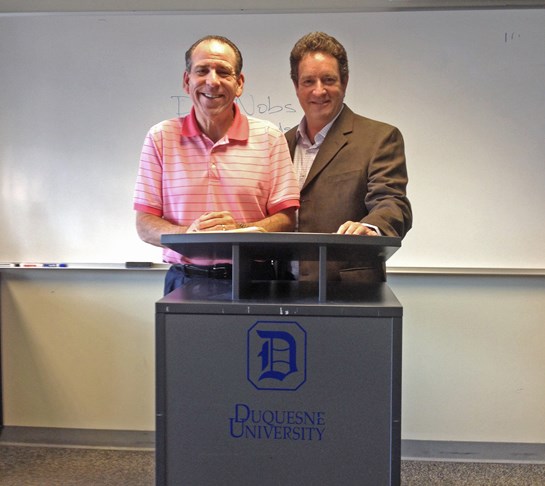 Dave Nobs, LAVIDGE Managing Director of Business Development, recently accepted an invitation from Steve Greenberg, Executive in Residence for Sports Marketing at Duquesne University's Palumbo-Donahue School of Business, to meet with his students as they prepare for careers in sports marketing. Steve is the former, long-time public relations director for the Pittsburgh Pirates.
Dave's presentation, "Mad (Sports) Men (and Women),"—we know; catchy, right?—covered sports marketing from the agency perspective.
It included a brief history of sports advertising, significant historic milestones and notable campaigns, strategic planning and guidelines for success in evaluating and activating sponsorships. In addition, he discussed advertising, media planning and buying, public relations and social media, digital, event, and multicultural marketing. 
Other areas of student interest included sports marketing job boards, tips and tactics for job interviews, industry publications to read and research. Students listened eagerly as Dave spoke on the overall sports marketing eco-system (agents, promoters, leagues and properties, teams, corporate sponsors, broadcast and media partners, and agencies).
We're confident it was valuable to the students as they consider career options after graduation.
Thanks for the invitation, Steve. 
Need fresh thinking? Help is a few keystrokes away.