Consumers Prefer Ads Aimed at Their Health and Fitness, According to New Research
November 5, 2018
Report identifies the sports marketing trends driving today's customer preferences
PHOENIX (Nov. 5, 2018) – The "2018 Southwest Sports Marketing Report," crafted and commissioned by leading marketing services agency LAVIDGE, reveals insights about consumer spending choices in this fast-evolving space. Among the key findings: in addition to a preference for TV advertising around health and exercise, consumers spend more money on gym memberships than sporting events, equipment or apparel, and prefer a casual approach when it comes to sports and fitness.
Indeed, ads that contain the word "healthy" strongly resonate with consumers who want more products and services that "support a healthy lifestyle."
"We've analyzed the business from all angles and have discovered the most impactful tactics and messages to reach the sports and fitness-minded public," said David Nobs, managing director, business development at LAVIDGE.
The LAVIDGE 2018 Report outlines top trends for marketers who want to win in today's sports marketing environment. It is complimentary and available for download.
WestGroup Research surveyed more than 400 adult consumers living in the Southwest United States, providing fresh insights for major sports marketing sponsors, sporting goods manufacturers, sports teams and other industry players about specific phrases and tactics to market their products and services successfully.
Opportunity is knocking, and it sounds a lot like sports marketing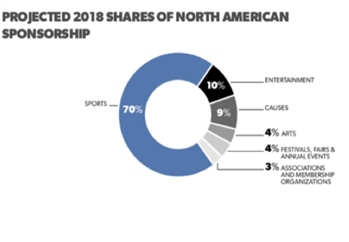 Sports marketing is a booming industry, continuing to dominate corporate spending, far outpacing entertainment, causes and the arts. A recent report published by ESP Properties further predicts brands will spend more on marketing, advertising and sponsorship this year, resulting in industry growth of 4.5 percent in North America and 4.9 percent globally.
"Today, the relationship between sports and entertainment is inseparable and interchangeable. Sports still makes sense as a way to enhance corporate image and increase product visibility. If done well, it provides companies with opportunities to promote brand awareness, build loyalty, deliver quality content and enhance customer relationships, all in a single package," said Nobs.
By utilizing the most effective marketing tactics and messages, sports marketers will effectively engage sports and fitness-minded consumers, creating a lasting bond that resonates with this large audience and leads to tangible results.
About LAVIDGE
Meet LAVIDGE, an employee-owned ad agency specializing in discovering and communicating insights which engage, motivate and inspire. From building brand awareness to driving revenue, and from positioning thought leaders to enhancing perceptions, it's why we do what we do. Our unified marketing approach encompasses advertising, public relations, and digital marketing. And we've been doing it successfully since 1982 for clients in healthcare, real estate, education, technology, sports, personal care, food service, and government. Intrigued? Visit us at LAVIDGE.com and get social with us on Facebook, Twitter, Instagram, and LinkedIn.
Need fresh thinking? Help is a few keystrokes away.