Bob Case Critiques 2022 Super Bowl Ads for FOX 10 Arizona Morning with Troy Hayden and Syleste Rodriguez
February 18, 2022
PHOENIX (Feb. 14, 2022) - It's become an annual tradition for Bob Case to share professional insight on Super Bowl ads the morning after the big game.
LAVIDGE's chief creative officer did just that on Monday when Case appeared on FOX 10 Arizona Morning as a guest of anchors Troy Hayden and Syleste Rodriguez.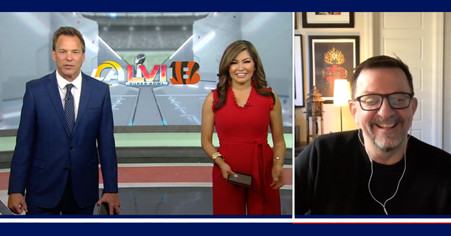 This year, "Rocket Home" was among his top picks.
"That was the one with Anna Kendrick, who is really funny to begin with, and taking advantage of all of the nostalgia around pulling Barbie into the 21st Century," Case said. "She is a funny person to begin with, but this from an art direction standpoint it was really, just really good. It was very empowering. I just enjoyed that spot. It was memorable and totally unexpected for a Super Bowl spot."
Rodriguez agreed, noting that the Mattel's Barbie brand is "everlasting."
Not every creative element of the spot was as obvious.
"The QR codes are having their moment this year," Case said, referencing one hidden in the spot on the shirt of one of the children.
The all-electric Chevy Silverado ad was another Super Bowl LVI favorite.
It was a shot-for-shot recreation of The Sopranos opening, Case said, also pulling in nostalgia, which was a theme for this year's Super Bowl ads, some of which recreated television or movie scenes.
"I thought this one was really intelligently done. There was a reason for it, and ... it was a nice way to introduce electric vehicles as this new generation," he said.
"It's a big deal," Rodriguez said, of the nostalgia for those who have seen or are big fans of The Sopranos.
Lay's "Golden Memories" with Seth Rogan and Paul Rudd was another standout spot among those which aired during Super Bowl LVI.
"These two guys are just so likable, that you get a sense that they probably are truly friends," Case said of the spot featuring the actors (who are friends in real life) feeling nostalgic as film clips evoke decades of memories—shared over a bag of Lay's.
"Those were good times," American actor and comedian Rudd says. "They were golden," Canadian actor Rogan replies.
The vignettes in this were so perfectly timed and were just really, really funny," Case said, adding vignettes don't always work, but because of the way it was paced, because of humor that they bring to it, this ad was spot-on.
For Hayden, Coinbase's bouncing QR code ad was among Super Bowl LVI's most interesting commercials.
A 60-second version of this spot ran, which is $16 million, with nothing but that on it, and gambling on the fact that people were going to scan it, which everybody in my office did, so clearly that piece of it worked," Case said.
So much so, that viewers crashed Coinbase's server. The brand is an online platform where users can buy, sell, manage 9,503 types of cryptocurrency (Bitcoin, Ethereum, Dogecoin, etc.) and keep digital assets (including NFTs) in cold storage.
"Was this a PR win for them that they can say, 'We ran a spot and we crashed out website'?" Case asked. "Did it actually do much for Coinbase, which is a brand you don't necessarily know? It's that sort of stuff I don't really get, cryptocurrency."
Another head scratcher, for some, was E*Trade Baby "Off the Grid".
Those who remembered the original E*Trade Baby Super Bowl commercial which aired in 2008, it was a nostalgic look back. For younger viewers, that connection was missing.
"The spot itself is pretty entertaining. What made me laugh a few of the people who work for me are young enough that they don't know who this is," Case explained. "And so, a very specific audience is going to get that and laugh at the revisit of this spot. But there's an entire audience that doesn't get it."
As always, Case was not a fan of every Super Bowl LVI ad.
Watch the full Fox 10 Arizona Morning segment to see why Case, Hayden and Rodriguez felt Budweiser, T-Mobile, and some other commercials didn't hit the mark.
Need fresh thinking? Help is a few keystrokes away.