Bill Lavidge an AzBusiness Leaders 2023 honoree
January 3, 2023
Bill Lavidge featured in AZ Big Media's AzBusiness Leaders 2023 magazine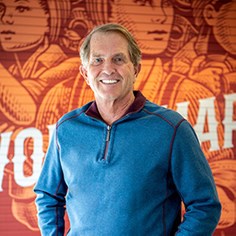 PHOENIX (Jan. 3, 2023) – Bill Lavidge, president, founder and CEO of LAVIDGE, is among five advertising professionals highlighted in "AzBusiness Leaders 2023" magazine.
AZ Big Media publishes the annual magazine to recognize strong leaders in their respective fields.
Lavidge told the publisher that his leadership style has evolved over the years. "Today, I encourage greater participation of others in the decision-making process," he said.
The full profile is available on page 138 in the print edition published each January by AZ Big Media. The digital version of AzBusiness Leaders 2023 features Lavidge on page 140.
Need fresh thinking? Help is a few keystrokes away.