2020 ADDYs Recognize LAVIDGIANs for Quality Work
March 13, 2020
PHOENIX (March 13, 2020) – LAVIDGE and its employees earned recognition at the 2020 Phoenix ADDY Awards which, due to social distancing guidelines, were presented virtually this year during a live webcast hosted by the Phoenix Ad Club.
LAVIDGE took home Gold and Bronze awards for the agency, in addition to two additional awards earned for work completed individually or contributed to by LAVIDGE employees.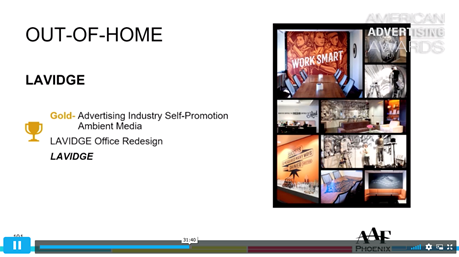 Top agency honors this year were for LAVIDGE's redesign of its office space, earning the Phoenix-based agency a Gold Award in the Phoenix Ad Club's 2020 American Advertising Awards Out-of-Home category for Advertising Industry Self-Promotion, Ambient Media.
The project included numerous wall murals throughout the LAVIDGE office space, matching drink coasters to protect new office tables and new, comfortably ergonomic chairs for guests and employees alike. Contributors include Bob Case, CCO/Illustrator; Tim Brennan, Curator of Awesome/Muralist; Hugh Mulligan, Master Carpenter; Kathy Knudson, Office Manager; Sandra Torre, CFO; and John Zapf, Creative Director.
Agency work completed for SimonMed Imaging earned LAVIDGE a Bronze award in the category for Integrated Advertising Campaigns, Consumer Campaign, Regional/National.
The award-winning campaign featured friendly, upbeat animated characters portraying SimonMed Imaging as a positive, uplifting brand, delivering on the client's request for LAVIDGE to differentiate them from their competition. Contributors included Bob Case, CCO; John Zapf, Creative Director; Jenn Monroy, Senior Art Director; Zack Potthoff, Copywriter; Amber Allen, Production Artist; Sean Rogers, Director Client Services; Emmi Kellogg, Digital Strategist; Matt Smith, Account Executive; Fernando Parra, 3D Illustrator; and Mara Margaillan, Producer.
In addition, LAVIDGE congratulates Bob Case for winning a Gold award for an illustration he submitted individually; and Jenn Monroy, President, AIGA Arizona, for her role in the prestigious Art Direction of the Year Award for Design Week Evolve.
Need fresh thinking? Help is a few keystrokes away.