The Most Important Phrase for Hotel Guests is Tied to the Most Important Meal of the Day
Other top phrases highlight value, diversity, casino entertainment and being pet friendly
---
---
If you're going to skimp, don't do so by eliminating your free breakfast buffet. Your lineup of cold cereal, fresh bananas, apples and perhaps an assortment of plain and fancy bagels or varieties of yogurt is likely attracting more business than you think.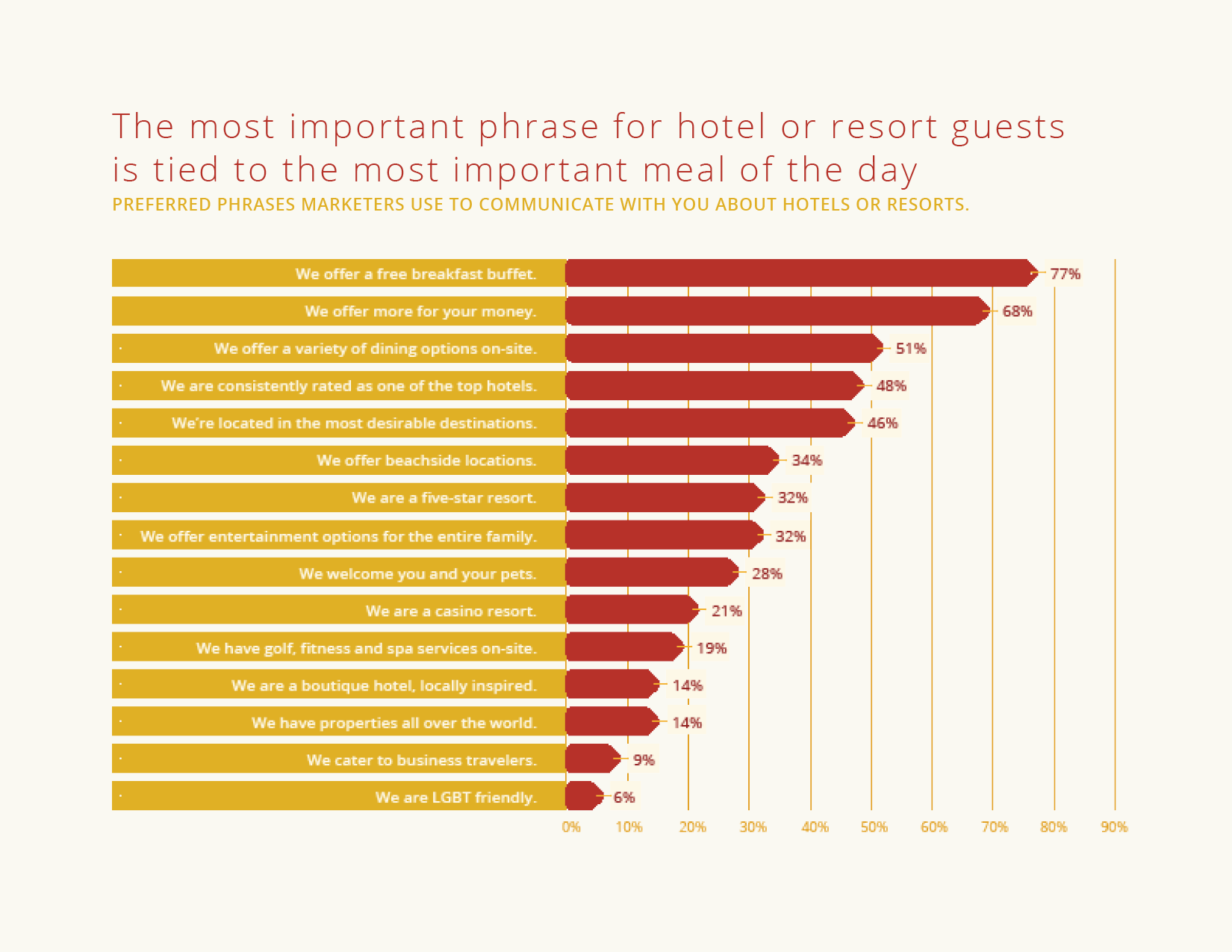 More than three-fourths (77%) of study respondents rated verbiage about a complimentary morning meal as their favorite phrase when considering booking a room in a hotel or resort. Even if they don't tear into a tiny box of crispy rice or sweetened puffs of corn, many travelers like knowing it's there—just in case. Others demand that it be available, for a variety of reasons.
Reader's Digest published a list of 15 Hotels Which Offer a Free Hot Breakfast. And Clark published a list of 35 hotel chains which offer free breakfast, some hot, some cold. These reports and more reveal that some hotels, perhaps even yours, offer a full-service hot breakfast bar with eggs, bacon, waffles, omelets made to order, and everything from crunchy granola to organic milk and a variety of juices, coffees and teas. If served beautifully, you can also count on images of your morning meal offerings showing up on social media. Make sure those images serve as positive referrals by always putting out your best.
Here's what our respondents had to say about their stated preference to wake up to some version of such a spread.
Our first quote covers a lot of ground—especially for families.
"Eating out [is expensive] for a large family and we don't typically get ourselves out and about early," one respondent said. "We get the breakfast things out of the way by eating in the room as we are getting dressed and ready to hit the vacation spot."
The same respondent added that they usually "stay out doing activities and eat lunch and dinner out wherever we go for the day. And then we turn around and do it all again the next day."
Here's what other family-oriented respondents had to say:
"I like the convenience of not having to pay for breakfast, especially when you have kids. I am a part-time event planner

and 

my clients prefer not to go out for breakfast after a night of partying and drinking."
"I think it's a great feature, especially for families. I always check to see if they offer it."
Many others echoed the above value- and convenience-oriented sentiments: 
"I think it is nice to have breakfast at the hotel before you leave for the day for other activities. Of course, free is always nice."
"It's nice to get up to breakfast every morning without waiting for service."
"Having a convenient and inclusive breakfast option is something I usually look for and is … money-saving. This saves costs of traveling to and paying separately for breakfast."
For some, free breakfast is all part of the adventure of travel. And they won't stay at a hotel unless it puts out a complimentary morning spread. In their own words, here's a sample of what respondents had to say:
"I like to have my breakfast available when I stay somewhere."
"I love free breakfast and only stay at hotels that offer it."
"I prefer hotels that do offer a free breakfast."
Bargain hunters love free breakfast. Many respondents gave the amenity a nod as being "time and cost-saving" and "very helpful when you travel."
For one traveler, the option of having free breakfast at their hotel is more of a nice-to-have than a deal breaker. 
"Usually when I stop at a hotel, it is just overnight, and the breakfast is a good add-in," the respondent said.
Only one participant displayed a hint of cynicism. (There is one naysayer in every crowd.)
"A free breakfast is a nice thought, but it isn't true, of course," the participant wrote. "I always say that breakfast is included in the price. There is nothing for free in this world."

Free breakfast is a bigger deal for some
While 77% overall chose "we offer a free breakfast buffet" as their preferred phrase, a few subgroups ranked it from 2 to 5 percentage points higher than the average overall. It turns out that seniors age 55+ are more likely than any other traveler to prefer a free bite to eat in the morning when staying at a hotel.
Here's the breakdown:
82% (aged 55+)
80% (no children in the household)
79% (Caucasians)
Travelers like to save without sacrificing
The phrase "We offer more for your money" was favored by 68% of our study's respondents, ranking it second-most popular overall.
"That's what matters to me," one respondent said, while another noted that "getting a good value for the dollar is most important."
A handful of respondents made similar, ultimatum-like statements such as "it's the only type [of hotel or resort] I would visit," "this is a requirement," or "[it's the] most important item of all to me."
Other responses varied to some degree as several subcategories organically emerged.
Limited budget, limited resources, and limited vacation dollars were common themes among those who are retired, living on a fixed income or traveling on a budget. Here's why those respondents said they prefer ads promising more for their money:
"I am on a retirement budget and always looking at costs."
"As a retired individual, I need to be careful with my travel dollars. When a hotel offers more for your money, it means to me that the money spent will be spent on what I need at a reasonable rate."
The majority of responses focused on affordable value in the context of having a great time while getting a great deal. "VALUE is the WORD," said one emphatic respondent. Here's a representative sample of how others explained why they prefer the phrase:
"I feel like it's an inviting headline. It's like saying 'Anybody and everybody can afford this.'"
"I am always looking for best deals for what you get in return."
You don't have to be short on cash to appreciate using your vacation resources wisely. For some, it "just makes plain sense." Here are other comments such respondents conveyed regarding getting the most for their money when booking a room at a hotel or resort:
"I prefer good value versus wasted money for image."
"It feels smart"
"I like using money wisely"
Our respondents made it clear they don't just want to pay less. They expect hotels and resorts to offer amenities at reasonable prices. Here's how they expressed such thoughts:
"It's a luxury stay, but not just exclusive for the rich," was a common sentiment among study respondents.
"I don't have enough money to not worry about getting the best deal. So, I start there, but then the other criteria come into effect."
"For instance, if I am going to an area such as Hawaii, then being close to the beach is more important than price, but I still want the most for what I do pay."
Another respondent noted that they "Don't get to travel as often as we would like and it is always a good time to splurge. We like to feel like we have been spoiled with everything our money bought for us, and like we stretched it effectively to get a 5-star experience while paying for affordable accommodations."
Meanwhile, respondents are wary of ads which might misrepresent such upgrades.
"Some hotels are not worth their cost," one savvy traveler in search of good values said. "Pictures on the website can be deceiving. Sometimes you don't know what you're getting until you're already there."
Surprisingly, families and children, although they play a role in other sections, were barely mentioned outright in this portion of our consumer study. Here's the lone statement on their behalf: "It is important when traveling with children to get the most entertainment for the money."
The word money, however, did come up many times along with the word price. Some respondents were so laser-focused on cold, hard cash that their comments deserve a section all their own:
"Money is in short supply for all but the wealthiest. Your dollar needs to go further."
"Money is usually the first consideration of mine when choosing a place. I may pay more for a decent place, but I still want my money's worth."
Convenience is the spice of onsite dining
At 51%, study respondents noted a preference for the convenience of being able to eat at the hotel, as well as having multiple options to choose from.
"One of the pleasures of vacations is dining out," one respondent noted. "Sometimes you just want an elegant dinner. Other times you may prefer a quick snack. It is nice to have either available without having to leave your hotel if you are tired, jet lagged, etc. Reasons to stay on property for meals boiled down to convenience.
"If you have traveled all day you don't want to look for a place to eat in an unfamiliar area," one respondent explained. 
"We don't want to travel for dinner," another contributor said.
"When you're hungry and tired, the last thing you want to do is try to find a restaurant and a ride to it," said another, conjuring up images of weary travelers in need of a break.
Other responses were more focused on the food choices themselves.
"Food is an important element," one such respondent said. "We would love having lots of options, especially if we are traveling as a family."
"I like choices, especially if I am with my family and grandkids," wrote another fan of variety.
For one traveler, "good dining facilities" are important. "I like to know that hotels have them," the respondent noted.
While one study participant noted that some resorts are close to fast food chains, another stated that when several dining options are offered on site, guests are not pigeonholed into one category of food.
And that, they all agree, makes any hotel visit a little nicer. 
Top hotel rankings do matter
OK, so it wasn't the most important factor when choosing a hotel or resort. Still, at 49%, nearly half of all study participants responded favorably to phrasing celebrating hotels as being consistently ranked among the best.
Here's what they had to say:
"Different vacationers/business people rate hotels and when the results put it in one of the top ones, that tells me that it has the things that I want."
"A top hotel would have the things I want: cleanliness, safety/security, good value for my money, various dining options and things to do both in the hotel and in the surrounding area."
"They are usually the best, and the best kept."
"Comfort at a top hotel is key."
"I want to know if the hotel is a good one that has stood the test of time, that the hotel is taken care of and that the customers are treated right. If consistently rated as a top hotel, then the hotel is doing something right."
Desirable locations are key
At 46%, "We're located in the most desirable locations" was a popular phrase among all groups.
"Once one arrives at their destination, they don't feel like traveling anymore," one study respondent explained. "They want to be in the middle of everything so they can take advantage of as much as possible while they are there."
One participant said a desirable location means they "might not have to rent a car which will save a lot of money."
Another respondent noted a preference for "unique" and "one-of-a-kind" locations instead of average or something you can get next door," backed up by respondents who described desirable as "special," "interesting" or "in the heart of the city."
"I plan my trips by destination and then decide what hotel," another respondent explained. "I wouldn't choose a hotel just based on how nice it is if I didn't want to visit the destination."
Other participants expressed interest in a property's proximity to attractions. "It goes to show that these hotels were strategically built in places that would favor the client," a respondent explained.
Beach, luxury, family & LGBT preferences skew younger
Sure, many mature travelers with discerning taste enjoy booking a suite at an upscale hotel or resort overlooking a sandy beach.
Our research uncovered, however, that respondents aged 54 and younger preferred the following phrases over their older counterparts—and why:
We offer beachside locations
"I like balcony views or  overlooking the harbor, lake, or whatever is pretty."
"I love staying on the beach. They do not have to be a 5-star hotel if I can sit on the lanai and watch the water. I like being able to listen to the water at night when I am in bed and I love the smell of the ocean."
We are a five-star resort
"Five stars is the best rating available for hotels. Enough said."
"We always want the best."
"The rating is supposed to be certified, not just thrown out there."
We offer entertainment options for the entire family
"We usually travel with our family and want everyone to have something to do."
"As a family, we need activities for the kids to keep them occupied and for us to have fun."
"Nothing spoils a vacation more for the rest of the family than an unhappy family member."
We have golf, fitness and spa services on-site
"When I go to a five-star hotel I want a massage, a facial and a pedicure. It is my chance to spoil myself."
"I like to work out a lot."
"I'm a golfer; what else?"
We are LGBT friendly
Our research focused on participants based in the Southwest, but we realize their travel plans can take them around the world. For LGBT travelers, being savvy about what is socially acceptable, legal and safe at various destinations is important enough that the U.S. State Department has published guidelines for international travel.
Numerous blogs and magazine articles also post information about events and entertainment activities geared specifically toward members of this community, making it easier now than ever for hospitality marketers to plan well-timed, coordinated promotions.
In addition, larger hospitality industry players including Hilton Hotels & Resorts and Southwest Airlines have LGBT outreach programs. Travel Pulse praises such programs, explaining that the LGBT community has become a "critical" market segment.
Hilton launched its first team member resource groups including a LGCVTQ+ & Friends group in 2012. Under the hashtag #HILTONPRIDE, the global chain as a presenting partner with GLAAD, IGLTA and The Human Rights Campaign for #SPIRITDAY 2018 offered discounts and support during the mid-October weekend event.
Southwest partners with numerous organizations including a few in the Southwest such as Gay and Lesbian Community Center of Southern Nevada, Equality California and the North Texas LGBT Chamber of Commerce.
Here's why study participants said they prefer hotels and resorts which describe themselves as being LGBT friendly:
"I'm gay and it conveys the hotel's 'trendy.'"
"It'll be effective showing how equality-friendly it can be, welcoming all sorts of people."
"Some of my friends are LGBT and I want them to feel safe."
Income level influences priorities
Respondents who can afford to spend more expect more. Our research found that those with higher incomes ($75k+ annually) chose phrases that reflected more discerning tastes.
Here are the phrases which resonated best along with representative samples of numerous responses explaining why—including a single brand which was called out by name.
We are consistently rated as one of the top hotels
"If it is so well thought of it makes me feel safe staying there."
"It means that the level of quality and service is high consistently, so I do not have to worry about them having issues or problems."
"Marriott properties are excellent."
"Multiple people have given the hotel a top rating for consistently delivering good service."
We're located in the most desirable destinations
"If I'm traveling, I want to be where I need to be, and vice versa."
"When one travels it is nice to be close to attractions and restaurants, etc."
"It tells me that there are things to do at that location, outside of the resort."
Finally, the sentiments behind the following response echoed throughout participant comments in this section: "Location is everything. It feels like home."
Lower-income travelers bring pets, enjoy casinos
Respondents with lower incomes (<$35k annually) chose phrases that more closely resonated with what they enjoy most.
We welcome you and your pets
Bringing Fido or Fluffy along for the family vacation could save one a bundle on kenneling or pet-sitting costs. Even so, only one study participant who responded favorably to the phrase "We welcome you and your pets" identified finances as their motivation.
For many more, taking along the family pet had more to do with wanting to include them in the fun. The good news for them, Dogster.com reports, is that the Southwest is particularly pet-friendly, with a few notable travel destinations including Santa Fe, N.M.; Sedona, Ariz.; Colorado Springs, Colo.; Park City, Utah; and Phoenix, Ariz.
"We have three dogs and it is important for us to have them as part of our family," one budget-conscious respondent said. "By advertising they are pet-friendly it allows us to take our furry family members with us, saving us money on a dog sitter or the extra hassle of finding someone to watch our pets while we are away."
Here's a sampling of representative responses explaining additional reasons why participants find pet-friendly hotels or resorts appealing.
For some, bringing the family pet is "non-negotiable!" One respondent who often travels with pets said it's their first consideration when choosing a hotel.
"I can't find a dog sitter to watch my dog so I'd have to find a place that is pet-friendly," a similarly minded respondent said.
Other die-hard pet travelers wrote:
"We travel with pets and always need to know this in advance."
"We always travel with a small, well-behaved dog."
"I love to travel with my dog."
For some participants,  the preference for pet-friendly accommodations was more empathetic or nostalgic than practical. Here's what they had to say:
"A lot of times families take their pets with them on vacay."
"I like that the place is pet-friendly."
"Many people have pets and take them on trips. They're part of the family!"
"It is my dream to travel with my pet."
We are a casino resort
When you're on a fixed- or lower-income budget, getting a hotel room comped or other perks available in casino resort package deals can be enticing. From free or discounted meals to getting comped gambling dollars or a free bus ride to and from the property, the deals just seem to keep coming.
The phrases "love to gamble," "like to gamble," "love casinos" and "like casinos" showed up repeatedly in participant responses.
Here's more detail regarding why survey participants who earn less than $35k annually said they prefer staying at a casino resort:
"Being on a fixed income the most traveling that we do is at Christmastime, treating ourselves to a two-night stay at our favorite casino to relax and spend time gambling like we like to do."
"Casinos have a variety of entertainment for all to enjoy."
"We enjoy the casino and gambling."
One respondent said the phrase resonated because "I've never been to a casino."
2019 Southwest Hospitality Industry Marketing Report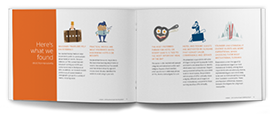 This article is a brief abstract of our exclusive and authoritative study that takes the guesswork out of hospitality advertising and marketing. Rather than speculating about what will drive consumers to action, we've asked them.
Need fresh thinking? Help is a few keystrokes away.