Practical Words are Most Preferred When Describing Hotels or Resorts
Win over consumer travelers with a clean, quality and relaxing experience
---
---
Proximity matters, but so much more than being close to planned activities goes into deciding where to stay while traveling.
In fact, study respondents noted strong preferences for hotels or resorts which describe themselves using the following five words:
Affordable – 66%
Clean – 58%
Comfortable – 54%
Quality – 47%
Safe – 46%
Let's explore why.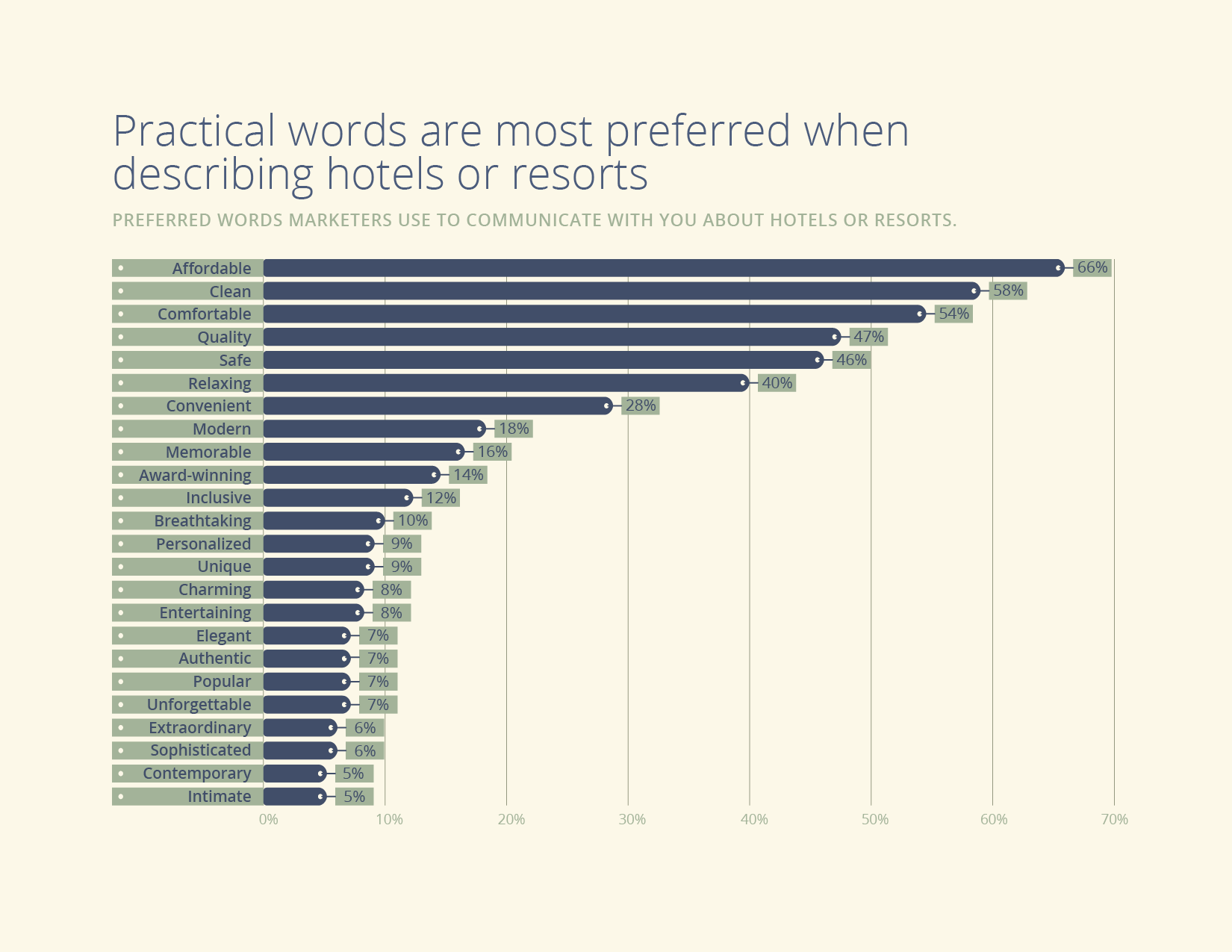 Affordable fits the bill
At 66%, the word "affordable" ranked highest in a field of 28 ways to describe a hotel or resort. 
This preference for affordability was measured at a time when the monthly average daily rate was $130.71 (August 2018), up from $126.72 the year prior. The average daily rate has risen every year since 2012, according to a recent Statista report, with rates peaking in either July or October.
Value in this climate of increasing rates was a recurring theme among many respondents who agreed to explain why.
"Price and value always play a part in everything in life," one respondent wrote. "I don't want to overspend on a hotel that isn't worth the price," wrote another
Even those who can afford more often like to feel like they are getting a great deal.
"I love saving money!" one bargain-hunting participant exclaimed.
Budget consciousness also factored in heavily—especiallyfor families.
"I have to be sure the rates are comfortable for me," a participant noted.
 Others said:
"There isn't a lot of room for extra stuff. I'm looking for things that are within our family budget."
"As a family, we need an affordable place to stay for a few nights."
Affordability equated to simpler accommodations for some participants, who said they were more than happy to spend the night in down-to-earth rooms.
"Most places are really expensive, so I look for places I can afford—even if they aren't the most modern or convenient," one participant wrote. "I'd rather have a rustic room at a nice price than all the bells and whistles at exorbitant prices."
Another fan of affordability stated they "just need a room where they can sleep and shower."
Some guests don't have much choice when it comes to cost.
"I live on a fixed income, so the room rates have to be reasonable," said one such participant.
"I have limited funds and want to spend it on things other than the hotel," commented another.
Another theme dealt with the need to spread out what dollars are available to cover more than a place to shower and sleep at night. The overall cost of the experience plays a role.
"I don't want to spend my vacation dollars on an expensive hotel," a study participant said. "I want to be able to go on excursions."
Promote a 'clean' getaway
At 58%, the word "clean" ranked second-highest among study participants as their preferred word to describe a hotel or resort.
A quick search of "cleanliness and hotels" brings up news, blog posts and reviews rife with both complaints and tips. Your future guests might have read articles such as "How to tell if your hotel doesn't actually wash the bedsheets"  or how to check hotels for bedbug infestations. It's a real problem, and travelers are both savvy and wary. Your marketing may wish to address these concerns.
For some, being clean is less about being immaculate than being down-to-earth.
"I really don't care about the elegance," the response states. "I'm a simple person. I prefer clean."
For others, a lack of cleanliness is a harbinger of things to come.
"As a frequent traveler, cleanliness is the first thing I notice and can make or break my decision to ever utilize the location again," one respondent noted.
"Attention to housekeeping details speaks volumes about management."
Another respondent seemed to agree. "If the hotel is immaculately clean most other high standards and quality always seem to follow," the respondent said.
A few study respondents offered more detailed explanations.
"Having a clean room bathroom and bed is the most important thing to me when I stay at a hotel," one fan of cleanliness noted. "If my room is not clean, I am not comfortable and will not sleep."
"In the age of bedbugs and roaches, please," begged another, "I want it as clean as possible."
Whether simply unkempt or downright dirty, the message such a room sends can be costly.
"We had a bad experience at our last hotel stay and would never use that hotel again," one dissatisfied respondent said of just such a place. "The room was not clean. The bathroom was a mess. It was horrible."

Make guests feel 'comfortable'
At 54%, the word "comfortable" proved to be another strong favorite among study participants when it comes to describing potential places to stay. In "9 Ways to Make Your Hotel Room More Comfortable," Smarter Travel lists a few steps travelers can take, just in case their hotelier misses the mark. By anticipating guest issues ahead of time, you can make your guests' stay a feel a bit more like home.
Our study respondents offered a few suggestions of their own.
"When I travel and stay somewhere, comfort is of utmost importance," one traveler explained. "If it is not comfortable, I will not relax and enjoy myself—no matter how fancy or elegant it is."
"When I am out of town staying in a hotel, comfort is extremely important to me," one particularly strong fan of comfort noted. "I need to be able to unwind from the day and have all my needs met without having to leave my room unless I want to go out."
We're reading this as including room service, in-room access to Wi-Fi, in-room movies, a refrigerator—and possibly a mini bar with drinks and snacks.
In some hotels, comfort items might be limited to clean towels and a coffee maker with paper cups and prepackaged java, along with an ice bucket and empty water glasses.
In others, guests might also have access to luxurious bathrobes, an iron and ironing board (or clothing steam cleaner), a hairdryer, higher-end toiletries, and fancy bottled water.
Perhaps it goes without saying, but regardless of the other amenities mentioned, guests expect a comfortable place to lay their head. It's important enough that Reader's Digest published a list of "The 10 Hotels with the Most Comfortable Beds in the World."
"Bed needs to be comfortable so I can get good rest," one respondent noted, while another used negative language to state a distaste for "staying places that have uncomfortable beds."
In addition, comfort should extend beyond the guest room.
"I want to feel at 'home,'" one respondent noted. Another expressed the desire for both "a comfortable room and nice public areas." 
Travelers demand 'quality'
At 47%, the word "quality" was most important to nearly half of all survey respondents when it comes to how hotels and resorts describe their accommodations.
Web searching for "quality hotels" isn't much help for travelers due to so many hotel chains using the word quality in their name. So we tried something else which travelers might also use in their search: "what makes a hotel room quality?" Thisresulted in an article in TripSavvy linking quality to luxury. With that in mind, we're also loosely linking the words.
This segment of study respondents werediscerning. Without specifically stating a preference for four- or five-star hotels, they did allude to desiring some of the amenities—including good service.
"I don't care as much about price as I do the experience," one such choosey respondent said. "Quality represents something that is of value to me."
A second respondent described quality as "money well spent; not cheap but not too extravagant. You can expect good furnishings and service."
Another study participant related quality to "caring," adding that "good staff and management result in a good experience."
Provide a 'safe' space
At 46%, the word "safe" earned the final slot in our list of top-five words which study respondents said they prefer for hotels and resorts to usewhen describing themselves.
Business Insider published "13 ways to make sure you and your information are safe at a hotel," for those who aren't convincedtheir hotel offers sufficient security.
Safety is an important enough topic that an annual Hospitality Law Conference convenes to discuss the year's top cases. In 2016, such cases included a dram shop complaint involving the service of 12 to 15 beers during six or seven hours to a customer who then attacked another guest in the hotel parking lot. Others relate to fraud in a casino resort related to table games, negligence/premises liability for dangerous conditions leading to guest fracturing her knee by tripping over a walkway in a hotel lobby, and negligence/security matters related to physical harm due to a drunken fight over a wallet.
Nothing, however, tops the 2017 Las Vegas shooting at Mandalay Bay, in which the hotel is suing 1,000 victims in addition to being sued by many of them. It's a complex situation, as demonstrated in security videosthe hotel later released showing the shooter acting seemingly normally.
Why mention it? Because hotel security matters, and there are steps hoteliers can take to ease guests' minds, like our study participants who responded favorably to the word "safe."
One casual respondent simply noted the desire to enjoy their trip free from worry.
For some, however, safety means everything.
"This is the most important issue for me as I travel alone at times or with my children," one such respondent explained. "Safety in our world is most important. If a resort or hotel cares about safety, then everything else should also be important to their establishment as well."
At least one respondent agreed.
"I am a woman traveling alone or with another woman," she said. "Safety is a prime concern when traveling for me and whomever is with me."
Age & income influence preference
Commonalities are great until you need to reach a niche. Here's the breakdown of how age and income level impacted preferences among respondents.
Respondents aged 55+ chose more practical words such as affordable (69%), clean (61%) and comfortable (58%) as top choices.
Respondents under 35 years of age also chose practical words such as affordable (53%), clean (49%) and quality (39%) as top choices. Yet they were also more willing to consider more aspirational words such as unique, entertaining and extraordinary, compared to their older counterparts.
Those respondents with incomes over $75k+ annually chose words such as clean (63%) and modern (25%) over those making less than $75k annually.
Mum's the word
Some words are better left unsaid. We identified a few adjectives savvy marketers should especially avoid when describing hotels or resorts.
These include experiential, remote, sophisticated and legendary, as these were the least favorite choices among all groups.
2019 Southwest Hospitality Industry Marketing Report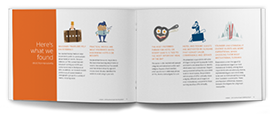 This article is a brief abstract of our exclusive and authoritative study that takes the guesswork out of hospitality advertising and marketing. Rather than speculating about what will drive consumers to action, we've asked them.
Need fresh thinking? Help is a few keystrokes away.