Does Your Boutique Hotel Attract Guests for Both Business and Leisure?
Learn how nuanced public relations can help you effectively target each audience segment
Your boutique hotel is a great place to stay with just the right mix of amenities, for families and business travelers alike.
But do your public relations tactics effectively communicate the right mix of hotel luxury and value to both business travelers and leisure travelers?
While there are definitely commonalities among travelers who all expect a safe, clean and comfortable place to stay for a reasonable price, there are nuances when it comes to reaching out to those taking business trips and those who travel for leisure. Knowing when and how to vary your hotel public relations tactics can help you more effectively reach each of these customer marketing segments more effectively than attempting to reach everyone with a single approach.

Facilitate targeted FAM tours
Chances are you already regularly invite social influencers within the hospitality industry and the media to familiarize themselves with your property. Does your guest list, whether for behind-the-desk tours with editors or fully comped stays for travel writers, reflect a wide range of marketing and tourism publications and media outlets in addition to varying points of view for both business travelers and leisure travelers?
If you answered "yes," that's a great start. It's also important to make sure that the guides who facilitate tours or stays are prepared to appropriately guide tourism industry photographers, writers and editors to take note of the amenities most relevant to their brand and audience.
Leisure travel isn't just for families
It might seem obvious to let family-oriented reporters, travel agents or social media influencers know about your amenities best suited for family time when promoting amenities for leisure travelers. Don't assume they will go beyond mentioning that your pool offers a lazy river water feature or dining options such as a family restaurant, however, so you will need to help them craft the full story.
Take the time to help leisure travel writers draw connections between day camps or other childcare options on site or nearby so adults can enjoy amenities designed just for them—like a relaxing facial at your spa or fitting in a workout routine in your hotel gym. They might assume those features are better suited for business travelers, couples or leisure guests who travel alone. 
Examples to showcase in your PR campaign strategy targeted to leisure travelers include any specific service your hotels and resorts offer such as:
Holiday menus
Luxury romantic getaways
Onsite golf
Wellness programs
Nearby nature trails for hiking
Any other hotel management marketing strategies your resorts offer to attract tourist-related events
It's also important to advertise to travel agencies your proximity to popular offsite local attractions from family-oriented theme parks to night clubs, concert venues or the theater. Provide consumer information on your website including travel options to and from destination activities. Make it easy for your visitors to find deals on travel experiences, loyalty programs or consumer rewards programs while they are booking—and after they arrive.
Business travelers also appreciate value
The same principles apply when working with writers whose publications appeal to business travelers. Provide them with specific details on what makes your boutique hotel a great space for solo or corporate travel related to professional events and conventions. 
Examples to showcase in your PR campaign strategy targeted to business travelers include:
Your best banquet dining options with information on both value and quality
If you've recently renovated your meeting space, tell them when, how and why it matters
Assure planners your staff has connections to local entertainment 
Identify what's of interest nearby where they can spend their leisure time
Advertise high-profile groups or meetings you host whether for business or within the tourism industry
Perhaps, most important of all, properly vet all editors, writers and influencers before extending an invitation to your hotel or resort. Choosing experienced writers and photographers with ties to publications with professional audiences or who have written about this topic in the past can help you get the desired result. 
Taking a look at the portfolio they provide to see what they've written for others is a great place to start before offering them a free trip. It also makes sense to follow up to see if their work created any measurable impact on the properties they featured. Your checklist should include doing your own research on what they have written or produced on travel and hospitality. They could easily omit negative reviews from their portfolio when seeking approval to participate in a FAM tour. 
Good PR requires mutual trust
FAM tour guests go into mutually beneficial agreements with the expectation that you will provide them with the best experience you have to offer. They know their stay is in your hands. Of course, in return, you have to trust that after all you can do, your travel and tourism media guests will genuinely enjoy their visit and post fair reviews. 
There is never such a guarantee of loyalty. Contributors must be free to write about their experiences without feeling obligated to your PR or marketing team.
By doing a little digging ahead of time, however, you can get a good feel for whether they have judged other properties overly harshly. When you find that a writer or producer has expressed a legitimate concern elsewhere you can be prepared. Take into consideration from a sales and marketing point of view how they might perceive similar amenities or services you provide. Your strategies for a successful outcome might need to include insight on how they can avoid similar scenarios when staying with you. 
As a hotel media guide, you can also let FAM tour guests know ahead of time who to contact in the unlikely event that something isn't up to standard. Let them see in action how you correct things in real time. This can go a long way toward avoiding any negative perceptions based on misunderstandings, thereby generating nothing but the best possible chance for positive reviews.
Your PR needs to speak to business travel decision-makers 
Messaging to business travelers is often filtered through an industry event planner who actually chooses where to hold professional events and where their participants will lodge. In these cases, the bulk of business traveler attendees at a conference likely didn't get a choice in whether they would stay at your hotel or resort. 
That's why meeting planners are also a key audience when it comes to generating public relations related to business travelers.
Sure, event and conference planners realize their employees or organization members will be traveling primarily to focus on business.
However, savvy meeting planners know that to be successful they need to choose properties which include for their employees (or ticket buyers) access to workout equipment, swimming pools, saunas, heated spas, exercise balls or other wellness-related amenities during their downtime.
Some hotels provide health and wellness amenities in designated areas such as onsite gyms or pool areas. Others include small weight sets and yoga balls right in their guest rooms, ready for use on demand whenever guests have the time.
Promote health and wellness options for business travelers
Hotels and resorts which cater to large events are beginning to build in creative break time with activities such as yoga on the lawn or healthy snack bars. Offering foods from organic fresh fruit to vegan cheese or lightly roasted nuts with sea salt helps keep guests energized and ready to go. This might include offering chilled bottled water or fresh juice instead of coffee, tea or sugary soft or sports drinks.
These and other wellness offerings are not only a welcome relief to business travelers who seek to maintain their healthy lifestyle while on the road. They also help meeting planners look good. If your hospitality brand can help facilities these options, let event planners know so they can help your guests—especially millennials—take advantage.
Need PR help?
LAVIDGE has public relations experience working with major brands such as JW Marriott Phoenix Desert Ridge and boutique hospitality industry brands including Wigwam and Sanctuary Camelback Mountain. Our work has helped each distinguish itself as a quality property for both business travelers and leisure travelers. 
Find out how we can achieve similar results for you. Give us a call at 480.998.2600 or send email to [email protected].
Give Your Hospitality PR Strategy a Refresh 
You could do it yourself. Or you could hire an agency to give your public relations a refresh. If you hire LAVIDGE, you can expect us to develop a comprehensive strategy with clear timelines and goals.
Some of the benefits of hiring out for your hotel public relations needs include having us handle the day-to-day management of individual assignments. We'll work across the organization and with outside partners to integrate elements of each campaign.
We'll also help you develop a personalized approach to the following ideas which can easily be adapted to your property's needs to help you focus on travelers, both leisure and business:
Leisure Travel
Draft and distribute press releases promoting holiday menus for Valentine's Day, Easter Sunday, Mother's Day, Thanksgiving, Christmas Day and any other local or regional holidays you observe with menu or drink specials such as Cinco de Mayo, October Fest or St. Patrick's Day. Pitch to appropriate local, regional or national media.
Create thoughtful outreach content which attaches the name of your hotel or resort to key leisure travel trends. Pitch to appropriate local, regional or national media.
Piggyback on family-friendly local events such as Spring Training by creating Spring Getaway content which highlights why your hotel is the best place to stay for pre-season baseball game fans.
Pitch content featuring your romance package for Valentine's Day.
Pitch content highlighting seasonal spa packages such as a Mother's Day special.
Business Travel
Develop and distribute content showcasing/profiling members of your executive team for use in professional publications.
Develop and distribute press releases centered on star employees such as an award-winning chef, a popular bartender or another high-profile member of your local team.
Develop content spotlighting what's historic, unique or trendy about your property that makes it a great fit for business travelers in search of something a cut above.
Highlight your banquet cuisine in press releases to industry trades, vertical publications and local business media.
Create and maintain a press kit exclusively for media focused on groups and meetings.
2019 Southwest Hospitality Industry Marketing Report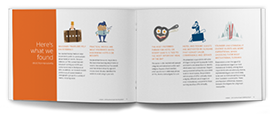 This article is a brief abstract of our exclusive and authoritative study that takes the guesswork out of hospitality advertising and marketing. Rather than speculating about what will drive consumers to action, we've asked them.
Need fresh thinking? Help is a few keystrokes away.