Sports Sponsorship and Licensing
Maximize your investment with a digital experience
Sports sponsorships have many benefits from good corporate citizenship to raising brand awareness. By incorporating technology, partnering with a team can also help you acquire customers and build your list of prospects.
And, yes, we're suggesting you develop a co-branded mobile app for that. But not just any app. You'll need to create a digital experience worthy enough for fans to justify downloading it. Many of the top sports apps such as CBS Sports, WatchESPN and theScore include live streaming, stats updates and links to videos. Some include social aspects, game summaries and notifications to breaking news about players or teams.
These are all great features to have, but with the exploding growth of available technology, they're actually just the basics. To stand out, we strongly suggest also including Augmented Reality (AR) or Virtual Reality (VR). Here's a high-level look at what's being done, what's possible and how to apply the information to a sports sponsorship of your own.
Augment their reality
AR changes the way users interact with their environment by layering real-world and virtual visuals, with or without additional audio, to create an enhanced experience. The NBA ARapp, for example, includes a pop-a-shot game which projects a basketball court on a surface in front of the user, so they can use their phone to shoot baskets into what otherwise would be considered "thin air."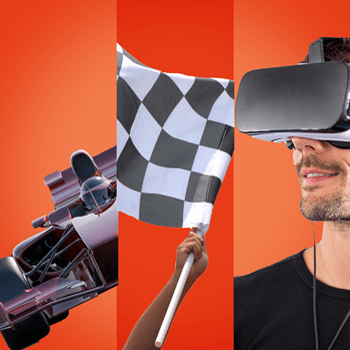 The same app also includes VR portals. Unlike in AR, there is no blending of reality and fantasy. Instead, users find themselves in a foyer where they can choose to enter a variety of 360-degree video experiences such as joining a team on the basketball court, attending behind-the-scenes post-season events, peeking in on team huddles or being a fly on the wall at after-game celebrations.
AR requires nothing more than a smartphone and an app. It integrates well with real-world experiences such as encouraging users to view your ad in the official event program. Your ad could include an image which, when scanned, pops up anything from a coupon to video content. Another option might be to create a Pokémon Go-style scavenger hunt requiring ticket holders to move about the event venue to find and scan special posters. Doing so could activate badges either just to level up or to win a prize. You could also allow fans to take selfies with a digital version of their favorite player by having a 3-D image activate when a phone camera is used in front of a special backdrop.
The options for AR are seemingly endless—yet still growing.
Create a fantasy world
VR is on the rise as well. All NBA games are available in 360 VR for individual purchase or by signing up for one of two subscription options through Intel True VR or NEXTVR.Some features are offered on both plans without cost including full game replays and highlights.
Major League Baseball's At Bat app offers a Gameday Experience in which users swipe to access field and lineups, batter Hot/Cold Zones and expanded Statcast data in the game feed. The Enhanced version also offers pitch-by-pitch features including realistic ballpark renderings from all 30 MLB parks. These and other MLB VR content are powered by Intel Sports Group, MLB's official VR partner.
Consider equipment access
To get the full effect of VR, fans need access to the right equipment. In addition to their smartphone and your app they generally need to download Intel True VR from the Oculus store and have access to a headset such as Google cardboard or Daydream, Samsung Gear or Facebook's Oculus Rift (must be tethered to a computer) or Oculus Go (standalone) which, depending on the model, sell from about $200 to $1,000.
Oculus is developing a mid-tier VR headset, the Santa Cruz, which is expected to be released in early 2019 as a cordless standalone, along with wrist-worn controllers to facilitate six-degrees-of-freedom with both gesture and positional tracking. Half Dome, a more advanced Oculus prototype, promises increased peripheral vision and varifocal lenses for an even more immersive experience.
VR playing field is growing
As the technology matures, VR equipment costs are coming down. Adopting VR at home no longer requires a $1,000, VR-ready computer with the fastest processor and graphics card available. Just this year (2018), headsets opened up VR to mainstream users who can now get in the game for about half as much as it cost in 2016.
Cardboard headsets, which have been available direct to consumers for a while, can be purchased online from $3 to $15. Sponsors might consider ordering in bulk with your branding printed on them or with branded stickers for promotional giveaway items at events. This way, even fans without VR paraphernalia can sample your VR experience. Rentals are also available in some areas for use at events, which could offer a lower-cost way to introduce your client base to VR and encourage them to download your app.
Make it count
While you're at it, here are three tips to keep in mind when developing your app: 
Develop an app or digital experience (AR/VR) with the team that will end up providing you with a list of customers. Require new users to register with the information you need.
Augment your CRM with fan markers for better targeting and campaigns.
Incorporate the team into your loyalty program either as rewards or experiences.
Need help?
If you're not sure where to start, LAVIDGE can help. We've worked with teams, retailers and sponsors in connection with a variety of sports in multiple states.
To learn more, give us a call at 480.998.2600 or send email to [email protected]
Are your sports apps targeted correctly?
Creating a sports app can be beneficial to building your brand, as long as it hits the mark. That's why it's essential to make sure you know where to aim before drafting your creative or writing the first line of code.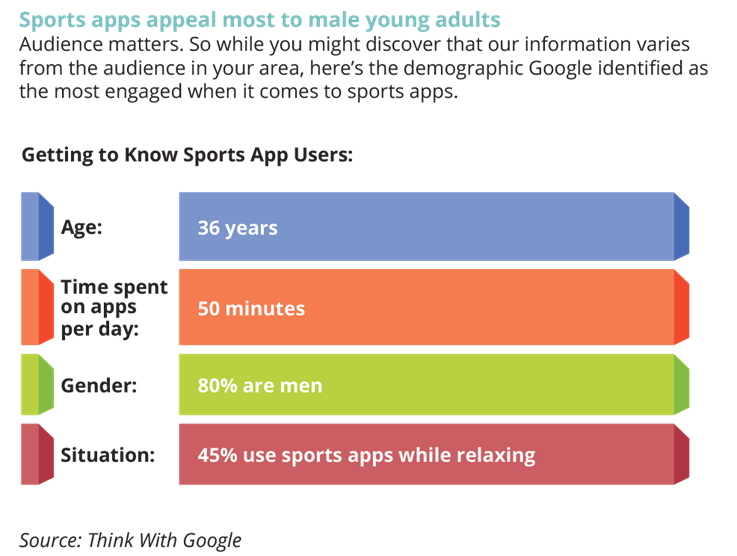 2018 Southwest Sports Marketing Report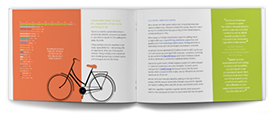 Need fresh thinking? Help is a few keystrokes away.