Multicultural Marketing
Where sports and cultural icons collide
Crossover careers don't only happen when athletes like Bo Jackson, Deion Sanders or Jim Brown play more than one professional sport.
These days, mega pop stars of color are crossing over from mainstream culture into the realm of multicultural sports marketing.
And they are doing it with style and ease.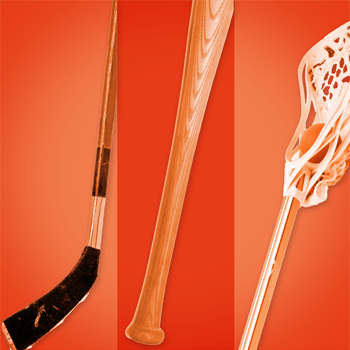 Consider Jay-Z. The rapper, born Shawn Carter, earned his name recording hits such as "Public Service Announcement," "Dead Presidents" and "Big Pimpin.'" But in 2013, with the launch of Roc Nation Sports, he parlayed his pop culture street cred into a new management consultancy.
Jay-Z's first client, Robinson Cano, was an all-star with the New York Yankees. But the part-owner of the NBA's Brooklyn Nets, who had invested in the team and its venue a decade earlier, also wanted to sign basketball players. Although his investment in his hometown's team amounted to less than 1%, NBA rules required him to sell his stake in the team—and in the Barclays Center—to qualify as a sports agent. So he did.
Fast forward to 2018. Jay-Z is still a popular cultural icon. His music is still on the charts. Roc Nation Sports has retained Cano and signed a dozen more premier clients including Skylar Diggins, Kevin Durant, Geno Smith and Jerome Boateng. Being married to pop music diva Beyoncé likely doesn't hurt, either.
Puma takes notice
This summer, Puma announced its intentions to return to the NBA after a 20-year hiatus. It also named Jay-Z creative director overseeing the basketball category. It wants to be recognized as a performance brand. And it wants to do so through the lens of basketball culture—from fashion, to music and to the game played on the court.
Jay-Z's experience positions him perfectly for the role. Joining him in carrying the Puma brand forward are Deandre Ayton, Marvin Bagley III and Zhaire Smith. Jay-Z will assist Puma in scouting additional players for equipment contracts.
Leverage multiculturalism
Puma's approach to shaping its brand image by leveraging multicultural insight into its audience is an extremely effective model for sports marketing.
As an example, at LAVIDGE, we use research to understand Hispanic consumer perceptions and behaviors, and use analytics to identify behaviors within a specific industry and market, and use sales data to segment and profile our clients' existing customer base and identify key motivators. Finally, we tie these pieces together to effectively and efficiently reach them.
They make a great match
When it comes to sports, we know Hispanics prefer soccer, baseball and boxing. So, for an up-and-coming brand such as Modelo Especial, we completely understand its recent alignment with the Ultimate Fighting Championship (UFC).
The UFC achieved its goal of reaching 21- to 34-year-old males during its alliance with former sponsor Annheiser-Busch InBev. Because Hispanics have a history of attending live fights the UFC sees marketing to them as an opportunity for growth.
Modelo, sister brand to Corona, which is also imported from Mexico and owned by Constellation Brands, sees partnering with the UFC as mutually beneficial. In return for the UFC's access to its Hispanic audience, Modelo will be seen center stage by the UFC's mainstream American audience.
You could say each brand's audience is the yin to the other's yang.
Do your research
Such matches don't just happen. The UFC was keenly aware that Hispanics are known boxing fans extremely loyal to the sport. Because entire families attend live events together, they are counting on capturing Modelo's audience for the UFC for multiple generations to come.
Understanding consumer behaviors and perceptions, as the UFC and Modelo have done, is key to understanding what motivates buyers on a basic level. This is fundamental to developing any strategic sports marketing plan. And, like the UFC, considering how the growing Hispanic segment fits into your total market approach is smart marketing and can lead to long-term benefits for your brand as well as lead to new revenue streams.
Build an informed strategy
It's not enough to choose an audience. You need a message. You need a strategy. To build effective marketing and messaging plans, language can be used as one of the tactics. Then execute a comprehensive, total market approach. 
Be careful, though. In some markets, just changing languages can be detrimental to your brand. The culture also needs to carry through. Examples of successful multicultural sponsorship campaigns include Heineken in soccer and Tecate in boxing.
If your target audience is Asian-Americans, you might consider choosing a partner organization based on their known preferences for golf, tennis, baseball or basketball.
Asian-Americans, the nation's fastest-growing population group, also has a growing number of top-ranked Olympic figure skaters. In fact, the most recent Olympic figure skating team was half Asian-American with seven of its 14 members claiming such heritage.
Whatever your target, there is an opportunity to gain marketing efficiencies when you look at the total market as a whole and begin to understand the diverse demographic factions within it and how they affect your business growth.
Need help?
LAVIDGE can help. We've worked with teams, retailers and sponsors in connection with a variety of sports in multiple states.
To learn more, give us a call at 480.998.2600 or send email to [email protected]
Age matters when appealing to Hispanics
You might wonder whether internet ads aimed at Hispanics should be in English or in Spanish—or both. We're here to tell you, courtesy of eMarketer.com, that it depends.
Sorry we couldn't be more specific. That's because we need a bit more information, like whether your target audience made up of first- or second-generation internet users. But please take a look at how it breaks down category by category for both groups in the chart below.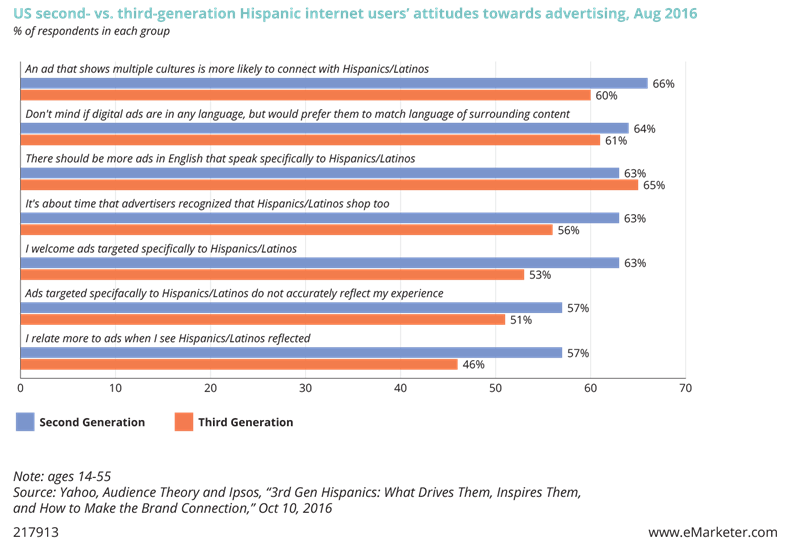 Note: Second-generation Hispanics are born in the US with at least one foreign-born parent. Third-generation Hispanics are born in the US with both parents also born in the US. Data was provided to eMarketer by Yahoo.
Methodology: Data is from the October 2016 Yahoo, Audience Theory and Ipsos report titled "3rd Gen Hispanics: What Drives Them, Inspires Them, and How to Make the Brand Connection." 1,002 US Hispanic internet users ages 14-55 were surveyed online in August 2016. 545 respondents were second-generation Hispanics born in the US with at least one foreign-born parent and 457 were third-generation Hispanics born in the US with both parents also born in the US. Audience Theory is a brand strategy firm.
2018 Southwest Sports Marketing Report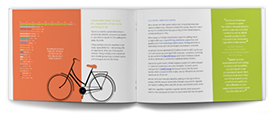 Need fresh thinking? Help is a few keystrokes away.